Last Updated on May 20, 2015 by Chef Mireille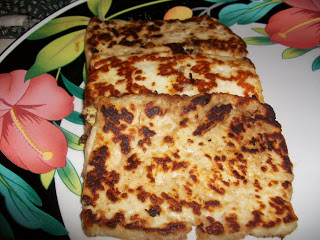 Halloumi is a cheese, that originated on the island of Cypress. What is unique about this cheese is that it does not melt when heated. Most traditional halloumi made from goat's milk or sheep's milk, but most mass produced halloumi today is made from cow's milk. The curds are heated and then placed in brine. This initial heating process is what causes the cheese not to melt. The cheese is then packaged in a lightly salted brine, usually with mint.
All you need to do is spray your pan with a non-stick spray and heat on each side for about 2-3 minutes, until browned. No need to add salt because of the brine. Latin America also makes a frying cheese called Queso de Freir, used widely in Southa and Central America, but I find the halloumi much more flavorful, due to the mint in the brine.
This cheese is wonderful as an accompaniment to breakfast, but it also pairs nicely with sweet things. On of my favorite sandwiches to make is grilled halloumi with blood orange marmalade (my favorite brand is Sarabeth's) and tomato. The sweet and salty and acid of the tomato is a wonderful marriage of flavors. Halloumi is also a great cheese to be included on a fruit and cheese platter. It pairs wonderfully with fresh figs.
You can purchase it at gourmet markets like Whole Foods and Fairway, but will do much better pricewise if you go to the Middle Eastern enclave located on Atlantic Avenue in Brooklyn, NY. There you will find Halloumi and Oriental Pastry and Grocery (170 Atlantic Avenue) or at Sahadi's (187 Atlantic Avenue).
Try some Halloumi and I am sure you will love it as much as I do!!!
Chef Mireille