Last Updated on April 21, 2022 by Chef Mireille
Pesto Corzetti alla Genovese is a traditional pasta salad recipe from Genoa. It is a simple yet delicious Vegetarian pasta dish that can be enjoyed as easily chilled as warm. You can choose to enjoy it as a warm pasta dish or a pasta salad.
Every region of Italy is known for specific pasta shapes and in Genoa, it is corzetti.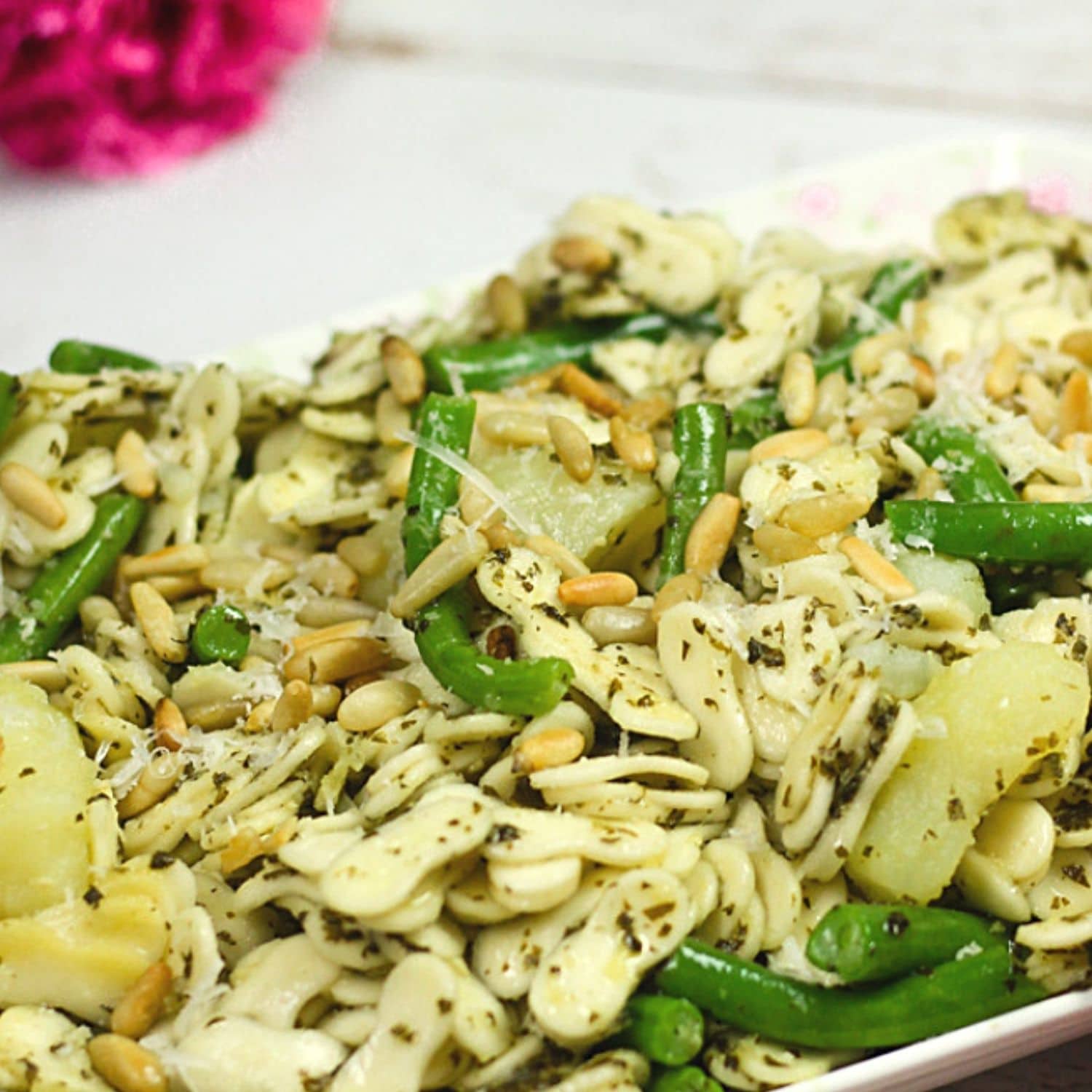 As we are both part of the same FB Blogging Group, I have been following the Pasta Project for a while. I love her site because not only does she give you fabulous regional Italian recipes, but she gives you the history of the pastas and what part of Italy they are from.
Any of my regular readers know I am as much a history buff as a chef and I like to give you as much historical and cultural information as I can get on the recipes I present from around the world. I think culinary history is fascinating as sometimes it's politics or other factors that determine food choices people make and how sometimes recipes made out of necessity during war time can sometimes become a recipe that the country becomes known for centuries later.
For example, are there any tea buffs out there? Gen Mai Cha is one of my favorite teas. This Japanese tea was created when tea was scarce during World War II and so they added toasted barley and corn to stretch the tea. Now this smoky tea is beloved by many tea lovers around the world.
If you live in a US city that has an Eataly and you have not visited, what are you waiting for? Eataly is an Italian superstore that started here in NYC with the flagship store in the Flatiron District of NYC. It now has multiple locations in NYC, Chicago, Los Angeles and Boston. You can also shop non perishables at their online store here.
Pasta Shapes
Did you know there are reputed to be up to 400 different pasta shapes in Italy and every region will be known for specific shapes? In standard supermarkets here, we are lucky if we get 10-12 right! If you go to Eataly, while they don't have all 400 shapes, they do have a great variety from standard durum pasta to pastas made from farro and other grains.
After my last visit to Eataly which I detailed in my post here, I decided to pick up some unique pasta shapes to try out some regional Italian dishes.
Corzetti alla Genovese
Corzetti aka Croxetti originated in Liguria and there are two types. On type involves large circles with are stamped with a wooden mold. Originally, it is believed they had a cross stamped on the pasta and then later in the Renaissance period, noble families would stamp their coat of arms on the pasta. The other kind, which is the one I purchased, is called Corzetti Valpolceveraschi and this one is shaped into an 8 shape from a circle.
Inspired by her post here, I created my version of Pesto Corzetti alla Genovese.
Basil Pesto originated in Genoa, so any pasta made with pesto is generally named alla Genovese as it is in the style of Genoa.
This pasta may not seem like much with just a few simple ingredients, but I have no words to describe how delicious this was. The key to really good Italian food is to use really fresh ingredients. You don't need a lot of bells and whistles, but you need to source really fresh good quality products and you will be rewarded.
I used a freshly made pesto I had whipped up myself, good olive oil and freshly grated Pecorino Romano and me and my guests could not stop eating this delicious pasta!
In Italy, unless it is an elaborate baked dish like lasagna or manicotti, most pasta dishes are not served with the main course. Things like pasta, polenta and risotto are their own course served between the antipasto (appetizers) and secondo (main course).
However, with Thanksgiving just around the corner – how about bringing some Italian flavor to your holiday table. You can serve this with the appetizers as kind of a pasta salad or as a side dish. It's as delicious chilled as it is warm. Your guests will love it!
If you cannot source the crozetti, I think something like orzo would be a good substitute.
Genoa Style Italian Pasta Salad Recipe
a traditional Vegetarian pasta dish from Liguria – can be served warm or chilled
Ingredients
1

lb.

peeled potatoes

8

oz.

trimmed green beans

1

lb.

corzetti pasta

2

tablespoons

olive oil + more for drizzling

½

cup

+ 2 tablespoons pesto

2

tablespoons

toasted pine nuts

freshly grated Pecorino Romano
Instructions
In a pot of boiling water, add potatoes. Cook until fork tender.

Remove potatoes from the water and add the green beans.

Cook the green beans for 2 minutes. Drain.

Meanwhile, cook the pasta in well salted boiling water until al dente.

Drain the pasta and drizzle with a little olive oil. Toss to combine to prevent the pasta from sticking.

Rough chop the potatoes into large pieces.

In a large skillet, heat 2 tablespoon olive oil.

Add ½ cup of pesto. Fry for ½ minute.

Add green beans and fry for 1 minute.

Add pasta and make sure it is well coated with the pesto.

Add potatoes and the rest of the pesto. Toss well.

To serve, drizzle with more olive oil.

Garnish with pine nuts and grated cheese.
Notes
Substitute orzo if you cannot source the corzetti pasta.
Nutrition
Calories:
371
kcal
|
Carbohydrates:
56
g
|
Protein:
10
g
|
Fat:
12
g
|
Saturated Fat:
2
g
|
Polyunsaturated Fat:
2
g
|
Monounsaturated Fat:
3
g
|
Cholesterol:
1
mg
|
Sodium:
154
mg
|
Potassium:
440
mg
|
Fiber:
4
g
|
Sugar:
3
g
|
Vitamin A:
510
IU
|
Vitamin C:
15
mg
|
Calcium:
55
mg
|
Iron:
2
mg
Did you try this recipe? Leave a comment below.
Please follow me on Instagram @chefmireille or tag me #chefmireille with your pics! I'd love to share them!
Don't forget to visit the RECIPE INDEX with over 1000 recipes from around the world including lots of Vegetarian Recipes and Gluten Free Recipes!