Last Updated on May 19, 2020 by Chef Mireille
PARTY PLANNING GUIDE FOR A CROWD – Tips & Tricks to hosting your holiday event + a FREE DOWNLOAD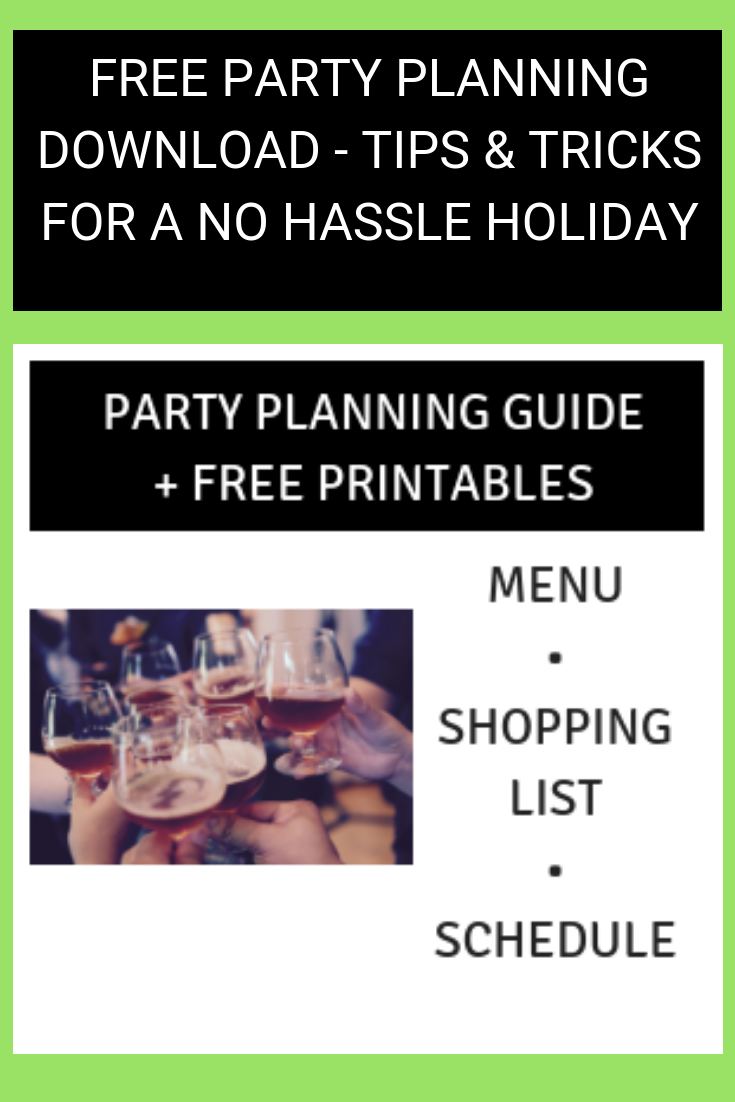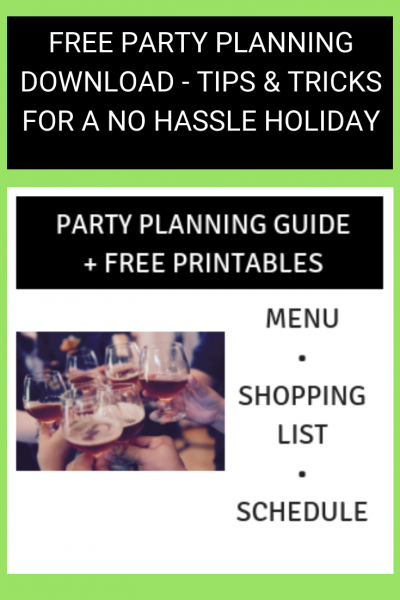 Thanksgiving is just around the corner and some of you may be hosting your first Thanksgiving event and wondering where to start, well hopefully this guide will help you.
Coming from a large family and being the chef of the family, I am often the one hosting Thanksgiving. Having a large group of international friends who often don't have family here in NYC to celebrate Thanksgiving and many people asking to bring a friend, I often can have up to 30 people for Thanksgiving dinner including my extended family.
FREE DOWNLOAD
So where to start…With proper planning and prep work done before, this can be a no stress event! I have included a FREE DOWNLOAD with some easy fill in sheets to make the party hassle free. This PARTY PLANNING GUIDE can be used for any large party you are hosting! It includes sheets to help you organize your menu, shopping list and prep work/cooking schedule.
However, you still want to read the Tips & Tricks below so you can get the best use out of the FREE DOWNLOAD

Menu
A few weeks before, I start planning the menu. It often goes through changes until I finalize it just a few days before Thanksgiving. You will know your crowd. Perhaps they are really traditional or if you are like my family, I keep them on their toes. Sometimes I go with a country theme cooking and no turkey at all is even on the Thanksgiving table. No one was upset because it's all about delicious food and family.
Trying New Dishes
It's alright to try a new dish or two for a special occasion. However, have a backup just in case in does not turn out as you had hoped. If it's a pie recipe, make sure you are making another pie you've made before so you know you will have at least one just in case the new recipe ends up being a flop.
Dietary Restrictions
With groups that large, you can be sure someone is going to have some kind of dietary restriction, so if you can ask and get that information beforehand – that's fantastic. However, even if you do not know, you should definitely include a few Vegetarian, Vegan and Gluten Free side dishes and appetizers.
Timing
You want to look at the timing to prepare each dish. Make sure you have a balance of recipes that are quick and easy and have only a few complicated or labor intensive recipes. Consider a few recipes that can be made a day or two in advance.
Cost
When cooking for a lot of people, the cost can creep up very easily. I'll splurge on maybe one specialty item that is a little pricey. Otherwise, I try to stick to basic cost efficient ingredients.
Preparing the House
Usually about two days before, I do a thorough cleaning of the house and decorate the house. During those two days, meals at home are very simple so not to disturb the house too much.Maybe just frittata and salad or a simple vegetable soup. Also, I have already started preparing some of the holiday foods.
Cooking
I write out a schedule a few days before, so I know exactly when I am preparing what on the day before and the day of the event. I make out a 2 day schedule. The day before is usually mostly a prep list with things like:
2 cups chopped onions
1 cup chopped parsley for tabbouleh
Peel shrimp
Boil beans for salad
Grate cheese for Mac & Cheese
Make aioli for appetizers
The schedule for the day of the event will look more like:
Make Tabbouleh Salad
Put turkey in oven
Make Mac & Cheese
Appetizers
For appetizers, I like to have a few chilled salads and maybe some rolls with butter and jam or things that can be served room temperature that will already be on the table when guests arrive. Once they start to arrive, I only have 1 appetizer that requires me to make it on the spot. It is usually some kind of fried food, but I will have prepared the batter/ingredients to be fried before hand. All I am doing at this point is frying it which will generally only take a few minutes.
Main Dishes
For meat dishes, I usually marinate them overnight for optimal flavor. Therefore, that is done the day before. The day of the event just take it out of the refrigerator as soon as you wake up so it can get to room temperature and then stick it in the oven.
While the meat is cooking, I am putting together the Vegetarian dishes. Often I have done at least some of the prep work the day before – so all the vegetables will be sliced or chopped. This makes cooking fast and easy on the day of the event.
Side Dishes
Chilled bean and grain salads that come together easily are also usually made the day before and left in the refrigerator. To be honest, these things usually taste better the second day anyway. The other side dishes will be made the day of the event, however, the chopping/slicing prep work for these dishes are usually done the day before.
Don't forget to check out this collection of great side dishes to add to your holiday table!
https://globalkitchentravels.com/2018/09/16-healthy-side-dishes-for-thanksgiving/
Desserts
Desserts are usually made the day before or even two days before. They can easily be left, wrapped securely, out on the table and still stay fresh.
Beverages
Don't forget to make a few specialty beverages. I usually make one alcoholic like Rum Punch and one non alcoholic like this Virgin Tropical Punch
Timing
You want to start with the dishes that is going to take the most amount of time. Then slowly cook the other dishes so everything gets done about the same time. Sometimes, especially if you have a lot of things that need to be oven baked, it is impossible.
If you have a slow cooker, use it as a vessel to keep things warm.
Also, consider purchasing some chafing stations. The inexpensive wire and aluminum ones (available at your local party supply store) will cost you about $10-$15 for every two dishes you need to keep warm.
---
Now you have all the tips to make your party a success. Don't forget to claim you FREE DOWNLOAD to make your event hassle free!
Do you know anyone else who likes learning about international food, culture, history and travel? Bring them over here to join the party! Don't forget to use those share buttons!
Start Here to find out how the Schizo Chef can help you with your cooking, travel and other needs!
If you like this recipe, PLEASE LEAVE A COMMENT & SUBSCRIBE!