Last Updated on June 4, 2015 by Chef Mireille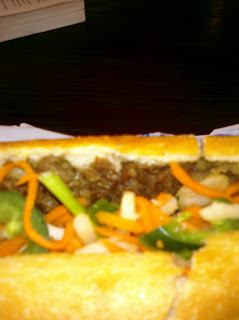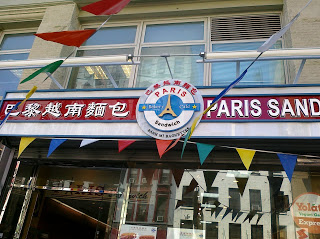 On my quest to find the best Bahn Mi sandwich in NY [that wonderful Vietnamese goodness of meat andor pate, pickled carrots, herbs, butter & mayo on a crispy French baguette] I started with the Paris Sandwich Shop which has two locations in the heart of Chinatown.
There are just a few long wooden tables – enough for about 20 people only. There is a 60 minute time limit at the tables so not the place to come for a leisurely lunch with a group of friends, but perfect for a quick bite before you do your Chinatown shopping.
In addition to Bahn Mi, they also sell European sandwiches & Vietnamese entrees, but I was there for Bahn Mi. Ordering was very easy. All the staff spoke English – not always the case in this part of town. You order and then you walk to the back and wait for your number to be called. . .very fast & very organized!
Now to the sandwich. The bread was the perfect baguette; not too soft with the perfect crisp when you bite into it. I ordered the grilled pork. .delicious with slight undertones of chili but nothing overpowering. .but my favorite part of the sandwich was missing. I love when I bite into a Bahn Mi and the delicious meat is balanced with the freshness of lots of mint and coriander. This one had barely 2 coriander leaves and that was it! The freshness which makes this meat filled sandwich perfect in summertime was missing.
So my quest for the perfect Bahn Mi continues…
— Sent from my Palm Pre