Last Updated on February 12, 2020 by Chef Mireille
Parda Pulao
Known as an ouzi in many Middle Eastern countries, Parda Pulao is a delicious one pot rice & chicken pulao baked inside phyllo.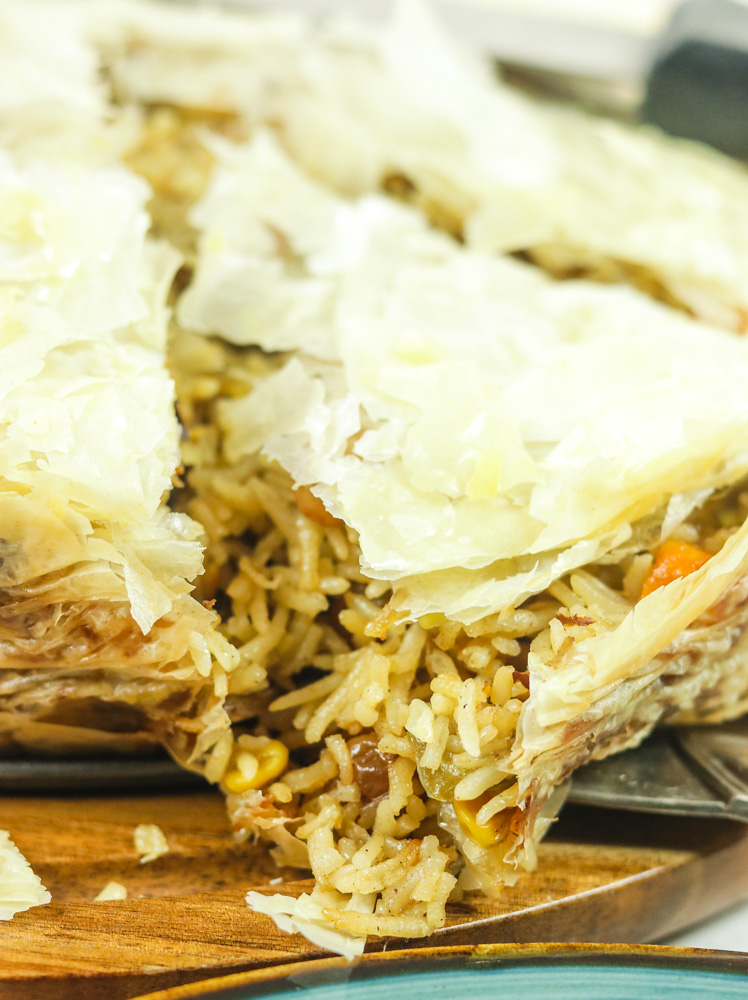 This is the second month I am participating in the Eat the World Cooking Challenge. The country the group chose this month is Iraq. I was so happy as this is a cuisine yet represented here on The Schizo Chef. One more country to check off!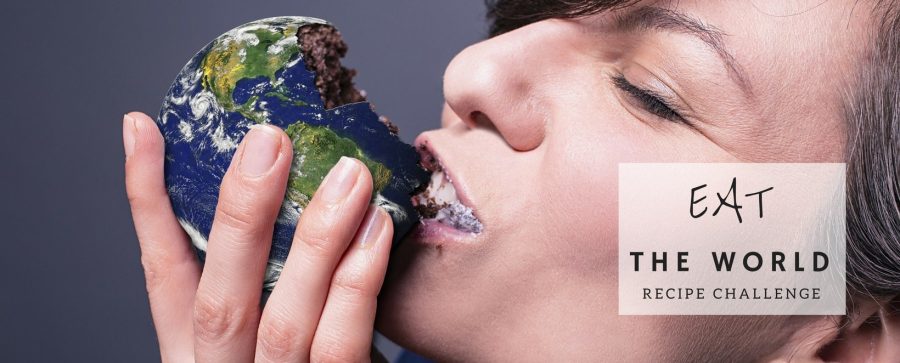 After some research, I came across Parda Plau and realized it was a dish that has been on my to do list for a long time. There is a restaurant here in NYC, called the Moustache. It's a Middle Eastern restaurant and ouzi is one of my go to dishes I order most of the time I visit the restaurant. I think the owners are Lebanese and I have discovered that ouzi, sometimes spelled oozi, is a popular dish throughout the Middle East.
Parda Pulao – Iraqi Parda Plau is basically the Iraqi version of ouzi. As I have eaten this dish dozens of times, I knew exactly what to put into it. This delicious recipe is doing double duty this month for Eat the World & Baking Bloggers.
The recipe below involves making your own chicken broth and using chicken on the bone to make Parda Pulao super flavorful. However, if you still want to make this dish but prefer a lazier method, you can also try this easier methodology.
Alternative Cooking Method of Parda Pulao
Instead of using chicken on the bone, use boneless and skinless chicken thighs.
After the caramelized onions, add the chopped chicken thighs and sautee until golden brown.
Use store bought chicken broth and add the extra ingredients that went into the chicken broth, however, use all ground spices and reduce the quantity by half.
The rest of the steps remain the same.
The one part of Parda Pulao – Iraqi Parda Plau which is a little challenging is layering the phyllo, especially if you don't have a large area of counter space to work with.
It will be easier if you make smaller individual ouzi, which is how it is done in the restaurants. Regardless, this version was just as delicious, if not as aesthetically appealing.
Since the dough dries out so quickly, you have to work very fast to keep the phyllo from breaking as you fill and layer.
A super flavorful pelau baked inside crispy and flaky layers of phyllo seals in all of the flavors and makes it so delicious!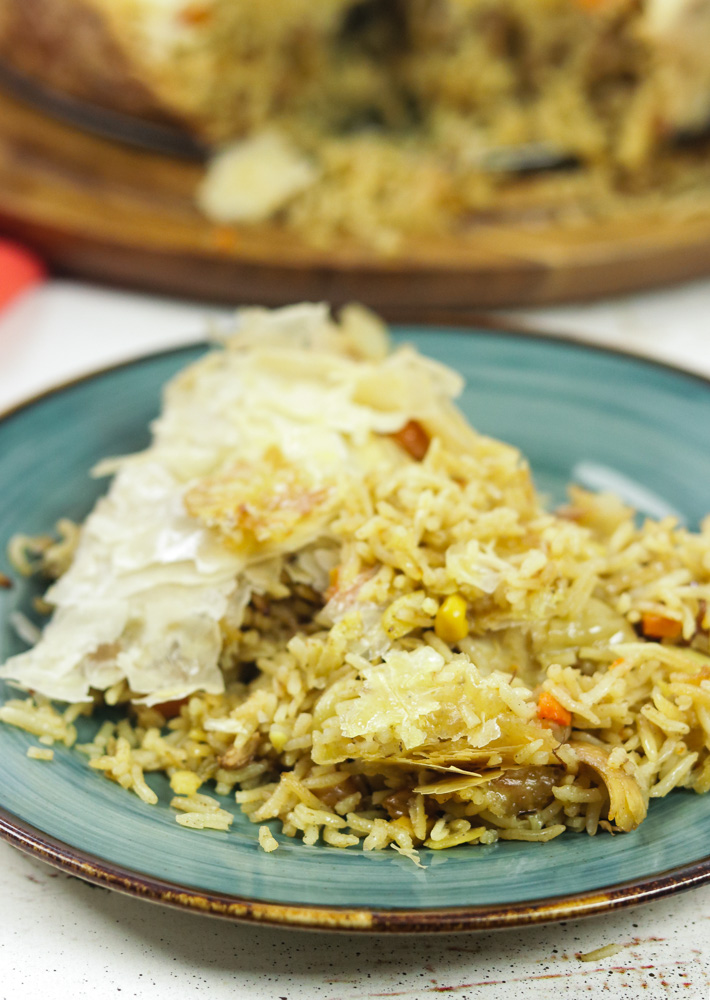 Parda Pulao – Iraqi Parda Plau makes a delicious dinner for any night of the week!
and hey if you want to skip the second step..I won't tell…
This flavorful Chicken Pulao it makes a great weeknight dinner – an easy one pot meal – especially if you use the store bought chicken broth method!
Parda Pulao – Iraqi Parda Plau
Parda Pulao – Iraqi Parda Plau – Known as an ouzi in many Middle Eastern countries, Parda Pulao is a delicious one pot rice & chicken pulao baked inside phyllo.
Ingredients
Chicken Broth Ingredients:
Pulao Ingredients:
3

tablespoons

oil

1

large onion

thinly sliced

3

cups

chopped vegetables

½

cup

sliced almonds

½

cup

golden raisins

½

teaspoon

ground allspice

¼

teaspoon

ground cinnamon

¼

teaspoon

ground turmeric

1

tablespoon

orange blossom water

3

teaspoons

salt

3

cups

rice

6-10

slices

Phyllo
Instructions
Combine chicken, garlic, coriander seed, cumin seed, peppercorns and cinnamon in a large pot.

Add 8 cups water and bring to a boil.

Reduce to a simmer and cook for 30 minutes.

Remove the chicken pieces.

As soon as it is cool enough to handle, remove the meat from the bones.

Strain the broth and discard the spices.

In a large pot, combine oil and onions.

Cook on low heat for about 5-8 minutes, until onions are browned and caramelized.

Add vegetables and stir fry for about 5 minutes on medium heat, until the vegetables are about half cooked.

Add almonds and raisins. Stir fry for 1 minute.

Add chicken, allspice, cinnamon, turmeric and orange blossom water. Stir to combine.

Add reserved chicken broth and additional water to equal 4 cups and salt. Bring to a boil.

Add rice. Stir to combine.

Reduce to a simmer, cover and cook for 15-20 minutes, until all the liquid has been absorbed.

Leave to cool.

Preheat oven to 400 F.

In a round cake pan or baking dish, layer 6 sheets of phyllo, brushing melted butter in between each layer.

Add the cooked pulao on the phyllo sheets. Wrap the phyllo around the pulao to cover. Add a few more slices of phyllo on top, brushing melted butter in between each layer as needed.

Brush melted butter on top.

Bake for 30 minutes.
Notes
Any variety of vegetables can be used. I used cabbage, carrots, bell pepper and corn. Squash, pumpkin, cauliflower, green beans, green peas are other vegetables that can be used.
Chicken broth can be made the day before and chilled. You can then remove additional fat from the top before utilizing.
Nutrition
Calories:
443
kcal
|
Carbohydrates:
61
g
|
Protein:
24
g
|
Fat:
11
g
|
Saturated Fat:
2
g
|
Cholesterol:
86
mg
|
Sodium:
789
mg
|
Potassium:
560
mg
|
Fiber:
4
g
|
Sugar:
7
g
|
Vitamin A:
22
IU
|
Vitamin C:
8
mg
|
Calcium:
70
mg
|
Iron:
2
mg
Did you try this recipe? Leave a comment below.
Please follow me on Instagram @chefmireille or tag me #chefmireille with your pics! I'd love to share them!
Check out all the wonderful Iraqi dishes by fellow Eat the World members and share with #eattheworld. Click here to find out how to join and have fun exploring a country a month in the kitchen with us!
Parda Pulao – Iraqi Parda Plau is also part of this month's Baking Bloggers group!
Baking Bloggers February 2020
Middle Eastern Baking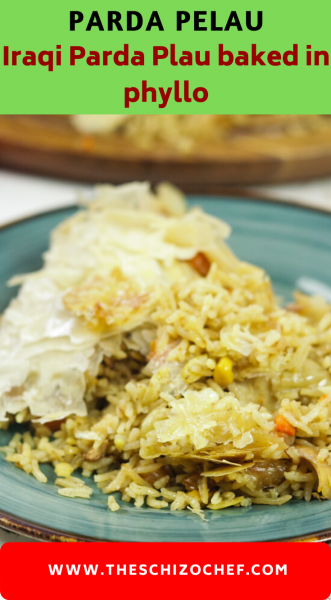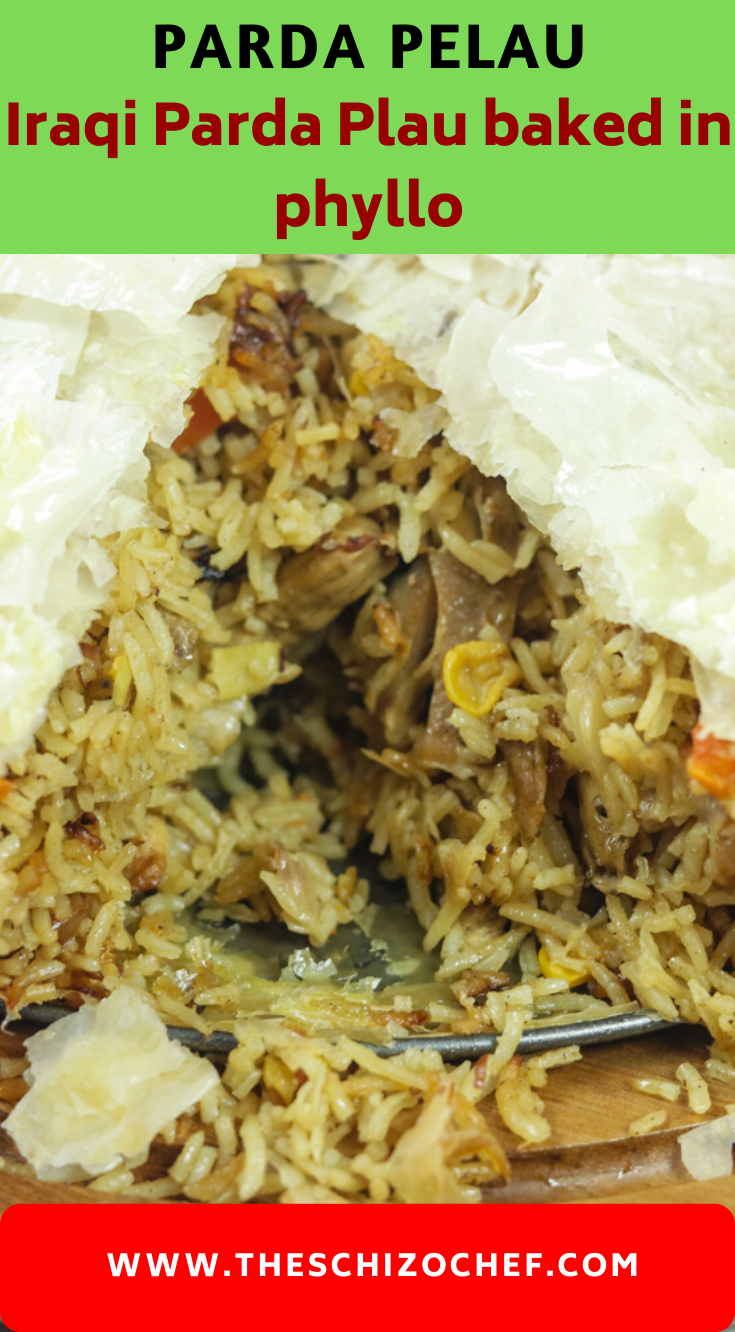 DO YOU YUM? SAVE IT BELOW!
Yum
Don't forget to visit the RECIPE INDEX with over 1000 recipes from around the world including lots of Vegetarian Recipes and Gluten Free Recipes!