Last Updated on June 8, 2023 by Chef Mireille
Paneer Chaman – Fennel scented paneer dish from Kashmir is a great Vegetarian meal. Perfect for Meatless Monday.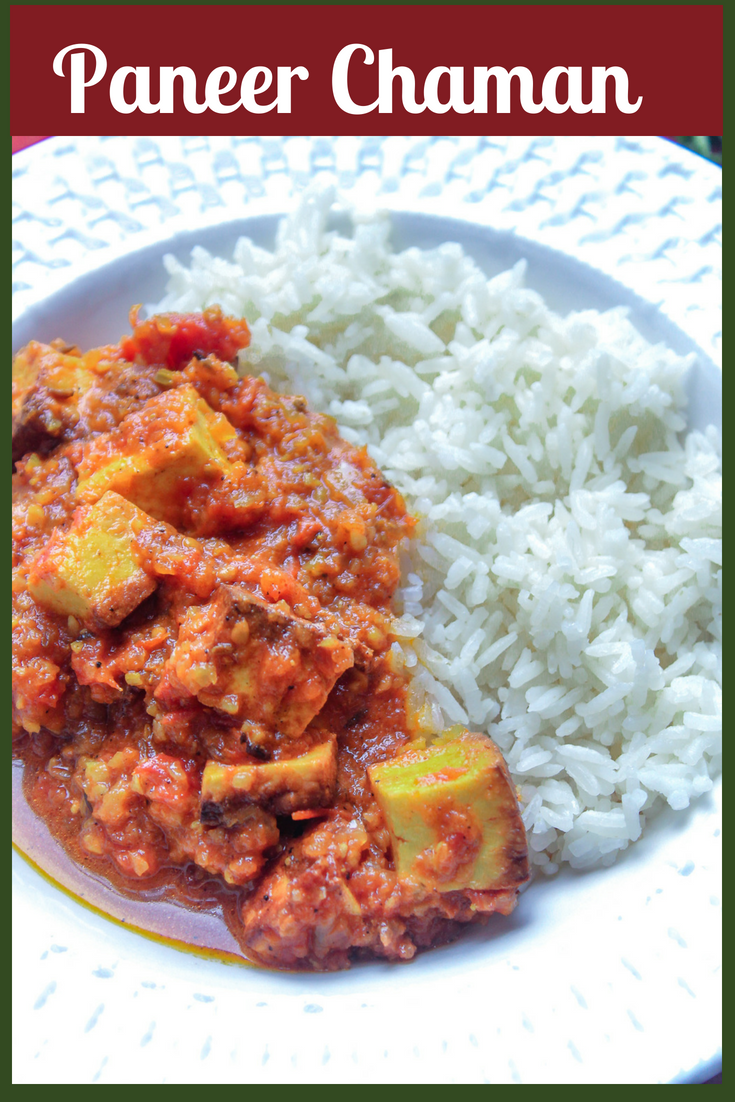 Having a big block of paneer in the refrigerator to be utilized, I went on a search for North Indian paneer dishes to go with my BM theme this week and I came across this tantalizing curry infused with the fragrant flavor of fennel.
This dish comes from the politically tumultuous but breathtakingly stunning North Indian state of Kashmir. Located on the border and once part of the Mughlai Empire, there is a lot of influence of Middle Eastern cuisine on the plates of the Kashmiri's. Abundant use of fennel, cardamom, saffron, dried fruits and nuts characterizes this cuisine.
Living in NY, one thing that was very important to my parents was exposing us to different cultures. Coming from a multi cultural family, my parents thought it was important to be able to adapt and interact comfortably with different people and different cultures. Without a crystal ball, there is no way of knowing where life will take you and you are not always going to be able to stay in your comfort zone around your own people. It would have been very easy for my parents to pick a Caribbean neighborhood to live in since they both are born on Caribbean islands, but they wanted us to learn about other people so that we would always feel comfortable no matter where we were employed or lived. I have never lived in a Caribbean neighborhood or any neighborhood that was predominantly one race or another. I have always lived in culturally diverse neighborhoods. I have always had friends of many different cultures.
Therefore, things like paneer, pierogies and sancocho are things I have been familiar with since I was a child and I wrongly assume anyone growing up or living in NY would know what these are. I was very surprised when I catered a one year anniversary of a health and wellness center last week and everyone was going ga-ga over the Paneer Lababdar I made and wanting to know what were the white cubes inside and where they could purchase them. Especially since so many of the people in attendance were Vegetarians, it really shocked me that they didn't know what paneer was.

So for those who don't know, paneer is an Indian fresh cheese that you can purchase from Indian markets or high end supermarket like Whole Foods, Fairway or Trader Joe's. It's a firm cheese that can be fried or grilled because it will not melt. Many recipes and Indian restaurant menu's translate it as cottage cheese, which I think does it a disservice as you couldn't pay me to eat cottage cheese but I will gladly devour paneer no matter how it is utilized. Paneer is a wonderful option for Vegetarian meals. Check out some of my other paneer recipes for more ideas.

Paneer Recipes
IN THE MAKING – HOW TO MAKE PANEER CHAMAN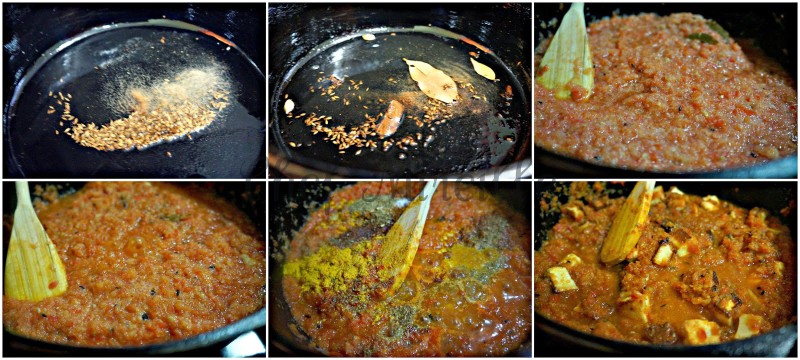 This is such a fragrant curry with the perfume of fennel. It's a perfect accompaniment to roti.
Paneer Chaman
This fennel scented paneer from Kashmir is perfect for any Vegetarian meal.
Ingredients
5 to

matoes

chopped

1

onion

chopped

4

cloves

garlic

1

inch

piece of ginger

4

tablespoons

oil

9

oz.

paneer

chopped

1/2

teaspoon

cumin seeds

a pinch of asoefetida

1

inch

cinnamon stick

3

cloves

2

bay leaves

1

teaspoon

fennel seed

ground

1

teaspoon

red chile powder

cayenne pepper

1/2

teaspoon

ground turmeric

1

teaspoon

sugar
salt

to taste

1/2

teaspoon

garam masala
Instructions
Using a food processor, grind tomatoes, onion, garlic and ginger to a fine paste.

Heat 2 tablespoons of the oil, and fry the paneer until golden brown. Remove from the pan and add the rest of the oil.

Add cumin seeds and asoefetida. Once the cumin starts to change color, add cinnamon, cloves, cardamom and bay leaves. Add the tomato-onion paste and cook for 10-15 minutes, until vegetables are well softened.

Add fennel, chile, turmeric, sugar and salt. Cook another 3 minutes.

Add paneer and garam masala. Cook another 3 minutes.

Serve with rice or roti (Indian flatbread).
Did you try this recipe? Leave a comment below.
Please follow me on Instagram @chefmireille or tag me #chefmireille with your pics! I'd love to share them!