Last Updated on December 14, 2020 by Chef Mireille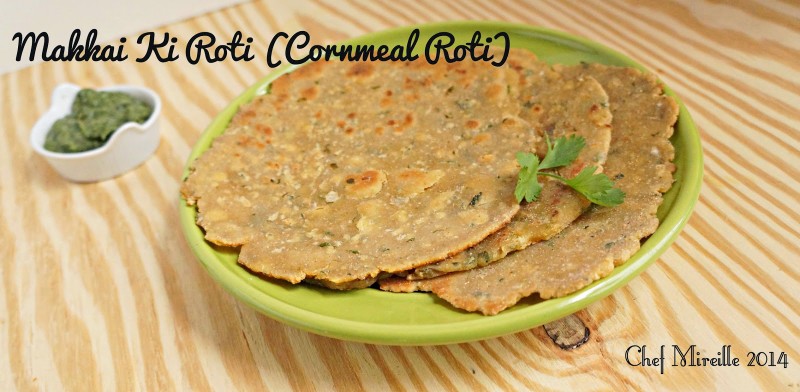 This week's BM theme is to update a few old archived posts with updated photos and improve the recipes also, if warranted. One thing that has improved in the last 2 years is my talent at rolling flatbreads and especially Indian breads. Makkai ki Roti is one of the most difficult roti's to roll because of the coarse nature of both Indian wheat flour and cornmeal. This is one of the most challenging roti's to roll, but since I managed with Bajra ki Roti (millet) here, I decided I was ready to try again. Since neither millet nor cornmeal have gluten, this is what makes these roti's so challenging. Additionally, Indian wheat flour has a lower protein content than American wheat flour,

Two years later, I am doing this roti again and hope to achieve more aesthetically appealing results. One thing I have learned that makes the roti's easier to roll is it is important to let the dough rest. Even if it is just for 5-10 minutes, you will find the breads easier to roll out and with softer bread results. I've also adjusted the water:flour ratio to yield a softer roti.
Makkai ki Roti
(updated from here)
Yield: 10 roti's
Ingredients:
1 cup yellow cornmeal
1 1/4 cup chappati flour (Indian wheat flour)
1 teaspoon salt
2 tablespoons ghee
1 small onion, finely chopped
1 tablespoon ginger, finely chopped
2 tablespoons cilantro, finely chopped
1 green chile, finely chopped
1/2 – 2/3 cup warm water
ghee, for brushing
Chop ginger, chile, cilantro and onion very finely, with the aid of a food processor if possible.
Add this in a bowl with both flours and ghee. Add water a little at a time, until you have a soft dough. Cover and leave to rest for 5-10 minutes.
Divide dough into 10 equal sized balls and roll each into a smooth round around 6″ in dimeter on a well floured board
Brush a skillet/tawa with ghee. Place one roti on it. As soon as little air bubbles start to appear, brush the top with ghee and flip over. Brush the top side with ghee and cook for another minute. Flip over onto a plate and brush the top with ghee..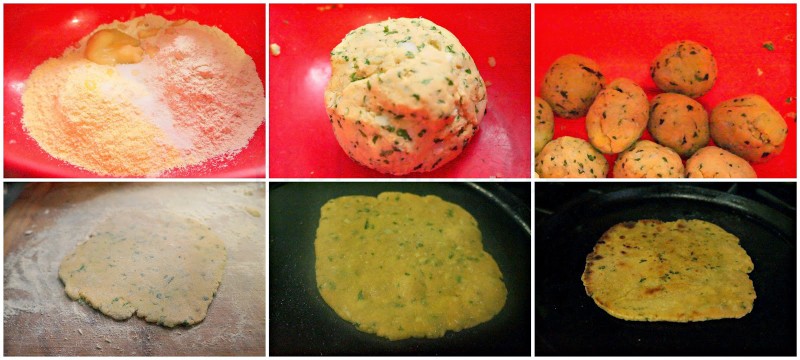 Repeat for all the remaining roti's.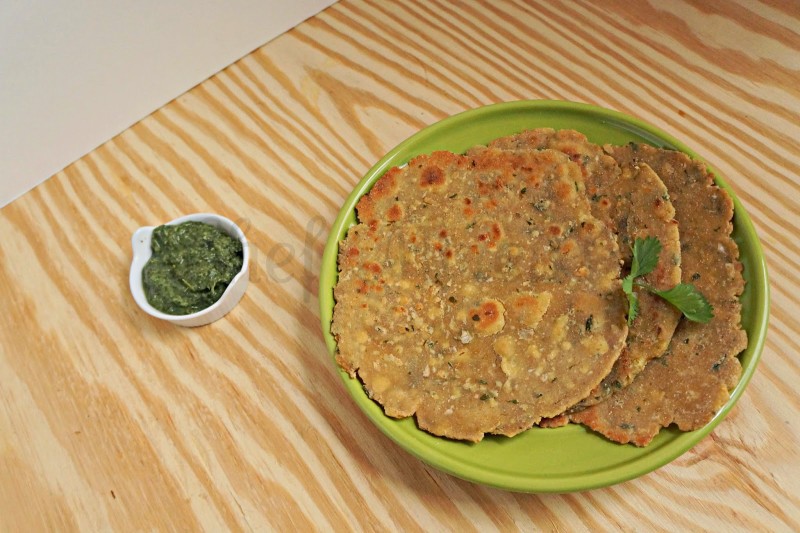 Notes:
Due to the coarse nature of the flours, it is important to brush the roti's liberally with ghee both while cooking.and afterwards. Otherwise your roti's won't remain soft and pliable. They will be crispy, which is what occurred the first time I made them.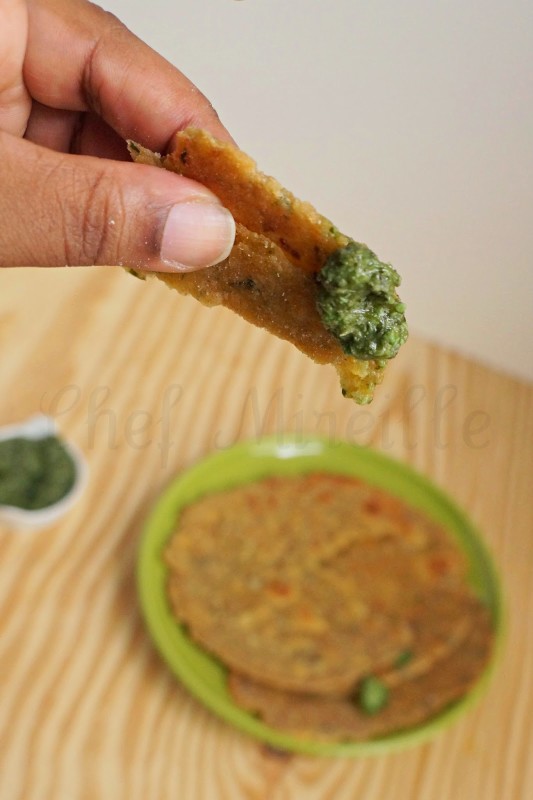 These make the perfect late night snack with some mint chutney.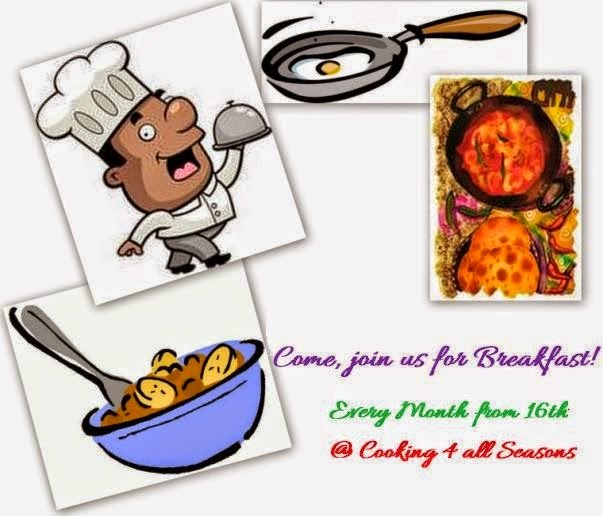 Check out the Blogging Marathon page for the other Blogging Marathoners doing BM# 45
…linking to Come Join Us for Breakfast
LIKE THIS RECIPE? LEAVE A COMMENT..I LIVE FOR THEM!
Chef Mireille