Last Updated on December 14, 2020 by Chef Mireille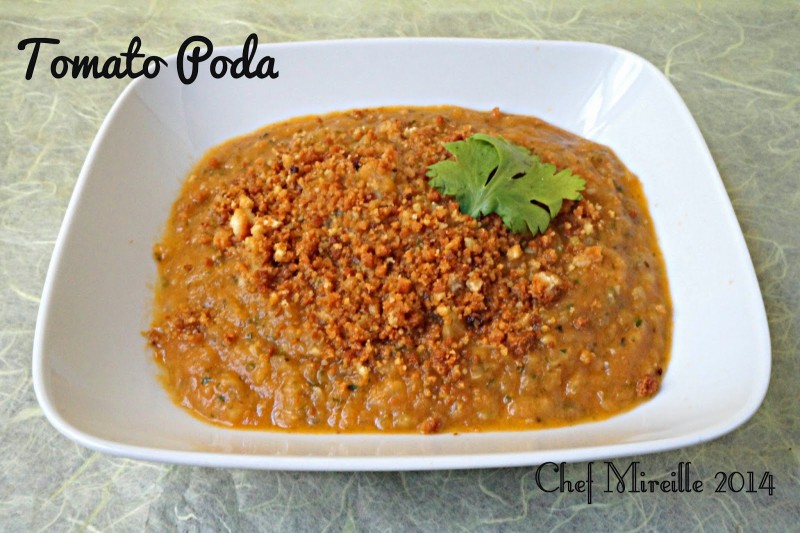 Oriya cuisine is food from the eastern Indian state of Odisha, formerly Orissa. Odisha is the Mason Dixon line of India, separating South India from North India. Oriya is the official language. It is double the national average for poverty. It is especially known for its dance traditions in India. Its classical dance is the oldest recorded dance form in history, dating back about 2000 years. Under British rule, this classical dance form was almost lost. Luckily, after independence, a great cultural pride resulted in the re-emergence of this dance so it was not lost forever. This classical dance is closely tied to religion, often depicting events from religious texts.
Odisha is one of the most Hindu states of India, with 95% of the population Hindu. It is very important in the religion's history with Odisha hill tribes being mentioned in the Mahabarata, an epic poem dating back to around the 8th century BCE. It is one of the faith's most important texts. There are over 1000 temples in Odisha. However, the population is pretty evenly divided between Vegetarian and Meat Eaters.
Due to its central location, idli and dosa are just as common there as North Indian specialties. Called badi in the Oriya language, I am more familiar with the hindi word of wadi. Wadi are sun dried lentils which i have now used many times. Since I really like them, this was the absolute winner when deciding what dish I would do to represent the Indian state of Orissa.
Poda are basically roasted vegetable curries and two varieties are made in Orissa – tomato and eggplant. Since eggplant and I despise each other on site, the tomato option was the clear winner.
Tamato Poda (Roasted Tomato Curry)
Ingredients:
4 plum tomatoes
2 tablespoon chana (chickpea) wadi
1 onion, finely chopped
2 cloves garlic, finely chopped
2 green chiles, finely chopped
4 teaspoons mustard oil
2 tablespoons cilantro, finely chopped
salt, to taste
Roast tomatoes over open flame until the skin is blistered on all sides. Peel them and finely chop.

Heat oil in a large skillet. Fry wadi until golden brown. Remove from skillet and set aside. Grind coarsely.
Add tomatoes, onion, garlic, chiles and cilantro to skillet. Add salt and simmer for 5 minutes.
Puree in a blender or food procesor
Return to the heat and cook on high, stirring constantly, for 2 minutes.

To serve, garnish with the wadi.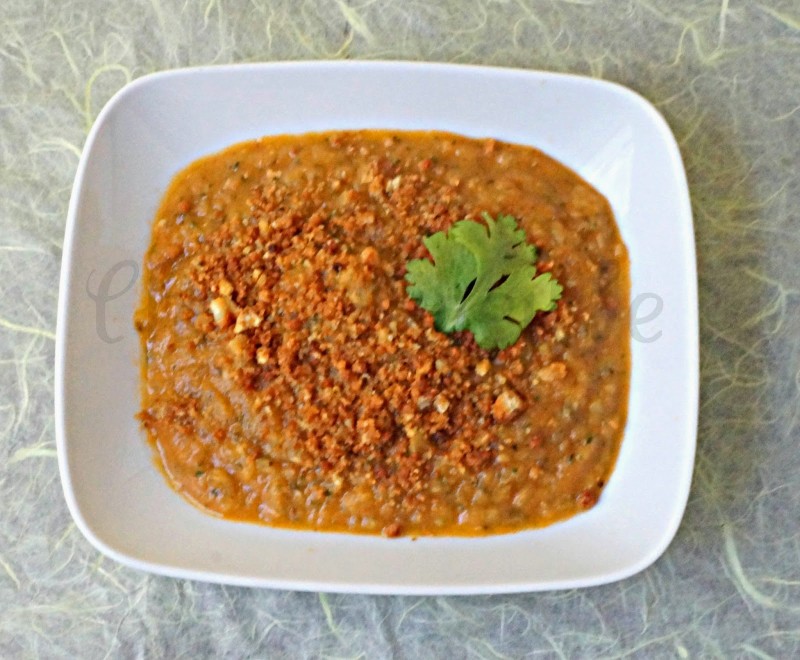 Serve with rice or chappati.
So simple and quick, this is great when you need something to go with rice in a jiffy. By roasting them, the natural sweetness of the tomatoes really comes to the forefront.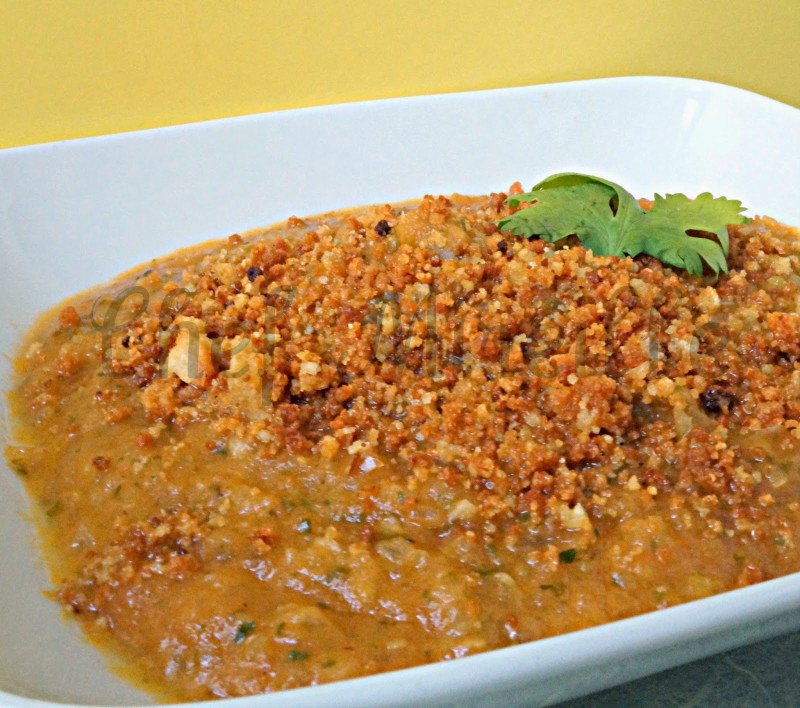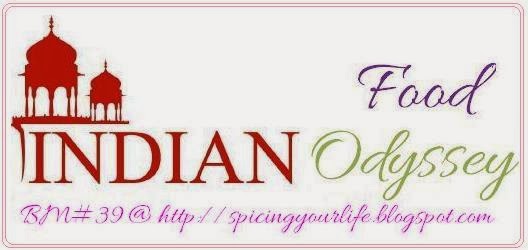 Check out the Blogging Marathon page for the other Blogging Marathoners doing BM# 39
LIKE THIS RECIPE? LEAVE A COMMENT..I LIVE FOR THEM!
Chef Mireille