Last Updated on May 20, 2015 by Chef Mireille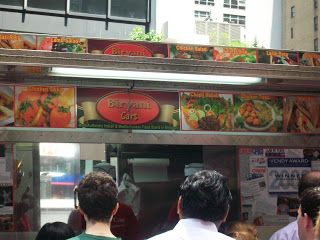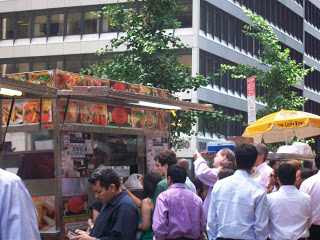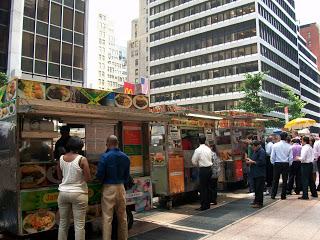 Food Carts in New York have been part of the culture of Manhattan for a long time. It started with the first immigrants of Eastern Europe who populated LES (lower east side for those of you who don't live in Gotham City). Through the years, the food available at vending carts have changed. When I was growing up in the 80's, it was the hot dog carts that sold frankfurters, Italian sausages, knishes and pretzels.
In recent years, with the large influx of Middle Eastern and North African immigrants, the Halal Carts are everywhere. Some corners have 4 or 5 of them at lunchtime. For $5, you can get a plate of rice, chicken lamb or falafel, salad OR have just meat and salad in a pita for $2.50. Some of them also include American favorites like burgers and fries. You can't get a full plate of food anywhere else in Manhattan at these prices. Everyone has their favorite Halal cart. Some really build up a good reputation, like the one at 53rd Street and 6th avenue that only comes out at night to service the dinner and bar/club crowd. At 7pm, the line is down the whole block.
As much as I enjoy the Halal cart food with the flavorful seasoned meat and variety (some of them give you 3 choices of rice – rice and beans, yellow rice or brown rice), one can only have but so much Halal.
There are some new characters that have emerged as NYC vending carts – one are Biryani carts, where in addition to Biryani, you can get a variety of Indian dishes and Kathi Rolls (the Indian version of a gyro), stuffed with lamb, chicken or a variety of vegetarian choices like Aloo Gobi (potato, cauliflower) on a chapati roti. My personal favorite is the Pune Roll, stuffed with a flavorful Masala chicken, balanced with crisp cucumbers and lettuce. 2 Kathi rolls are $6 and will fill you up until dinnertime. The line at the Biryani Cart proves what a welcome variety these carts are to the Halal and hot dog carts.
Another new addition are Jamaican food carts where you can get Curry Goat and Chicken as well as a variety of other Caribbean food choices. It is so wonderful to see the diverse culture of NYC being represented in the affordable food carts. Now there are choices!!
The most International corner I have found is 46th Street and 6th Avenue. Here you will find 2 Biryani Carts (to pick up the overflow), 1 Halal cart and 1 Jamaican Food cart. If you are in NYC on a budget, some of the best food can be had at our food carts. Unlike many other international cities like Mumbai, they are still kept to the strict food safety standards at our restaurants who eating street food here is entirely safe and tasty!!!
If you don't want to break the bank on food on your next NYC vacation, consider eating from the variety of vending carts available to you!!!

Chef Mireille
https://www.globaltasteinc.com
Like me on FACEBOOK!
Follow me on TWITTER!