Last Updated on June 6, 2015 by Chef Mireille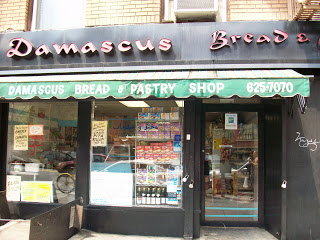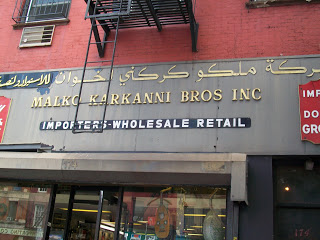 Shopping for foods from the Middle East can be easily accomplished in the Cobble Hill section of Brooklyn, NY. There are several markets there where you can purchase a large variety of olives, dates, dried fruits, nuts and seeds, raw or roasted and seasoned. Also a variety of Middle Eastern cheeses like Halloumi, Lebne, Akawi and Nubulsi are sold. Grains and pulses, spices and herbs, dry storage food products, home made soap, tea and coffee and tagines for making traditional Moroccan food can all be purchased on this one block.
Oriental Pastry & Grocery is jam packed with barrels of olives and dried goods, as well as cheese. This is the place where you can purchase traditional Tagines as well as authentic vessels for making Middle Eastern tea and coffee. My favorite brand is Cafe Najjar coffee with cardamom. Deliciously strong and flavorful.
Next was Malko Kalkanni Brothers with spices, dried fruits, Armenian string cheese and dried mulberries (see attached photo) at $4.99/lb. – more than half of the price charged at Kalustyan's in Manhattan.
Damascaus Breads has a variety of baked goods as well as a small section of prepared foods and grocery items. Walnut, Pistacchio or Almond baklava – all can be found here!! – Kibbeh (baked lamb and bulgur patties), baba ghanoush, Date Brioche and a variety of cookies and breads can all be found here, as well as Middle Eastern cheese
Sahadi's is the largest market here, but I prefer the smaller shops where you get more individualized service, better prices and the staff has the time to explain the different foods to you and Sahadi's is closed on Sundays and Saturdays it is a nightmare – overcrowded with long lines!!
After you have exhausted yourself shopping at need to refuel, there is no better place than Yemen Cafe. Super friendly staff who gave us soup on the house – just because!! Free refills of delicious Yemen Iced Tea. Food was all seasoned to perfection and absolutely delicious – most entrees costing $10. One thing on the menu that is a MUST TRY is the sliced Yemen bread with honey and butter. Not what I was expecting – I was expecting some sliced bread served with honey and butter on the side. This dish (see attached picture) is actually slices of bread that butter and honey have been poured on and then cooked and garnished with black onion seeds. Mildly sweet and subtely savory, served warm – this is how you must end your meal at Yemen Cafe!!!

Chef Mireille
https://www.globaltasteinc.com
Like me on FACEBOOK!
Follow me on TWITTER!