Last Updated on May 20, 2015 by Chef Mireille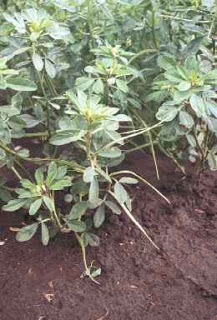 I posted holiday recipes for Purim and Holi , now Easter. Yesterday was Easter Sunday and lamb is the traditional meal to eat on Easter. Being of Caribbean, Indian and et al decent, the way my family eats lamb is not the traditional American way of English/Irish tradition with mint jelly.
The roast lamb and tamarind coconut sauce I made used Indian seasonings. First the roast lamb. I created a paste in the food processor using methi (aka fenugreek) leaves, mint leaves, minced garlic, ginger paste. Methi is a common herb used in Indian cuisine. Lamb Methiwala is a fabulous yogurt curry with lamb, methi, tomatoes and potatoes. It is an herb with an earthy quality so use in moderation. If you use too much, your food will taste like dirt, but the combination of methi and mint is complementary and creates a great depth of flavor. Methi can be found at Indian supermarkets.
I sprinkled all sides of my boneless leg of lamb liberally with Global Tastes & Travels Indian spice blend (an Indian spice blend including everything from curry leaves to dried mango and coriander) and then I spread the taste on the inside of the leg of lamb. In a baking dish, I poured a few tablespoons of mustard oil.
I then rolled the lag of lamb and placed in seam side down in the baking dish and spread the remainder of the paste (reserving two tablespoons for the sauce) on the outside of the lamb and let it marinate in the refrigerator for a few hours.
I roasted it in a 350 degree oven for an hour and a half. It came out perfect, well done (the way we Caribbeans like ALL meat) but still juicy.
To make the sauce, take the reserved paste and place in a saucepan over medium heat. Add 1 1/2 teaspoons of tamarind concentrate, 6 tablespoons of sugar, 2 cups of coconut milk and 1 cup water. Bring to a boil, reduce heat to a simmer and cook for about 10 minutes until sauce is thickened and serve over lamb with rice. DELICIOUS!!
For info on purchasing the spice blend, send me an email!!!!
Thanks and have a good night!

Chef Mireille
https://www.globaltasteinc.com
Like me on FACEBOOK!
Follow me on TWITTER!