Last Updated on January 13, 2020 by Chef Mireille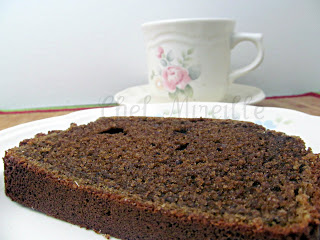 Blogging Marathon #19
Theme: Cooking with Tea/Coffee
Using tea, especially Matcha, in desserts has become fairly common. Matcha is a green tea that is processed to a fine powder so easy to add to recipes, as opposed to tea leaves. It also has 10 times the antioxidant power of regular green tea so is very healthy to add to your food. Additionally, there is a natural sweetness in matcha that works well in sweets. I combined this tea with spices commonly used in Masala Chai to come up with this perfect spiced tea cake.
Matcha Chai Tea Cake
(click here for printable recipe)
Ingredients:
1 teaspoon ground ginger
1/2 teaspoon ground cardamom
1/8 teaspoon ground black pepper
1/4 teaspoon ground cloves
1/8 teaspoon ground cinnamon
2 tablespoon Matcha tea powder
1 cup all purpose flour
1 cup whole wheat flour
1 1/2 teaspoons baking powder
1 teaspoon baking soda
3 eggs
2 teaspoons almond extract
3/4 cup sugar
1 cup sour cream
1 stick butter, melted
Preheat oven to 350 F. Grease a loaf pan.
Combine all of the dry ingredients in a bowl.
In a large bowl, combine sugar and butter until creamy. Add eggs, one at a time, blending well after each addition.
Add almond extract and sour cream and mix well.
Add the dry ingredients, in two batches and blend well.
Bake for 55 minutes, until toothpick inserted comes out clean.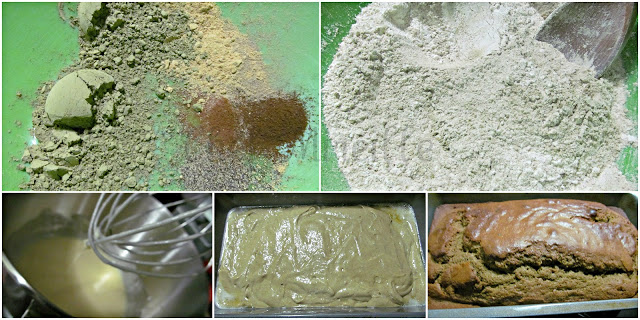 Wait for 10 minutes and then remove from pan and cool, before slicing.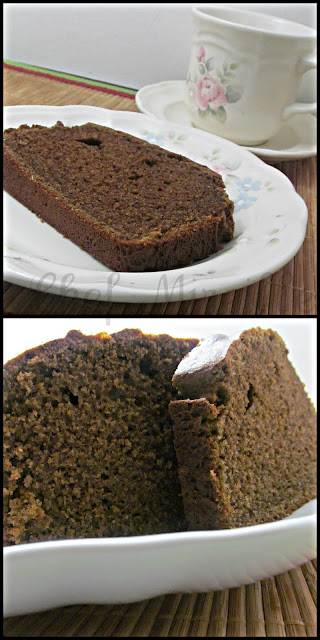 This cake is barely sweet, perfect for those who don't like really sweet desserts but just want a little after dinner treat or tea time snack.
Check out the Blogging Marathon page for the other Blogging Marathoners doing BM#19
…linking to Sumee's Baked Goodies and Bake Fest hosted by Foodomania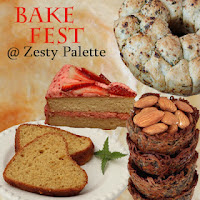 Do you know anyone else who likes learning about international food, culture, history and travel? Bring them over here to join the party! Don't forget to use those share buttons!
Start Here to find out how the Schizo Chef can help you with your cooking, travel and other needs!
If you like this recipe, PLEASE LEAVE A COMMENT & SUBSCRIBE!