Last Updated on June 6, 2015 by Chef Mireille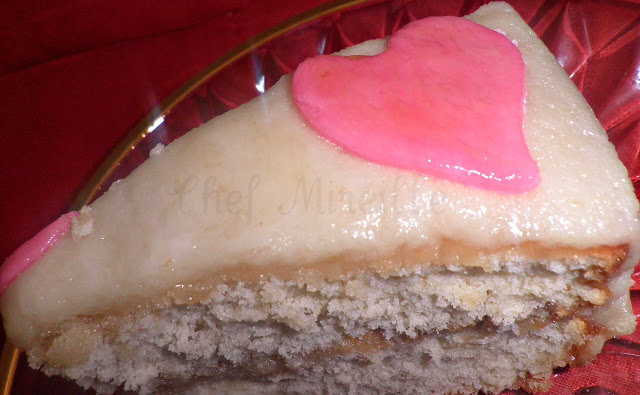 Blogging Marathon #18
Theme: Easy Cake Decorating
Here is a basic white cake, decorated with Marzipan. In order to get the smooth covered cakes in bakeries you see, fondant or marzipan can be used to cover the cake. I prefer Marzipan, which is more flavorful, due to the almond paste. The guava jam is used here not just for flavoring, but also you need something sticky in order for the marzipan to stick to the cake. Apricot jam/preserves is another alternative that is commonly used.
This was my first time ever doing this. Some relatives were visiting from Holland and they were celebrating their 29th wedding anniversary while they were here. This is the cake I made for them, along with a dinner that consisted of Ga Xe Phay, Bok Choy Wontons, Fried Fish & Rice Noodles with Water Spinach.
Marzipan Guava Cake
White Cake
Ingredients:
2 cups all purpose flour
1 1/2 cups sugar
3 teaspoons baking powder
1/2 teaspoon salt
1 cup milk
1/2 cup vegetable shortening
1 cup egg whites
1 teaspoon almond extract
Preheat oven to 350 F. Butter and flour 2 shallow 9-inch cake pans.
In a large mixing bowl, combine flour, sugar, baking powder, salt, milk and vegetable shortening. Mix well, until thoroughly combined.
Add egg whites and vanilla extract and blend well, until thoroughly combined.
Divide the cake batter and pour into the two prepared cake pans.
Bake for 30 minutes.
Let cool completely, before starting to decorate the cake.
Marzipan
Ingredients:
7 oz. almond paste
3 tablespoons light corn syrup
1/4 teaspoon almond extract
1 1/2 cups powdered sugar
food coloring
In a mixing bowl, break the almond paste into pieces. Add corn syrup and almond extract and mix. Add powdered sugar, 1/2 cup at a time until the dough comes together.
Now let's decorate the cake. Place the cakes on a flat surface. More than likely, the top won't be completely flat. With a sharp, serrated edge knife, even out the top so it is flat. Do the same with the other cake.
Place the cake on serving platter and spread guava jam on top and place the other cake on top. Press down hard, but not hard enough to break the cake.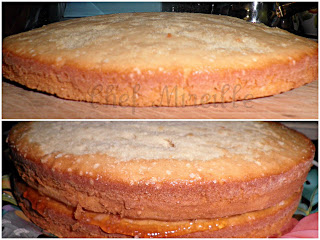 Meanwhile let's prepare the marzipan.
Dust a cutting board with powdered sugar. Place ball of marzipan in between two pieces of waxed paper and roll out until as thin as possible to the shape of the cake. Remember you need a few extra inches to accommodate the sides of the cake. This is a lot of work. I rolled for about 1/2 hour. If you have a pasta machine, the work will be greatly decreased. I had no idea it would take this much work and in the middle of cooking other things, I just did not have time to roll it super thin, however, I rolled it pretty thin.
Brush guava jam on sides and top of cake.
Peel one layer of waxed paper off the rolled out marzipan. Press the marizpan side on top of the cake and peel off the other layer of waxed paper. Press the marzipan neatly on top and side of the cake. Trim off the excess.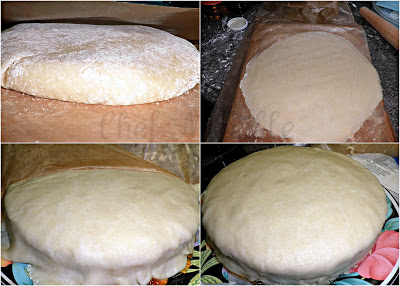 Add some food coloring to the excess and mix well. I used rose paste. Roll out on a cutting board dusted with powdered sugar. With cookie cutters, cut out shapes of marzipan. Since it was their wedding anniversary and this part of my family is from Holland, I used heart and tulip cookie cutters. Spread guava jelly on the back of each cutout and press onto the cake.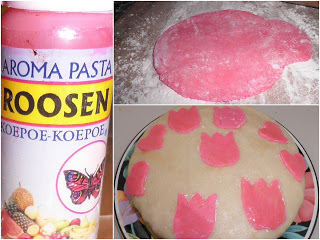 Refrigerate for at least one hour before serving.
I ended up having residual white on the cake because of the powdered sugar. Brush with the jam to get rid of this. This is a learning process and since this was my first time, there are a few things I would do different to improve next time. Most importantly, not do it in the middle of cooking a full meal. This is something that takes a lot of time. Next time, I will do the cake decorating the day before. My family said the cake looked good and they wanted to cut into it and wouldn't let me clean it up.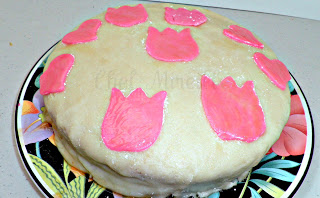 The decorating with marzipan came out far from perfect, however you cannot learn how to do something new without attempting. While you step out of your comfort zone and engage in learning cake decorating, your family will happily enjoy all of your trials. Even if the decorating attempts fail at the beginning, always start with a good cake recipe so that your attempts are not a waste and still edible. Don't be afraid of making mistakes!!!

Once I perfect this which I am sure will come with practice, I will be able to add cake decorating to my list of culinary talents 🙂
Check out the Blogging Marathon page for the other Blogging Marathoners doing BM#18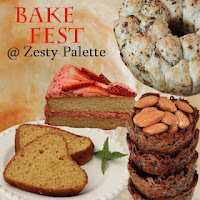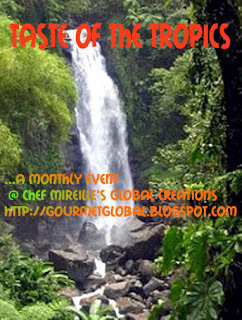 This recipe is off to Vardhini's Bake Fest, hosted this month by Pradnya & my own Taste of the Tropics – Sugarcane
LIKE THIS RECIPE? LEAVE A COMMENT..I LIVE FOR THEM!
Chef Mireille
Like me on FACEBOOK!
Follow me on TWITTER!