Last Updated on December 14, 2020 by Chef Mireille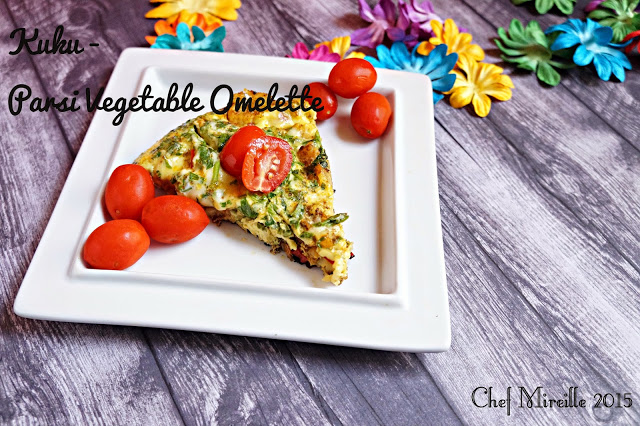 Happy Mother's Day! Did you get up early today and cook the mother in your life breakfast? Well, even if you didn't, Mother's Day does not have to be celebrated only one day in the year. Consider all your mother does for you throughout the year and surprise her with this delicious breakfast any day and I am sure she'll be thrilled!
The Parsi's are a culturally distinct population of India who are descended from Iranian Zoroastrians. They arrived and settled on the Northwestern Indian coast in the 8th or 10th century to avoid persecution by the Muslim conquerors of Persia.
To this day, the Parsi's maintain their distinct culture and religion within Indian society. Their cuisine is a fusion of Persian and Indian flavors and cooking methods. The Parsi's are especially fond of both egg and potatoes. Eggs make an appearance in many of their dishes, in various forms.
Kuku is the Parsi version of an omelette or frittata. Any variety of vegetables can be used. as the base. Crispy fried potatoes would often be served as an accompaniment.
Parsi Vegetable Omelette
Prep Time: 15 minutes
Cook Time: 35 minutes
Yield: Serves 6
Ingredients:
7 tablespoons oil
1/2 teaspoon garlic paste
1 finely chopped green chile
1 teaspoon ground cumin
1/4 teaspoon ground turmeric
1/4 teaspoon paprika
1 thinly sliced onion
2 1/2 cups chopped cauliflower
1 chopped red bell pepper
6 eggs
1/3 cup milk
3 tablespoons grated cheese
3 tablespoons finely chopped cilantro
3/4 teaspoon salt
1/2 teaspoon black pepper
In a large skillet, heat 5 tablespoons of the oil. Add garlic paste, green chile, cumin, turmeric and red chile. Fry for 1/2 a minute. Add onion and fry until they start to change color and caramelize, about 5 minutes. Add bell pepper, cauliflower and 1/4 cup water. Cook on medium heat for 8 minutes
In a small bowl, whisk the eggs, milk, cheese, parsley and salt.
Add the rest of the oil. Add eggs to skillet. Give it a quick stir so that the egg gets distributed to the bottom and cook on medium heat, covered, until eggs are set, about 15 minutes.

After turning off heat, leave to rest for 5 minutes before serving.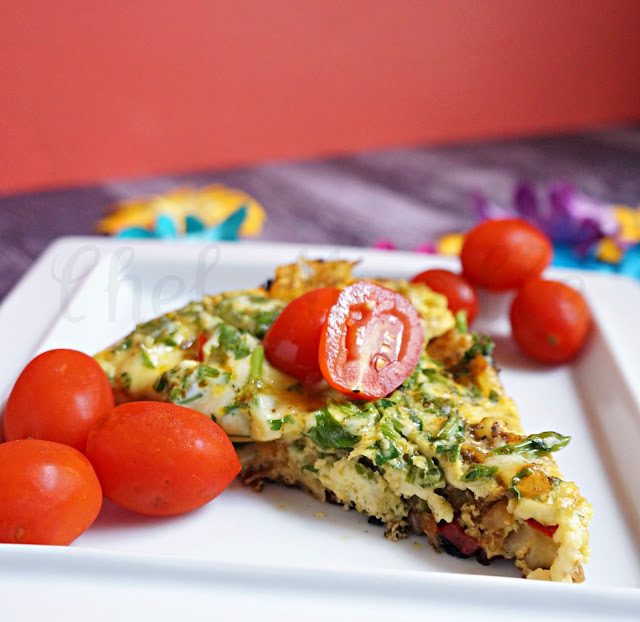 This is not only a delicious but a nutritious way to start the day.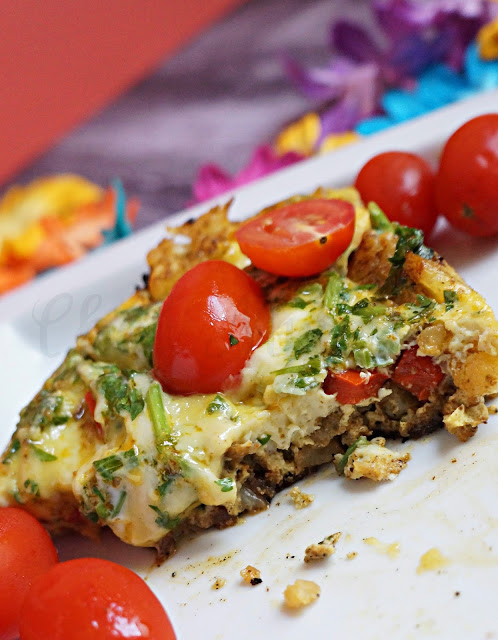 …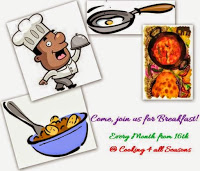 Check out the Blogging Marathon page for the other Blogging Marathoners doing BM#52

…linking to Extra Veg, as well as Helen at Fuss Free Flavours and to Michelle at Utterly Scrummy as well as Come Join Us for Breakfast
Let's start a conversation…Leave your thoughts
Chef Mireille