Last Updated on December 14, 2020 by Chef Mireille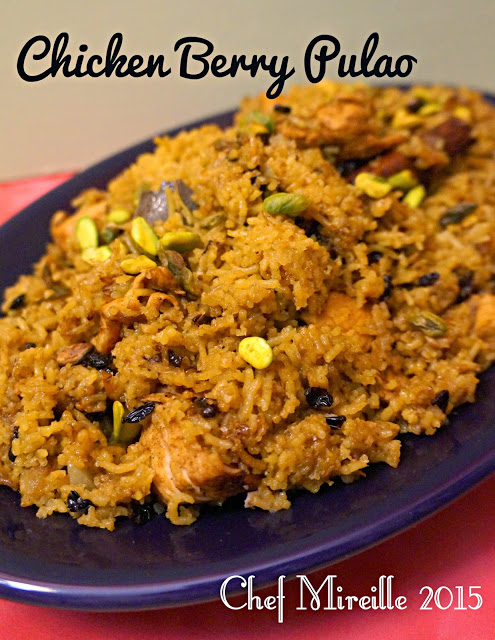 Brittania is a third generation Parsi restaurant in Mumbai, started in 1923 by an Iranian immigrant when the city was still known as Bombay. In the second generation, the wife of Boman Kohinoor, Bachan created the famous Berry Pulao. She was an Indian Parsi but working in Iran, it was easy for her to transport the berries on her trips home. This dish is not available anywhere else in India because the signature barberries are imported from Iran by the restaurant, as they are still not available in India. Luckily, these berries are easy to come by in any Middle Eastern market here in New York.
After reading lots of descriptions and recreated recipes for this, I came up with this version of the famous Berry Pulao. I am not claiming it to be the authentic Brittania version, but I think it will come in as a flavorful and close replica. Eventhough you can get a plate of Chicken Berry Pulao at Brittania for just 450 rupees, I am sure there is no amount of money that is worth them giving up the family recipe. Until you make it to Mumbai to try their version, make this one at home and you won't be disappointed.
Chicken Berry Pulao
Prep Time: 30 minutes
Cooking Time:30 minutes
Yield: Serves 6
Ingredients:
1 chicken breast (15 oz.)
1 teaspoon ginger paste
1 teaspoon garlic paste
1/2 teaspoon red chile powder (cayenne pepper)
1 teaspoon dhana-jeera powder (coriander-cumin)
1/2 teaspoon black pepper
1/2 cup milk
2 generous pinches saffron
1/3 cup dried barberries
1/4 cup oil
1 cinnamon stick
5 green cardamom pods
3 cloves
2 bay leaves
1 sliced onion
1 thinly sliced long green chile pepper (6″)
5 teaspoon sugar
2 1/2 teaspoons salt
2 cups Basmati rice
shelled pistacchios, for garnish
Cut chicken into bite size pieces. Toss with ginger paste, garlic paste, chile powder, dhana-jeera powder and black pepper. Leave to marinate for 15 minutes.
Heat milk. Add saffron and let stand for 15 minutes.
Place barberries in a bowl and cover with boiling water for 15 minutes. Drain and set aside.
In a large pot, heat oil. Add whole spices and fry for 1 minute.
Add onion and chiles and fry for 10 minutes, stirring often, until caramelized. Remove onions and spices from pot.
Add chicken and fry until browned.
Return the onion and spices to the pot. Add barberries, sugar, salt, saffron milk, rice and 3 cups water. Bring to a boil. Reduce to a simmer, cover and cook for 15 minutes.
Fluff with a fork and serve, garnished with pistacchios.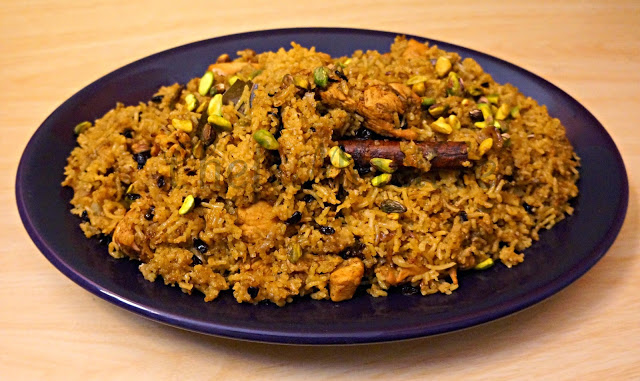 If you can get your hand on barberries, this makes the perfect one pot dish.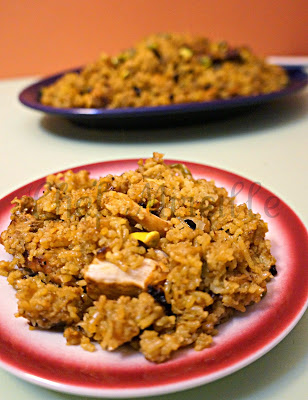 Check out the Blogging Marathon page for the other Blogging Marathoners doing BM#52
Let's start a conversation…Leave your thoughts
Chef Mireille