Last Updated on April 2, 2019 by Chef Mireille
Ktaifi Karides is a Turkish appetiser where prawns are wrapped in ktaifi (shredded phyllo) pastry. It is usually served on a bed of muhammara, a delicious capsicum (red bell pepper) dip. Make this appetiser at your next dinner party and wow your guests!

I am so happy to present this guest post from Tamara of Foodieverse today. Like me, she is a blogger who is interested in world cuisine. So let's meet Tamara…
Tamara also shares recipes from around the world. Having grown up between four countries of diverse cultures, Tamara's appreciation for varied flavours was developed early on in life. When Tamara is not cooking or sharing recipes at Foodieverse, she is likely talking about food or discovering new places to eat in Sydney, Australia. Mediterranean cuisine remains Tamara's favourite cuisine and if she could, she would eat gyros and shawarma for lunch and dinner every day for the rest of her life.
So I made a batch of Kunafa last week. Kunafa is a Middle Eastern dessert that has layers of custard or cream or mozzarella cheese and ktaifi (shredded phyllo pastry). I overestimated the amount of ktaifi I would need and ended up with one whole bag of leftover pastry. So what did I end up making with this delicate and voluminous pastry? Something that will be a hit at your next dinner party. Lo and behold – Ktaifi Karides! Loosely translated from Turkish to Ktaifi wrapped prawns (shrimp). The Greek version of this is called Ktaifi Garides. Don't you love how food travels across cultures, and language too? I have eaten this at both Turkish and Greek restaurants and they taste so similar! So I needed to recreate this at home instead of letting the pastry go to waste.
The Turkish version is usually served over a bed of muhammara that is made by roasting red bell pepper and blending it with walnuts, breadcrumbs, pomegranate molasses, oil and some spices. It is a delicious dip to have with some pita bread, but it really adds texture and flavour to the Ktaifi Karides. Do make this dip to go along with it, and keep the rest to later savour as a dip, it keeps well in a jar for around 2 weeks. I provide more background to this dip in my Muhammara blog post.
I think these prawns would also be perfectly paired with Chef Mireille's White Bean Dip with Roasted Red Peppers. The mix of beans and roasted red peppers, resembling Muhammara, will make your taste buds tingle with excitement!
I've divided the recipe into the Ktaifi Karides and the Muhammara dip. They're both very simple to make, so let's get to it!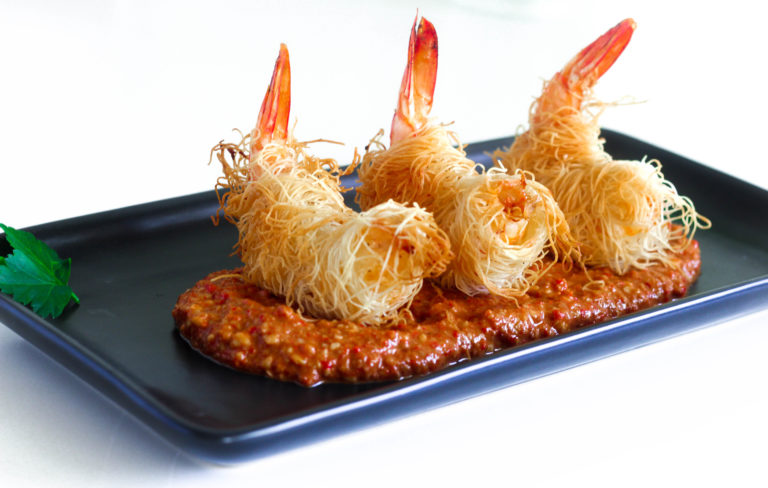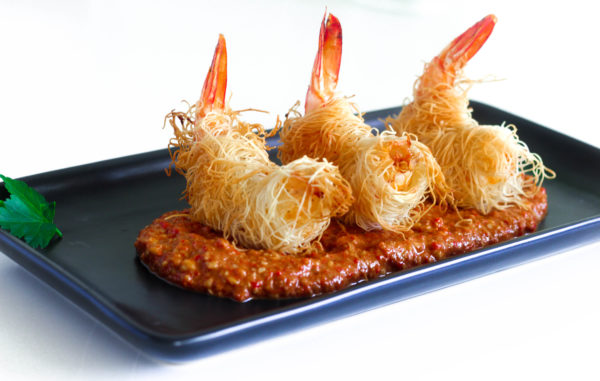 Ktaifi Karides Tips
I used Banana prawns that are widely available here in Australia. Any medium or large sized prawns will do, it's up to you how big you want them to be. Peel, leaving the tails intact and devein. I like to lightly season them.
You may choose to tear the pastry by hand or use scissors. The width can be between 1cm to 4cm, depending on how thick you want to wrap it.
Lay the pastry flat with the short side facing you. Brush with butter or olive oil. I used a mixture of both. Place a prawn on the pastry, tail-side pointing outwards/away from the pastry, then roll. Brush with some more butter or oil.
Bake. And you're done! How easy was that? Just don't tell your guests when you get rave reviews.
Muhammara Dip Tips
To get more rave reviews, serve the prawns over this dip.
You could either use a jar of roasted red peppers or roast peppers yourself.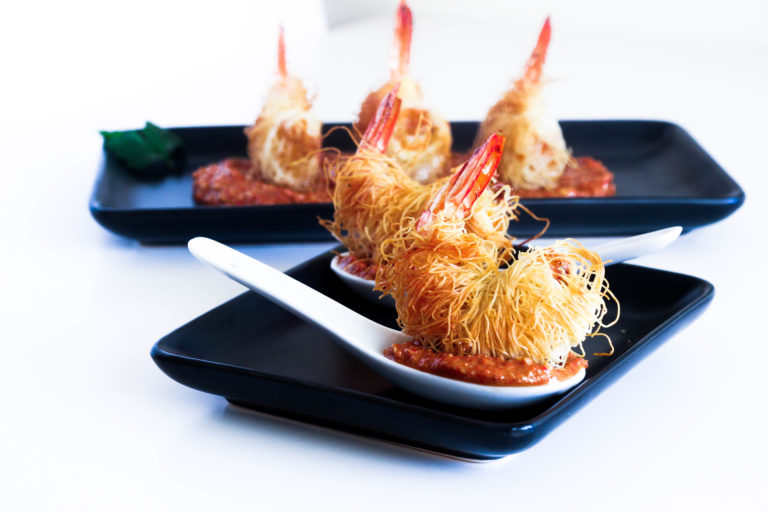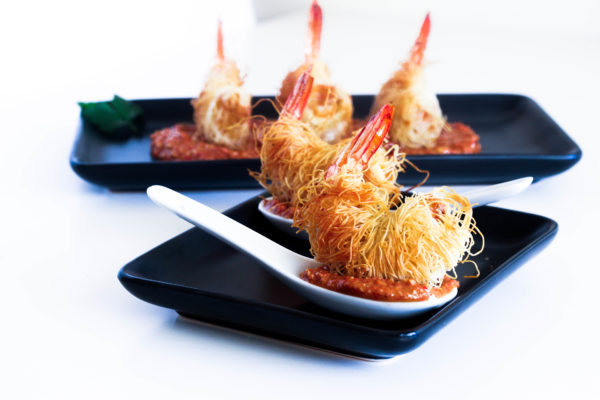 Ktaifi KaridesPrawns with Muhammara
Rating: 51
Prep Time: 1 hour, 15 minutes
Cook Time: 15 minutes
Total Time: 1 hour, 30 minutes
Per Serving 235 calories
Fat 19 g
Carbs 14 g
Protein 3 g
Ingredients
Ktaifi Ingredients
12 banana prawns (or any medium sized prawns), shelled with tail intact, deveined
150g ktaifi pastry (shredded phyllo pastry), defrosted or fresh
½ tsp sea salt
¼ tsp paprika
¼ tsp black pepper
1 tbsp olive oil
1 ½ tbsp melted butter + 1 tbsp olive oil
½ tsp sugar
Muhammara Ingredients:
2 red bell peppers (capsicum) roasted, peeled, seeded and sliced (or 220-250g jar of roasted red peppers)
2 tbsp breadcrumbs
1 garlic clove, chopped
1 tbsp lemon juice
1/3 cup walnuts
1 tsp aleppo chilli flakes (or 1/2 tsp chilli flakes)
1 1/2 tsp cumin powder
1 tbsp pomegranate molasses
1/8 tsp salt
4 tbsp olive oil
Pinch sumac (Optional)
Instructions
Ktaifi:
Preheat oven to 190C (375F).
Marinade prawns with salt, pepper, paprika and olive oil.
Tear apart strips of pastry 1-4cm in width and 12inches long.
With the shorter side facing you, brush the pastry with the melted butter/olive oil mixture. It's sufficient to brush only sections of it.
Place one prawn with the tail facing outwards on the shorter side of pastry facing you.
Start rolling until all of the prawn is covered, except for the tail.
Brush some more butter/olive on the exterior of the pastry. Repeat with all prawns
Place prawns in a baking dish/tray.
Bake at 190C for 15 minutes until pastry is golden brown.
Serve on top of muhammara on a plate or on individual spoons as a party appetiser.
Muhammara:
Place all ingredients in food processor and blend for 30-35 seconds. Blend 10 seconds longer if you want the dip to be smooth.
Find Tamara at: