Last Updated on January 14, 2021 by Chef Mireille
Indonesian Cibinong Laksa – a hearty and filling protein packed noodle soup popular in Indonesia, Malaysia and Singapore. This regional variety from West Java includes chicken, shrimp and mushroom (or tempeh).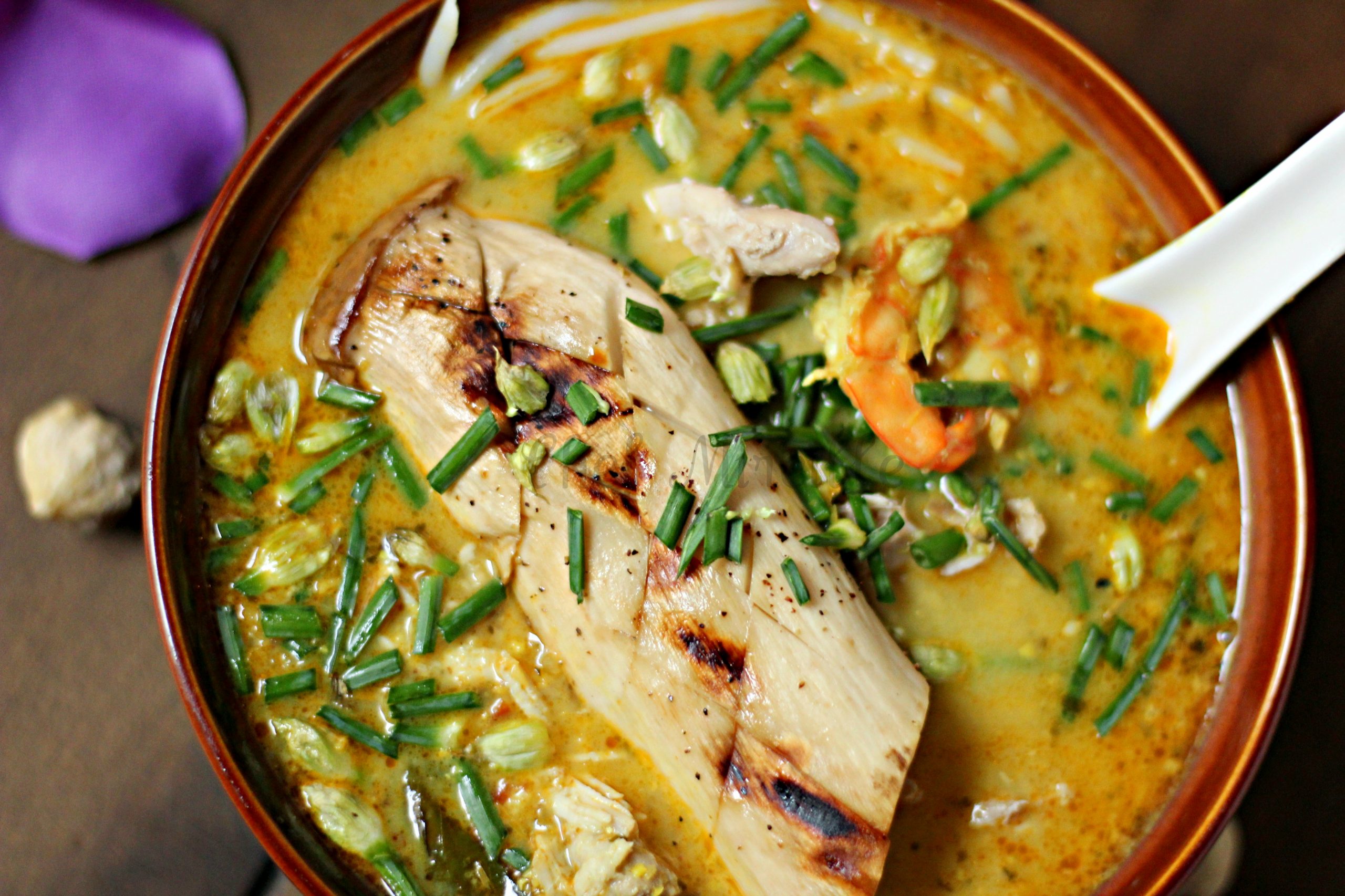 This post may include affiliate links.
In addition to the many cultures that make up me, Indonesian is one of them.
There is a very large Indonesian population in Suriname where my grandfather and much of my extended family is from and still lives. For this reason, I grew up eating a lot of Indonesian food. Celebrating the end of Ramadan with the Indonesian section of my family was always a big feast where I got to learn a lot of traditional recipes from my aunt.
Regional Laksa
There are many dishes popular in both Malaysia and Indonesia and both countries will argue until the end about which country can claim its origins. Laksa is one of those dishes. The dishes will have the same name as the two countries' languages are very similar and have the same vocabulary in many instances. Laksa is very popular in Malaysia, its second national dish after Nasi Lemak. Most people associate laksa mostly with Malaysian cuisine, but don't tell the Indonesians that.
In Malaysia, laksa varies from region to region. I have always loved the versions of laksa I have tried until I visited Penang last year. Since I was in Penang, I knew I couldn't leave without trying their regional laksa.
I knew it was made with mackerel, a fish with a strong flavor – not one of my fave fish varieties, but I was still game. This is one version of laksa I would stay away from unless you are a sour, smelly fish fan. I don't know what was worse the strong fish flavor or the extremely sour broth with LOTS of tamarind. I am doing you the favor if you ever visit Penang, there is so much other delicious food than to subject yourself to their laksa!
Like Malaysia, Indonesia also has regional varieties of laksa. This version comes from the region of Cibinong, in West Java. I did make a few variations from the traditional version due to preference and availability.
Tempeh
Indonesians LOVE tempeh and it is generally included in both vegetarian and meat dishes. Tempeh is used in everything from fried rice to curry to soup.
This fermented soybean cake has a very strong flavor and you couldn't pay me to eat tempeh. However, this is a personal choice. If you love tempeh, have at it and include it in laksa, as is traditional.
Substitutions
I am not a tempeh fan, so I instead used king oyster mushrooms and when I went to the Asian market to get the ingredients, they were out of bean sprouts. Go figure – no bean sprouts in an Asian market! Anyway, I instead used flowering chives. In Indonesia, they would use lemon basil. I substituted with Thai basil.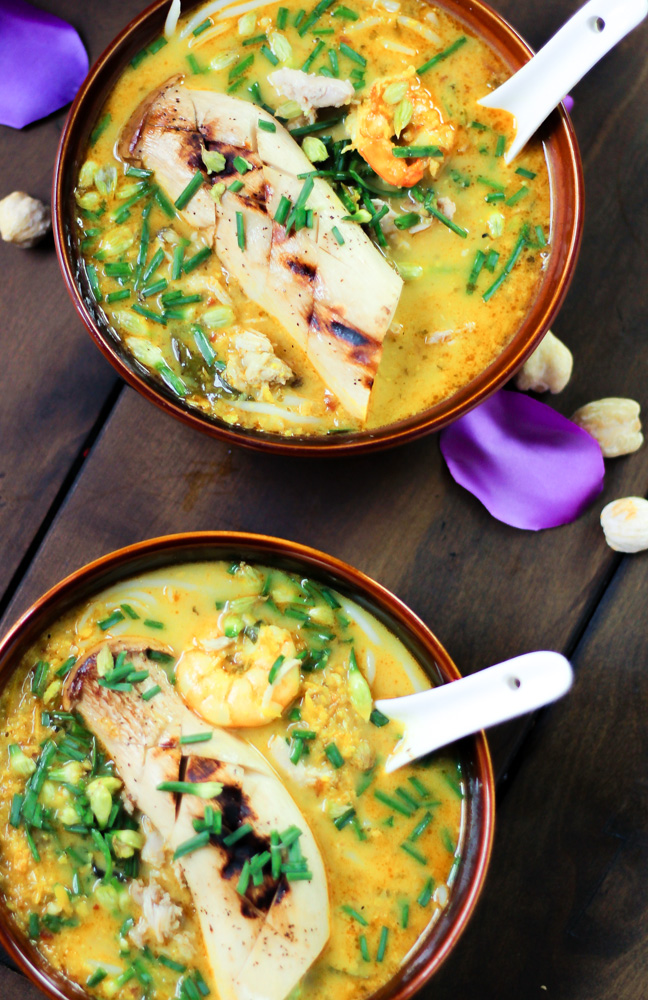 Before we get to today's laksa, don't forget to check out the other Laksa versions I have made before
Laksa Collection
How to make Laksa
First simmer the chicken in a flavorful both.
Then you make the laksa paste.
Add the coconut milk and the other ingredients until everything is cooked through.
We then ladle this flavorful soup over cooked noodles.
This light soup is perfect for the summer season!
This is a definite improvement over the Penang version 🙂
Have you tried instacart yet? It's how I get all of my fresh grocery items delivered within 2 hours!
Indonesian Cibinong Laksa
This protein packed soup from Southeast Asia is a filling soup as a meal!
Ingredients
Instructions
To prepare the chicken, cook in a pot of boiling water with the coriander, black pepper, cumin and star anise until cooked through.

As soon as it is cool enough to handle, shred chicken by hand.

To make laksa paste, cut off bottom 5″ of lemongrass. Using a mallet, pound the lemongrass to release the flavor.

In a food processor, combine lemongrass, shallots, garlic, candlenuts, turmeric, cilantro, shrimp powder and sambal olek. Process very well until finely ground, about 5 minutes, scraping down the sides as necessary.

In a large pot or deep wok, heat oil. Add laksa paste and fry for 5 minutes.

Add coconut and water. Boil for 20 minutes.

If you prefer a smoother laksa, you can optionally strain the liquid at this point and then return the strained liquid to the pot to finish the cooking process.

Add shrimp and Thai basil. Simmer until the shrimp are just cooked.

Add lime juice and salt.

Meanwhile, place vermicelli in a pot of boiling water until cooked. Immediately rinse with cold water.

To prepare the mushroom, sprinkle with salt and black pepper. Brush a grill or skillet with a little oil. Cook on both sides until golden brown.

To serve, place some noodles in the bottom of a bowl, Add laksa.

Place a portion of chicken in the middle. Place mushroom over that. Sprinkle chives over the bowl.

Add optional garnishes, as desired.
Nutrition
Calories:
542
kcal
|
Carbohydrates:
28
g
|
Protein:
26
g
|
Fat:
38
g
|
Saturated Fat:
24
g
|
Cholesterol:
185
mg
|
Sodium:
549
mg
|
Potassium:
478
mg
|
Fiber:
1
g
|
Sugar:
1
g
|
Vitamin A:
113
IU
|
Vitamin C:
6
mg
|
Calcium:
129
mg
|
Iron:
6
mg
Did you try this recipe? Leave a comment below.
Please follow me on Instagram @chefmireille or tag me #chefmireille with your pics! I'd love to share them!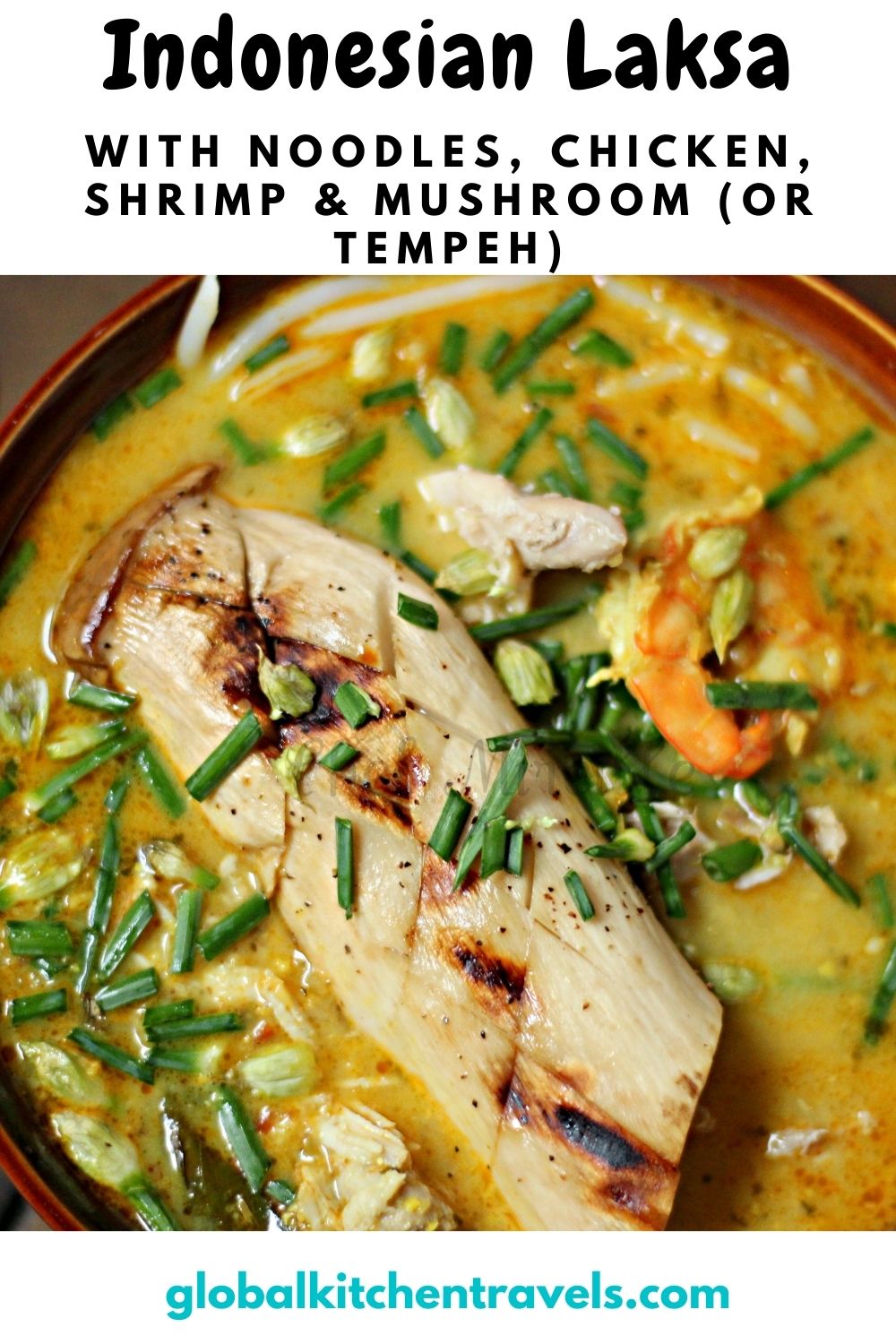 Don't forget to visit the RECIPE INDEX with over 1000 recipes from around the world including lots of Vegetarian Recipes and Gluten Free Recipes!