Last Updated on January 12, 2020 by Chef Mireille
Indonesian Cibinong Laksa – Malaysia is not the only country that makes laksa. Check out Indonesia's regional version from West Java. This filling soup is a protein packed meal!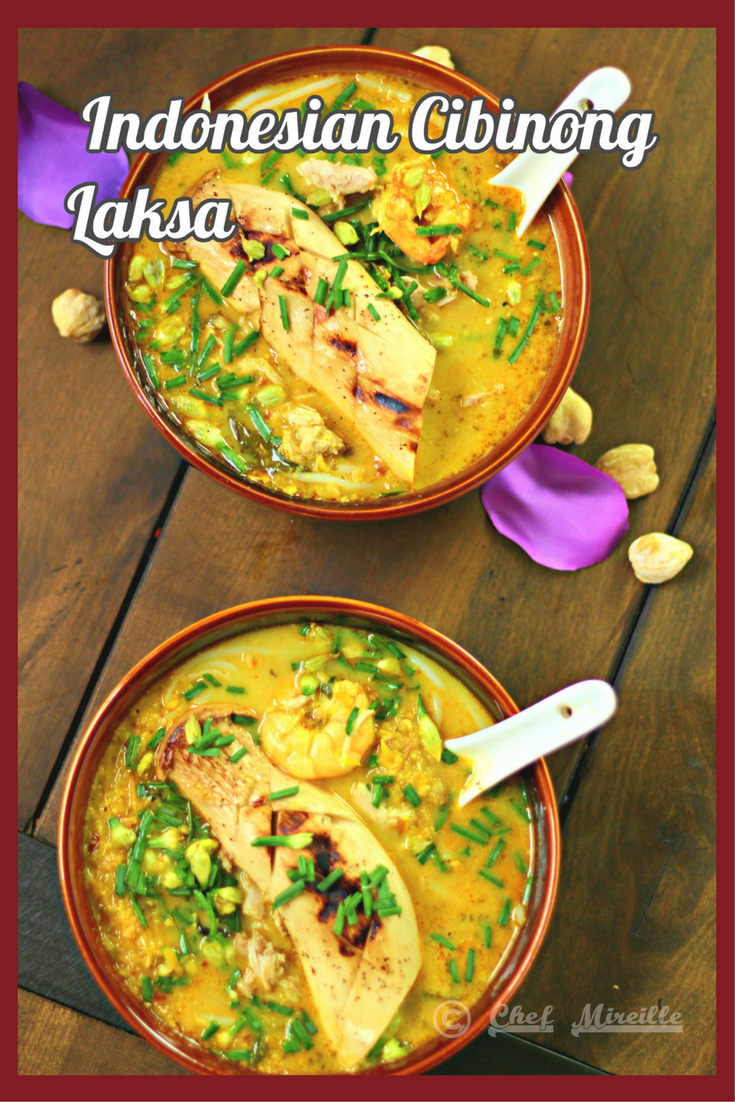 There are many dishes popular in both Malaysia and Indonesia and both countries will argue until the end about which country can claim its origins. Laksa is one of those dishes. The dishes will have the same name as the two countries' languages are very similar and have the same vocabulary in many instances. Laksa is very popular in Malaysia, its second national dish after Nasi Lemak. Most people associate laksa mostly with Malaysian cuisine, but don't tell the Indonesians that.

In Malaysia, laksa varies from region to region. I have always loved the versions of laksa I have tried until I visited Penang last year. Since I was in Penang, I knew I couldn't leave without trying their regional laksa. I knew it was made with mackerel, a fish with a strong flavor – not one of my fave fish varieties, but I was still game. This is one version of laksa I would stay away from unless you are a sour, smelly fish fan. I don't know what was worse the strong fish flavor or the extremely sour broth with LOTS of tamarind. I am doing you the favor if you ever visit Penang, there is so much other delicious food than to subject yourself to their laksa!
Like Malaysia, Indonesia also has regional varieties of laksa. This version comes from the region of Cibinong, in West Java. I did make a few variations from the traditional version due to preference and availability. I am not a tempeh (fermented soybean cake) fan, so I instead used king oyster mushrooms and when I went to the Asian market to get the ingredients, they were out of bean sprouts. Go figure – no bean sprouts in an Asian market. Anyway, I instead used flowering chives. In Indonesia, they would use lemon basil. I substituted with Thai basil.

Before we get to today's laksa, don't forget to check out the other Laksa versions I have made before:
Laksa Collection
IN THE MAKING
This light soup is perfect for the summer season!
This is a definite improvement over the Penang version 🙂
Print Recipe
Indonesian Cibinong Laksa
This protein packed soup from Southeast Asia is a filling soup as a meal!
Ingredients
Laksa Paste Ingredients:

2

stalks lemongrass

5

shallots

3

garlic cloves

5

candlenuts

½

teaspoon

ground turmeric

¼

cup

cilantro leaves

2

teaspoons

shrimp powder

2

tablespoons

sambal olek

or 5 bird's eye chiles

Laksa Ingredients:

2

tablespoons

oil

Laksa paste

from above

4

cups

coconut milk

4

cups

water

1

lb.

shrimp

1

cup

Thai basil leaves

juice from 2 limes

salt

to taste

Chicken Ingredients:

1

lb.

skinless and boneless chicken

1

teaspoon

coriander seed

1

teaspoon

black peppercorns

½

teaspoon

cumin seed

1

star anise

Garnishes:

Chicken

from above

7

oz.

rice vermicelli

4

king oyster mushrooms

1/3

cup

finely chopped flowering chives

Other Optional Garnishes

Crispy Fried shallots

Fried shrimp crackers

Hard Boiled Eggs
Instructions
To prepare the chicken, cook in a pot of boiling water with the coriander, black pepper, cumin and star anise until cooked through.

As soon as it is cool enough to handle, shred chicken by hand.

To make laksa paste, cut off bottom 5" of lemongrass. Using a mallet, pound the lemongrass to release the flavor.

In a food processor, combine lemongrass, shallots, garlic, candlenuts, turmeric, cilantro, shrimp powder and sambal olek. Process very well until finely ground, about 5 minutes, scraping down the sides as necessary.

In a large pot or deep wok, heat oil. Add laksa paste and fry for 5 minutes.

Add coconut and water. Boil for 20 minutes.

If you prefer a smoother laksa, you can optionally strain the liquid at this point and then return the strained liquid to the pot to finish the cooking process.

Add shrimp and Thai basil. Simmer until the shrimp are just cooked.

Add lime juice and salt.

Meanwhile, place vermicelli in a pot of boiling water until cooked. Immediately rinse with cold water.

To prepare the mushroom, sprinkle with salt and black pepper. Brush a grill or skillet with a little oil. Cook on both sides until golden brown.

To serve, place some noodles in the bottom of a bowl, Add laksa.

Place a portion of chicken in the middle. Place mushroom over that. Sprinkle chives over the bowl.

Add optional garnishes, as desired.
Do you know anyone else who likes learning about international food, culture, history and travel? Bring them over here to join the party! Don't forget to use those share buttons!
Start Here to find out how the Schizo Chef can help you with your cooking, travel and other needs!
If you like this recipe, PLEASE LEAVE A COMMENT & SUBSCRIBE!
Check out the Blogging Marathon page for the other Blogging Marathoners doing this BM#78
Sign up for our updates!
Subscribe to get our latest content by email and get your FREE Pantry Cheat Sheet - Learn the basics to cook any International cuisine!