Last Updated on January 12, 2020 by Chef Mireille
Cheese Lovers Dandelion Pie is basically a crustless quiche. Made with loads of cheese, no one will refuse this delicious snack. It's a great way to getting your kids to eat more veggies. As long as they are of the sort who are at least willing to try new foods, they will love these delicious bites stuffed with healthy dandelion and cheese.
Although this quiche is without a crust, it is not gluten free. It is made with Einkorn flour. Einkorn is an ancient grain with a low gluten profile, so it is easier on digestion. However, if you have celiac's or other conditions where you cannot consume any gluten, you should still avoid it.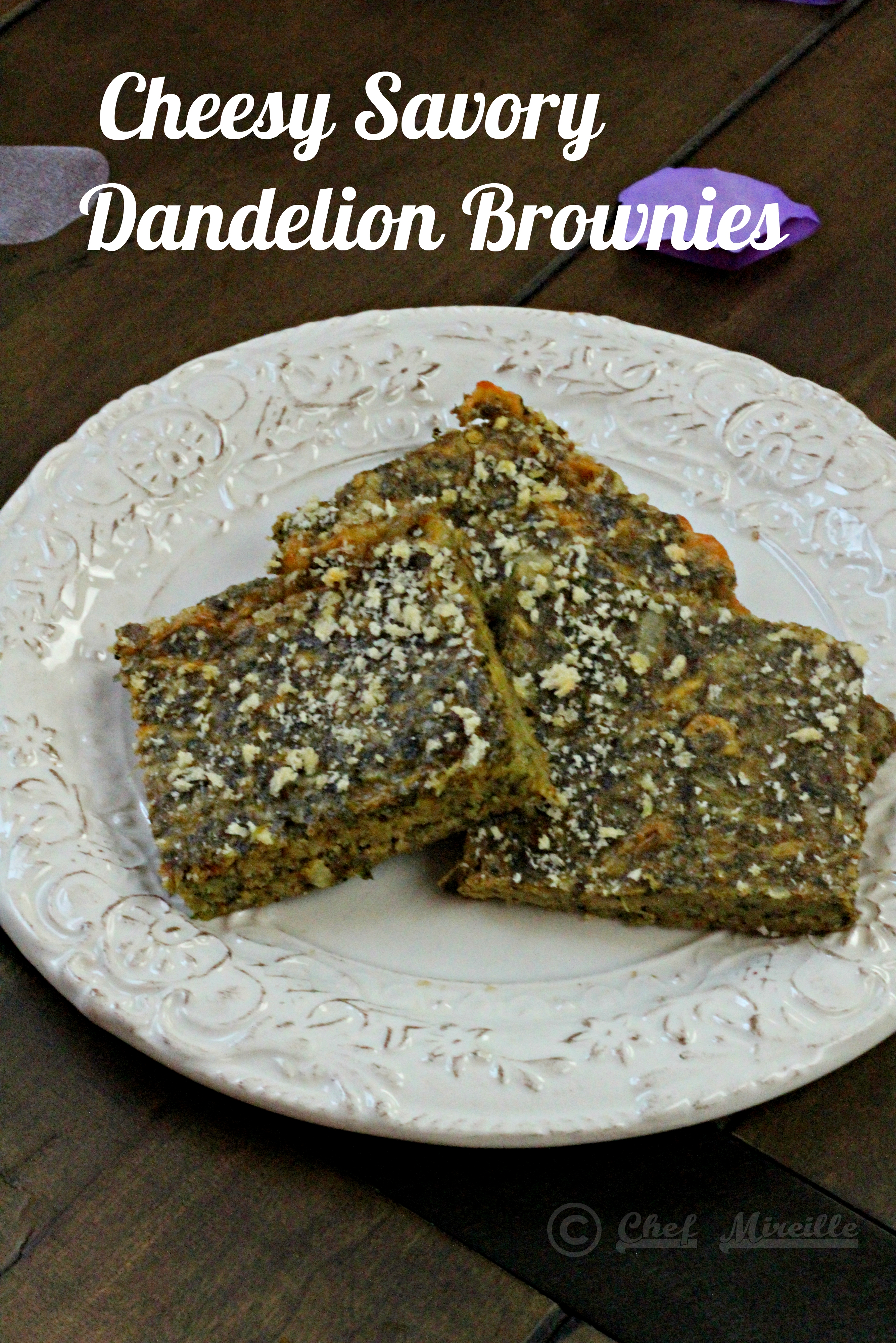 After selecting the BM theme of brownies, when it came time to bake I couldn't bear to have one more sweet thing in the house. I have been a busy little bee updating a lot of my vintage posts with new and improved photos as well as embarking a transition into the You Tube world with cooking videos. (Subscribe to my YT channel here) I had leftover Coconut Bread Pudding and Banana Chocolate Chip Bread and the thought of making not one but three more brownies for this week's theme was more sugar than I could even fathom…and that's coming from someone with a HUGE sweet tooth!
I had planned on giving the leftover banana bread to my friend. She was visiting with her kids the weekend when I made it and her son loved it. I had ended up making it around 11 at night and then the next morning I had to get up early for a job, leaving them in my apartment with instructions that some needed to be saved for photos. Afraid of eating too much and ruining my photo shoot, they didn't have any. We ended up coming back home late that evening after shopping and dinner out. Therefore, I had no time to take photos before their early morning departure the next day. They left me with all of the banana bread and I was not happy!
So I decided to interpret the theme in my own unique way by presenting a savory brownie. I don't think this is what Valli had in mind with the theme of Brownies and Blondies…but I think she'll survive the shock of encountering a savory brownie!
I had just come from one of my fave veg markets that I don't go to that often because it requires me to take 2 buses to get there. The bus rides themselves are not that long, but sometimes the wait time can be long, especially on the weekends. However since I was coming from the city (what New Yorkers call Manhattan), I only had to take the buses one way, so it was a great excuse to visit Circus Fruits.
The variety of produce they have there is amazing and I get things I don't get at my local market, since I don't have the wallet to shop at Whole Foods. Everything from passionfruit to fresh almonds. While there, I picked up a big bunch of dandelion greens.
Dandelion is used a lot in Middle Eastern cuisine, especially in the savory pastries of Lebanon, Syria and Turkey. It has a lot of healthful benefits – high in calcium and Vitamin A. Dandelion is also rich in fiber and high in antioxidants, as well as aiding in good liver health and controlling diabetes.
If you've never encountered Einkorn before, you can read more about this ancient grain in my post here!
How to Make Dandelion Crustless Quiche
Dandelion is a slightly bitter green, so I combined it with spinach to cut the bitterness a bit. As an afterthought, I added some harissa at the end, however, that is optional. The mix of herbs and spices makes a great savory snack. The Panko added just the right crunch to put this brownie over the top! It also can be a side dish with your dinner – all you need to do is add some roasted potatoes and chicken!
With all the health benefits of dandelion and the cheesy goodness, this will be a fast disappearing savory treat.
Crustless Dandelion Quiche
These savory brownies are a great side dish or party appetizer.
Ingredients
2

cup

firmly packed dandelion leaves

1

cup

firmly packed spinach leaves

2

garlic cloves

½

cup

buttermilk

2

eggs

1

cup

Einkorn flour

½

teaspoon

baking soda

3/4

teaspoon

salt

1

teaspoon

herbs de provence

8

oz.

grated pepper jack cheese

8

oz.

grated sharp cheddar cheese

1

teaspoon

harissa

2

tablespoons

Panko breadcrumnbs
Instructions
Preheat oven to 350 F. Spray a 9×13 brownie pan with non stick spray.

Combine dandelion greens, spinach, garlic and buttermilk in a food processor. Mix until greens are well ground.

Add eggs and mix until thoroughly combined.

In a large bowl, combine flour, baking soda, salt, herbs de provence and nutmeg.

Add dandelion paste and mix until thoroughly combined.

Using a rubber spatula, fold in cheese until thoroughly combined.

Add harissa until thoroughly incorporated.

Transfer to prepared pan. Spread batter in an even layer in the pan.

Sprinkle breadcrumbs on top.

Transfer to oven and bake for 30 minutes.

Leave to cool for 10 minutes.

Cut in half and carefully remove from pan using a large spatula.
Nutrition
Calories:
322
kcal
|
Carbohydrates:
16
g
|
Protein:
18
g
|
Fat:
21
g
|
Saturated Fat:
12
g
|
Polyunsaturated Fat:
1
g
|
Monounsaturated Fat:
5
g
|
Trans Fat:
0.004
g
|
Cholesterol:
99
mg
|
Sodium:
725
mg
|
Potassium:
208
mg
|
Fiber:
2
g
|
Sugar:
1
g
|
Vitamin A:
1718
IU
|
Vitamin C:
4
mg
|
Calcium:
449
mg
|
Iron:
1
mg
Did you try this recipe? Leave a comment below.
Please follow me on Instagram @chefmireille or tag me #chefmireille with your pics! I'd love to share them!
Don't forget to visit the RECIPE INDEX with over 1000 recipes from around the world including lots of Vegetarian Recipes and Gluten Free Recipes!