Last Updated on April 2, 2019 by Chef Mireille
I am so happy to be guest hosting Kid's Delight again. Pizza is one of those international foods that kids love. Melted cheese on top of a flatbread with a base sauce is my definition of pizza. The varieties are endless. You can use pesto as a base or even chocolate for a dessert pizza. Don't limit yourself. Any type of base and any topping you desire…I am looking for some innovative pizzas this month…but that's not all…
I'm looking for pasta/noodle dishes too…another great love of kids…Mac & Cheese & Lo Mein Noodles are just a few kid favorites…but I'm looking for more…submit your kid's favorite pasta dishes so I can get a ginormous collection to share to everyone!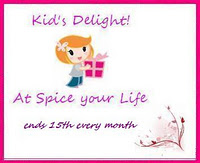 Rules:
1 – Post any kid-approved pizza or pasta/noodle recipe.
2 – Recipe must be posted between November 15th and December 14th, 2014.
3 – Post must have a linkback to this page and Srivalli's Kid's Delight page.
4 – Archived recipes are welcome, but it is MANDATORY that it is reposted with a linkback to this announcement page and Srivalli's Kid's Delight page.
4 – Link your recipe using the Linky Tool below. If you have any problems, you can email me your submissions at: islandpalate(at)gmail(dot)com.
5 – Usage of logo is optional, but it is appreciated as it helps spread the word.