Last Updated on December 16, 2020 by Chef Mireille
Khao Neow Dum Sung Khaya – Thai Black Rice Pudding Custard is a delicious dessert that looks awesome to celebrate any special occasion.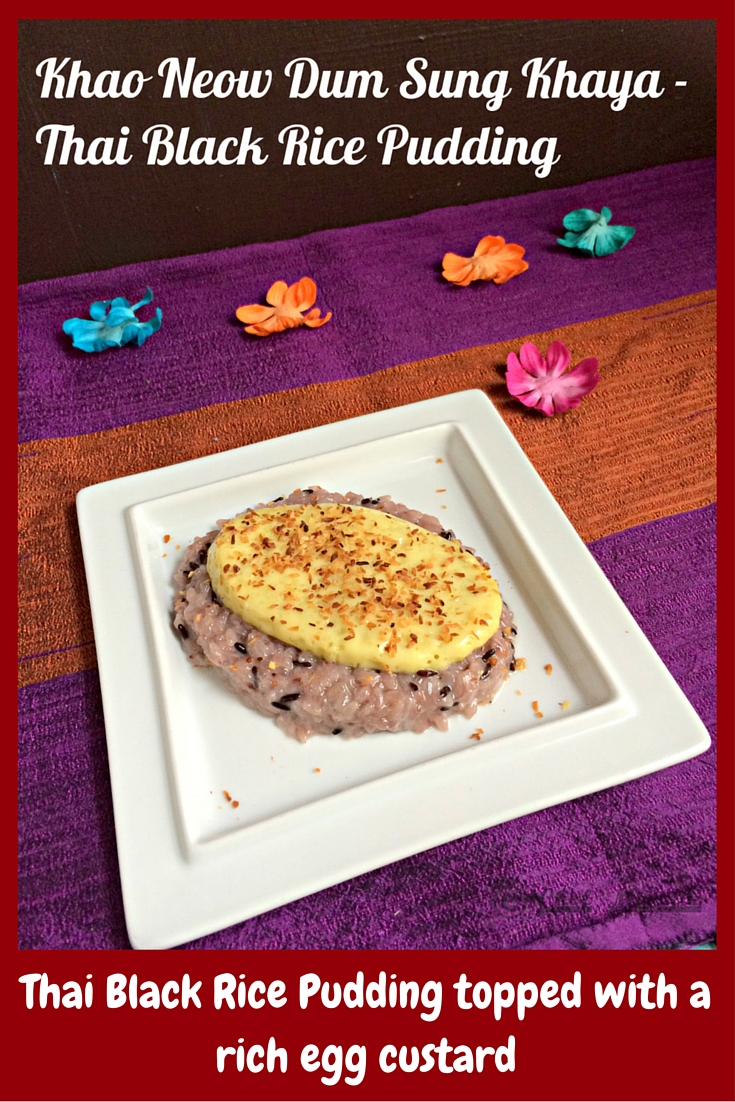 It's time for #FoodoftheWorld again and this month we are going to Thailand. Thailand has been on my mind a lot lately as I am FINALLY getting the opportunity to travel that part of the world next month. I am so excited to taste the difference between Bangkok & Chiang Mai cuisine. Although I have wanted to visit Thailand for many years, I have visited vicariously often via it's cuisine. I love Thai food and have made many Thai dishes in the past. Thai Black Rice Pudding is one of my favorite versions of rice pudding and topped with a rich egg custard, what could be better?

Chinatown in NYC can be very confusing if you are not familiar with the neighborhood. Located in lower Manhattan, the streets are all names so there are no numbered streets to guide you what direction you are walking. My culinary school was located at the end of Chinatown and it was while attending school, I began to get to know Chinatown. Now I know Chinatown really well and don't even have to consult a map while I stop at all my favorite spots. I switched careers and was still working full time, while attending culinary school in the evenings. I was always running from work to school, with no time to grab a meal in between.
One of my favorite places to stop en route was Bangkok Center Grocery where I could get some Lychee Juice or Basil Seed Drink. There was always a variety of Thai snacks to choose from also. This is a small family owned and operated grocery store. The snacks would vary with whatever they felt like making that day. One of my favorite snacks was a sweet rice pudding. Half of the pudding was topped with a rich custard and the other half of the pudding was topping with a mixture of fried shallots, coconut and shrimp powder. Thai's love this combination of sweet and salty in their desserts. I loved this dessert and would have it at least once a week while I attended culinary school. I would get so upset if a week went by without them making it.
Today's version does not include the savory, salty topping but is also a very traditional Thai dessert. I am a rice pudding afficionado and have already made versions from the Phillipines, India and Belgium. Now with this Thai version, here's another variety when I am in the mood for rice pudding, which is almost always 🙂
IN THE MAKING – HOW TO MAKE KHAO NEOW DUM SUNG KHAYA – THAI BLACK RICE PUDDING CUSTARD
To plate, first pack rice pudding into a ramekin the same size as the one you cooked the custard in. Unmold the rice pudding onto a plate. Unmold the custard on top. Garnish with the coconut.
Notes: You can usually find pandan/pandanus leaves in the frozen section of markets that sell Southeast Asian products. Sometimes sold as Bai Toey in Vietnamese markets. In New York, you can get it at Asia Market Corp. in Manhattan's Chinatown or Ocean Bay Market in one of Brooklyn's smaller Chinatown's.
This pudding is so rich and creamy. It's absolutely delicious…
especially if you're a rice pudding fanatic like me…
Khao Neow Dum Sung Khaya – Thai Black Rice Pudding Custard
Ingredients
Instructions
Rinse white and black sticky rice a few times in water. The black rice often contains rocks and pebbles. Leave rice in a bowl and cover with 2 inches of water above rice overnight.

Strain rice, but reserve the liquid. Measure and additional water, if necessary, to make 3 cups.

Combine rice, water, salt and pandanus leaves in a rice cooker and cook until done.

Meanwhile, let's make the custard.

Combine eggs, coconut milk and sugar. Beat well. Transfer to greased dish. If you want to make individual servings, you can use ramekins.

To plate, first pack rice pudding into a ramekin the same size as the one you cooked the custard in. Unmold the rice pudding onto a plate. Unmold the custard on top. Garnish with the coconut.

Place in bamboo steamer and steam for 30-40 minutes, until custard is firm.

Transfer rice to a bowl. Add 1 1/2 cups coconut milk and 1/2 cup sugar. Stir to combine and leave for 5 minutes so that rice can absorb the coconut milk.
Notes
Plan ahead. The rice needs to be soaked overnight.
Nutrition
Calories:
450.15
kcal
|
Carbohydrates:
70.45
g
|
Protein:
7.61
g
|
Fat:
15.92
g
|
Saturated Fat:
12.78
g
|
Sodium:
184.93
mg
|
Sugar:
25.03
g
Did you try this recipe? Leave a comment below.
Please follow me on Instagram @chefmireille or tag me #chefmireille with your pics! I'd love to share them!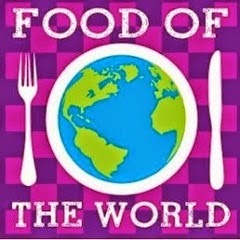 Visit our co-hosts and follow their sites:
Join our Linky Party and link up any Thai recipes. Just add our logo! Archived recipes are welcome.
Do you know anyone else who likes learning about international food, culture, history and travel? Bring them over here to join the party! Don't forget to use those share buttons!
Start Here to find out how the Schizo Chef can help you with your cooking, travel and other needs!
If you like this recipe, PLEASE LEAVE A COMMENT & SUBSCRIBE!