Last Updated on January 18, 2016 by Chef Mireille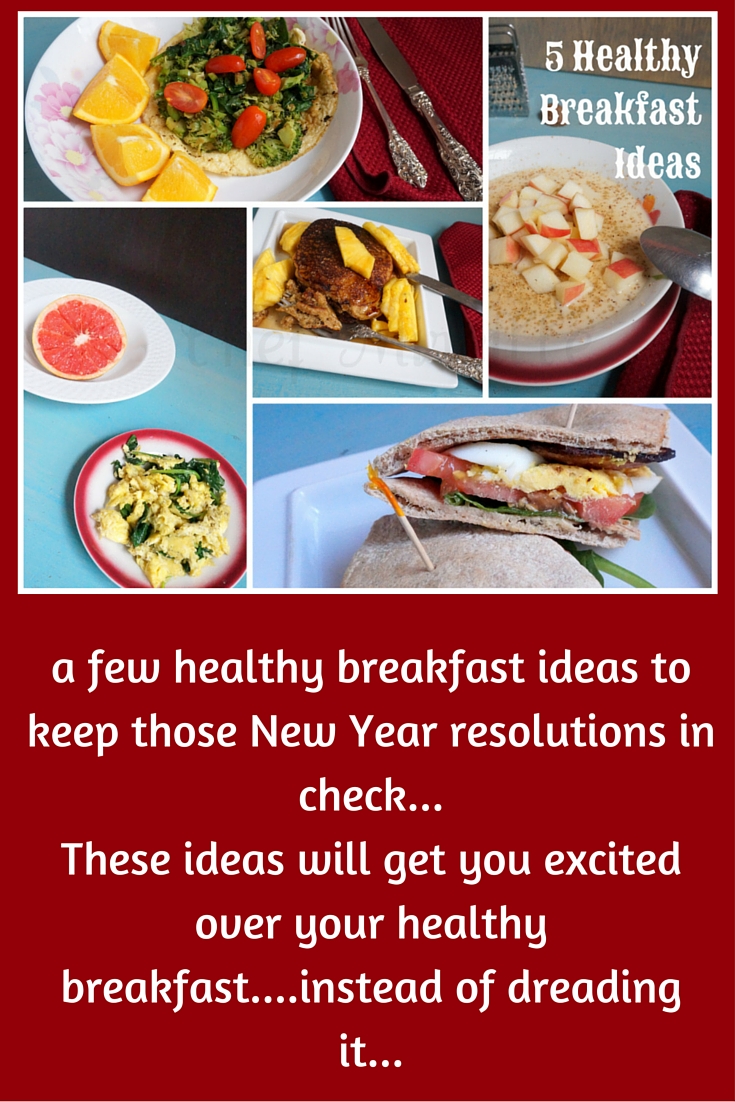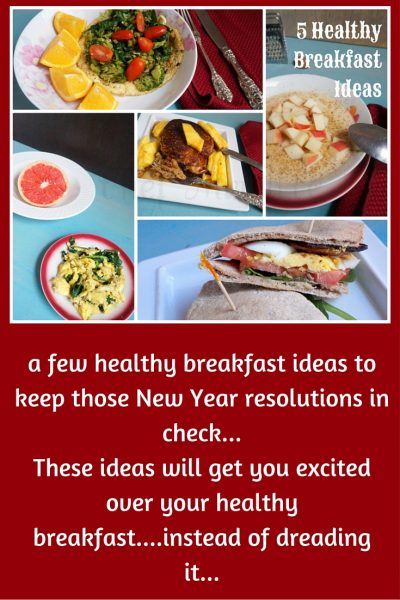 For this week's BM theme, I chose Healthy Recipes. While eating healthy food for lunch and dinner isn't too difficult, American breakfasts are often calorie laden. We lean toward sweet foods like muffins and pancakes, sweetened with syrup. Even our oatmeal is sweetened with sugar and dried fruits. If they are not calorie laden, then they are fat laden. Bagels or Rolls with eggs, cheese AND bacon, ham or sausage is the most popular breakfast sandwich you will get here in NY. In the South, rich buttermilk biscuits with an even richer gravy is common. Even smoothies are often made so sweet with added sugar that it no longer stays healthy, even when made with fresh fruit.
For today's post, instead of giving you a specific recipe, I am just going to give you a few ideas to start off your day in a better way. I am assuming you have some basic culinary knowledge here like sauteeing vegetables and scrambling eggs. You would get sick of eating the same thing every day, so I hope these healthy recipes inspire you to start your day off in the right way this year!
Many of these recipes focus on eggs because they are high in protein so a great way to start the day, however if you are Vegetarian and don't eat eggs, you can replace with tofu.
Healthy Breakfast 1 
Scrambled eggs with spinach and 1/2 grapefruit – use pink grapefruits because they are usually naturally sweeter so you won't feel the need to add sugar. #carbohydratefree #glutenfree
For all of these recipes, use non stick spray for cooking instead of oil or butter.
Healthy Breakfast 2 
Pita Breakfast Sandwich – 1 hard boiled egg, spinach, Canadian bacon and tomato in a whole wheat pita. Canadian bacon is a lean meat source and much healthier than American bacon or even turkey bacon. If you don't eat meat, replace Canadian bacon with mashed chickpeas or mashed avocado. #highprotein
Healthy Breakfast 3
Whole Grain Protein Pancakes with Fruit – replace the flour in a standard pancake recipe with oat and/or quinoa flour. You can easily make the flour by whizzing the whole grains in a coffee/spice grinder until powder consistency. Also add some mashed banana, pumpkin or sweet potato into pancake recipe to reduce the fat from dairy and add more nutrients. You can use this Pumpkin Pancake recipe as a guide. These are a little tricky to flip as they are not bound as tightly as when using gluten flours, but you will get the hang of it afte a few. Serve with ripe sweet fruit, therefore you will use less syrup. Sometimes, I also eat with applesauce instead of syrup, thereby reducing sugar content. Oat flour has a more neutral taste than the quinoa flour. If someone does not like the flavor of quinoa, don't try to trick them by using quinoa flour – it won't work! #glutenfree
Healthy Breakfast 4
Egg White Vegetable Omelette with Sauteed Vegetables – eventhough I know it is healthier, I find egg white omelettes quite bland, so I add just a little bit of yolk to still reduce the cholesterol but not eliminate entirely. Use 2 egg whites and 1 whole egg. So you can add more vegetables, saute the vegetables separately. This way you don't have to worry about the omelette being too full and the omelette not staying together. Get fiber from an orange instead of bread for a #lowcarb choice. #lowcholesterol
Healthy Breakfast 5
Quinoa Breakfast Porridge – Just like oats, quinoa is rich in protein and fiber however it is also a complete food supplying you with all of your essential amino acids, so replace oats with quinoa (as long as you are not ethically opposed to eating quinoa). For even more protein and fiber, add 1 tablespoon each of chia seed and flax seed. Add chopped fruit and spices to flavor the porridge, instead of sugar. #glutenfree
Check out the Blogging Marathon page for the other Blogging Marathoners doing BM#58