Last Updated on February 17, 2020 by Chef Mireille
Weeknight Keto Cookbook Review
Get all the Do's & Dont's of going KETO plus a Weeknight Keto Cookbook Review to get you started!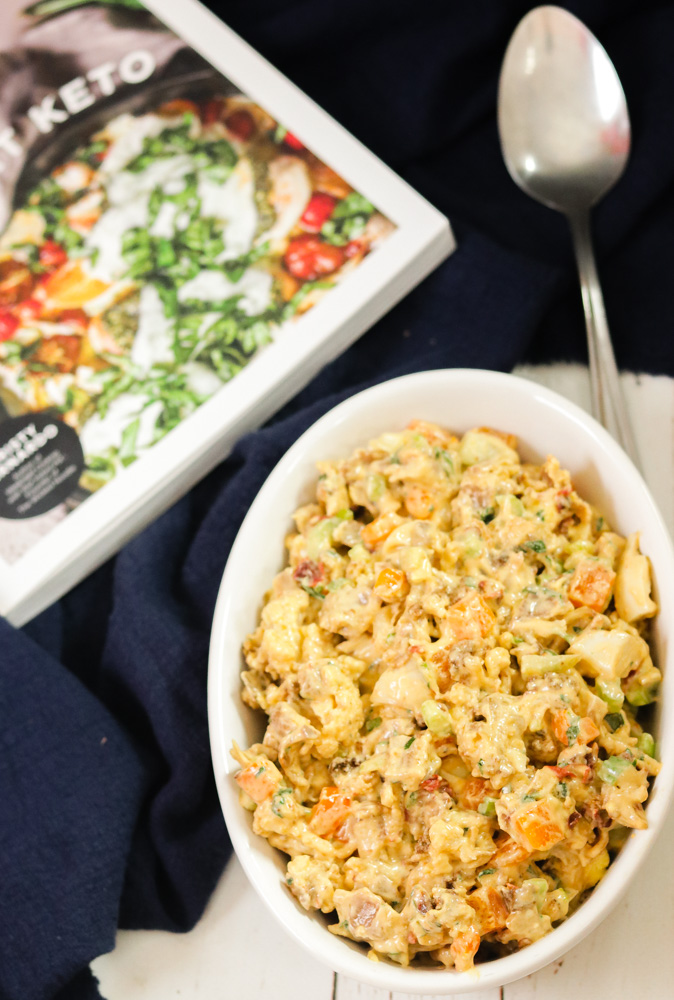 Keto? Paleo? Fodmod? Are you like me finding it hard to keep up with all the diet trends.
Do you find the differences between each diet hard to separate and not sure which one to try? Well if you have been thinking of Keto – here is all you need to know about the Keto diet plus a great cookbook to get you started eating Keto! Learn all the Keto Diet Basics + Cookbook Review!
What to Eat on a Keto Diet
The keto diet has three basic principles
Low Carbohydrates
Moderate Protein
High Fat
The intake of less carbohydrates puts your body into ketosis, where fat from your diet and your body is burned for energy.
Eating less carbs makes your liver produce ketones. These ketones serve as a fuel source for your body. Your body rums mostly on the fat, therefore you are burning fat calories 24 hours a day.
As your insulin levels become very low, fat burning will increase expotentially. This can have terrific effects in increased weight loss, higher energy and less feelings of hunger throughout the day. With the constant energy source, you will experience less highs and lows during the day, as usually occur in diets where you are eating more carbs, which breaks down to sugar in your body.
What NOT to Eat on a Keto diet
There are some healthy foods that you cannot enjoy while on a keto diet. Beans and most fruits are high in carbs, so should be avoided.
Any kind of grains, including quinoa, needs to be had in extremely low quantities as 1/2 cup of cooked quinoa has about 17 carbs!
Starchy vegetables including sweet potato, winter squash and pumpkin should be avoided!
Most of your diet on keto should include meat, fats and green leaf or cruciferous vegetables (cauliflower, broccoli, etc.).
There are some fruits you can have in moderation!
Fruits Allowed on Keto Diet
Avocados
Blackberries
Raspberries
Tomatoes
Rhubarb
Star Fruit
Cantaloupe
Strawberries
Watermelon
Lemons
Are you ready to take the plunge and try keto? Then Weeknight Keto is a book that is a must to start you on your journey.
Weeknight Keto
So far I have tried two of the recipes from Weeknight Keto and can't wait to try more. I love the flavors in the recipes. Like me, the author, Kristy Bernardo, has a penchant for spice. Chipotles are used in many of her recipes which was great for my palate.
This book features Keto Friendly recipes with bold flavors I am sure you will enjoy as much as I did.
The recipes I tried were the Cauliflower "Potato" Salad and the Creamy Asparagus Eggs.
The asparagus frittata enriched with cream cheese is such a delicious way to start the day and now has been added to my weekly repertoire. I usually have it with 1 corn tortilla, which is a low carb bread option perfect on the keto diet. Just make sure the brand you buy is made with 100% corn and no wheat flour added.
GET THE RECIPE
The Cauliflower Salad with bacon and eggs is loaded with protein and is a great option for your next party.
GET THE RECIPE
There are still so many recipes from this cookbook I can't wait to try like Creamy Chipotle Chicken Bake, Buffalo Roasted Nachos, Cauliflower Mac & Cheese, Creamy Broccoli with Pancetta & Pecorino and Poblanos in Cream!
She also has a chapter of desserts using erythritol as the sweetener. I am dying to try the Pannacotta and Salted Peanut Butter Cookie Dough Fat Bombs!
Recipes reprinted with permission from Weeknight Keto by Kristy Bernardo, Page Street Publishing Co. 2019. Photo credit: Becky Winkler
SHARE THIS Keto Diet Basics + Cookbook Review WITH ALL OF YOUR KETO FRIENDS!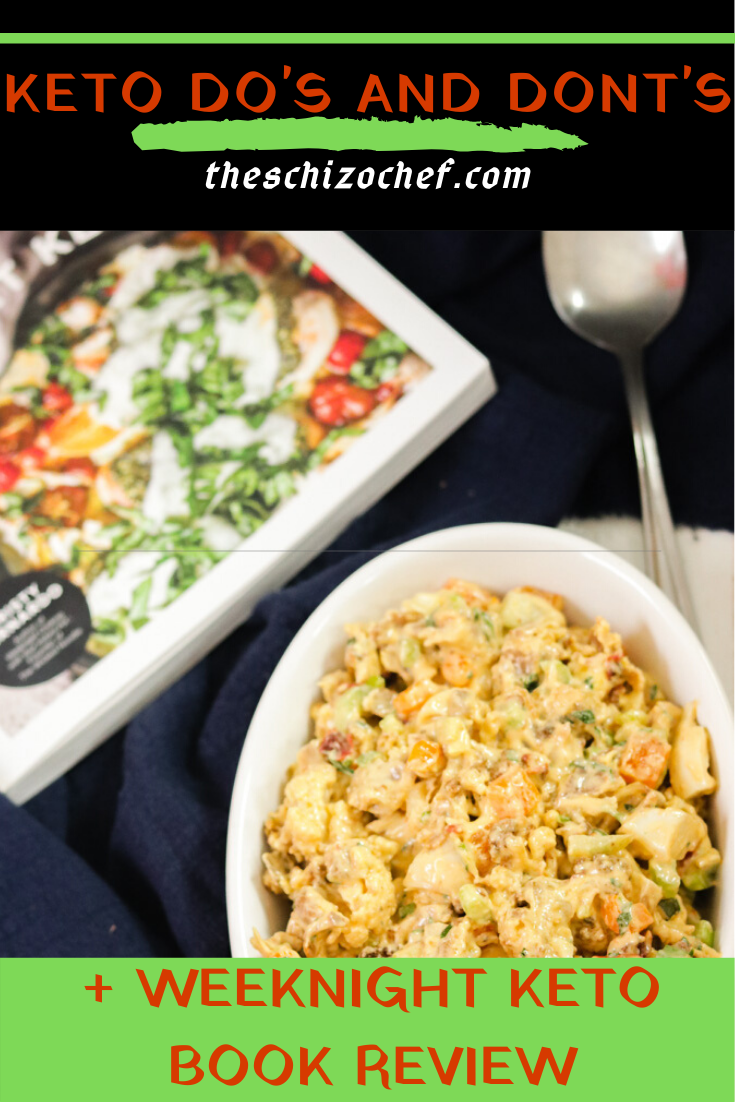 This post may include affiliate links.