Last Updated on December 14, 2020 by Chef Mireille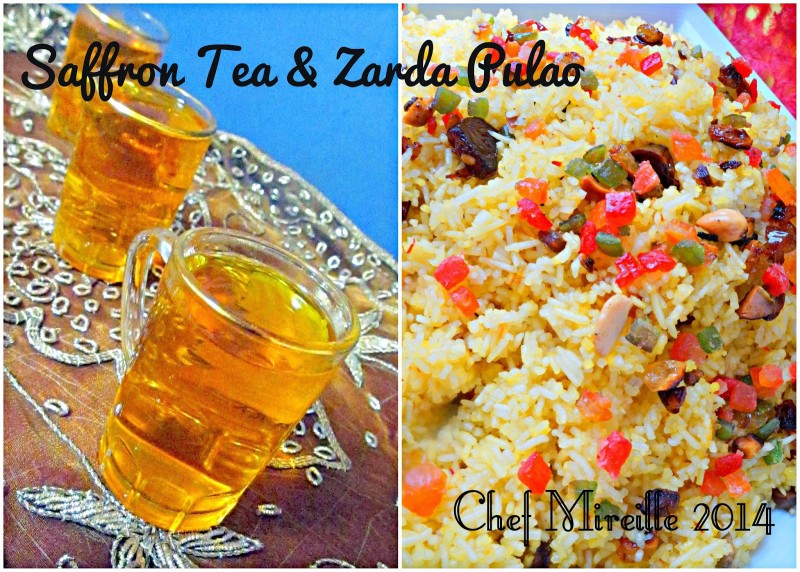 Today we are off to the Switzerland of the East. Snow capped mountain peaks and beautiful green valleys is what gives Kashmir this name. Whenever dangerous situations in Kashmir prevent Bollywood movie crews from filiming there, films are done in Switzerland to represent Kashmir.
This border state, located at the northern tip of India on the Western side has been under dispute with Pakistan since the formation of Pakistan in 1947. India & Pakistan have fought many wars over this disputed state. Even today, it is still a matter of contention.
The state's official name is Jammu and Kashmir. It's located in the Himalayas and bordered by Himachal Pradesh and China. The state includes three regions: Jammu, Kashmir Valley and the Ladakh region. The Line of Control, the hard fought border between Pakistan and India is located in Kashmir. Kashmir is split in half between the part that falls within the Indian state and Pakistan occupied Kashmir. The Ladakh region has a large Buddhist population and is affectionately known as "Little Tibet".
The Ladakh region's cuisine is Indo-Tibetan with many of the popular dishes similar to ones eaten in Arunachal Pradesh or Sikkim like Thupka. When I was in culinary school, I did a paper on Kashmir. Lots of information including the tradition of the wazwan, Kashmir's formal banquet meal I previously posted here. Please hop on over to learn more about the traditions of Kashmiri cuisine. For now, let's get to today's recipes.
This was one of the first recipes done in preparation for this mega marathon, several months ago. Photos edited and all ready to go since last year. Then this mega marathon started and seeing some of my fellow BM doing what I would call banquet meals, I felt the need to add to a few of my posts. I added a sweet treat to complement this lovely tea.
Saffron is the most expensive spice in the world, due to the laborious task of harvesting it. However, in the places where it is grown, cost is somewhat cheaper. One of these places is the Indian state of Kashmir located on the northern tip of the country. Here, saffron is used in abundance in everything from teas to desserts. Two types of saffron teas are popular in Kashmir. This version, as well as kahwah made with tea leaves, saffron, cardamom and cinnamon.
In most recipes, usually just a pinch of saffron is used. Here this heavenly spice is able to shine with the large quantity used. This saffron scented tea is delicious to serve with any dessert.
Saffron Tea
(from Maddhur Jaffrey's From Curries to Kebabs)
Serves 4
Ingredients:
4 cups water
4 green cardamom pods
5 tablespoons sugar
3/4 teaspoon saffron
Put saffron on a piece of foil. Fold over the foil and using a rolling pin, crush the saffron.

In a saucepan, combine sugar, saffron, water and cardamom. Bring to a boil. Turn off heat and leave for 1 hour.

Strain and reheat. Serve hot.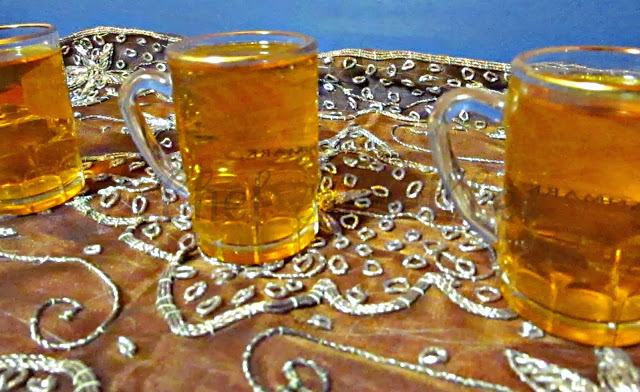 Zarda Pulao was another one of the Indian Cooking Challenges that I missed. This Indian Cooking Odyssey is giving me a chance to catch up with a few challenges I missed.
Zarda Pulao
Serves 8
Ingredients:
2 cups Basmati Rice
1 cup sugar
3 1/3 cups water
1/2 cup milk + 3 tablespoons
2 tablespoons ghee, separated
1 cinnamon stick
5 green cardamom pods
3 cloves
10 pistacchios, coarsely chopped
10 almonds, coarsely chopped
2 golden raisins
5 dates, coarsely chopped
a large pinch of saffron
3 tablespoons tutti frutti (candied fruit)
Soak rice for 15 minutes in cold water. Drain.
In a small bowl, combine saffron and 3 tablespoons of milk. Leave to sit while you are cooking the rice.
Boil sugar in a small saucepan with 1 cup of the water for about 10 minutes on high heat, until you have a thin syrup consistency.
In a large pot, heat 1 tablespoon of the ghee. Add cinnamon, cloves and cardamom. Fry for 1 minute.
Add rice and the remaining water. Boil for 5 minutes, until the water has been absorbed.
Add syrup and milk. Cover and cook on medium heat at a low simmer for 20 minutes, stirring occasionally, until the rice is tender and the liquid has all been absorbed by the rice.
In a skillet, heat the remaining ghee. Fry chopped nuts until they turn golden. Add raisins and dates and fry for 10 more seconds.
Add half of the nuts and fruit, along with the saffron milk to the rice and stir to mix well, until all the rice is coated with the saffron.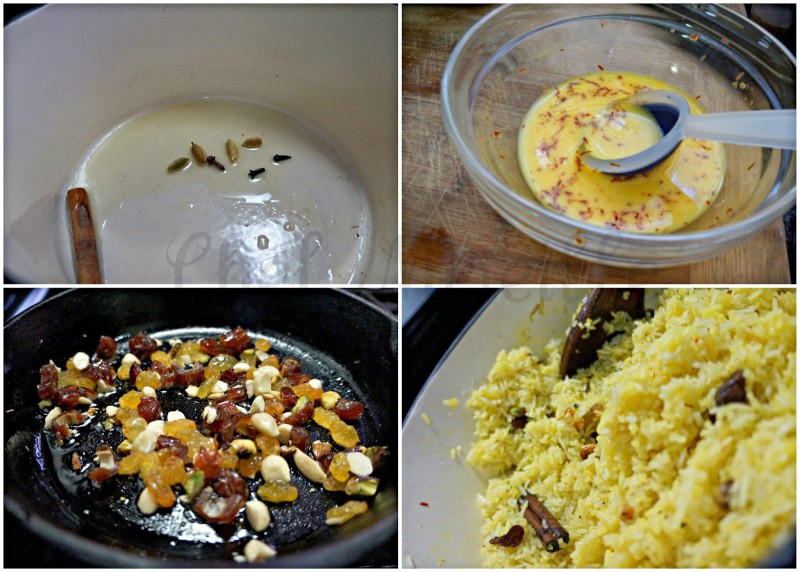 To serve, spoon into a bowl or serving dish. Garnish with the remaining nuts and fruits, as well as the tutti frutti.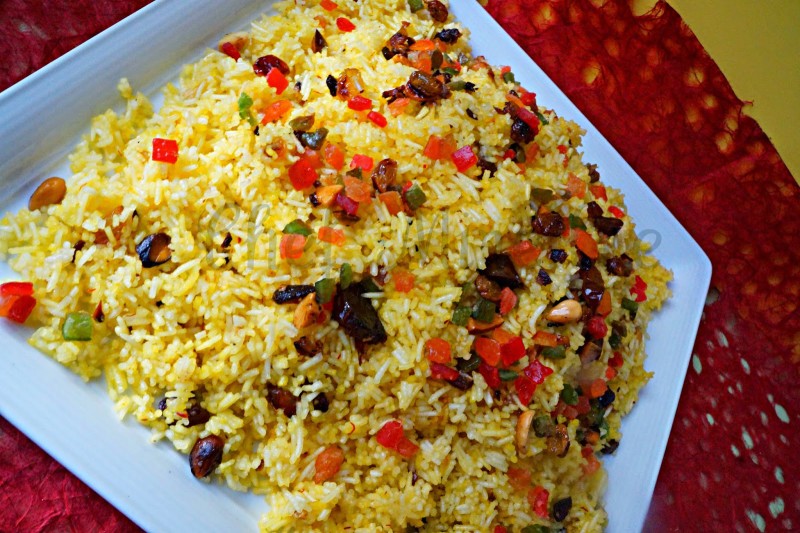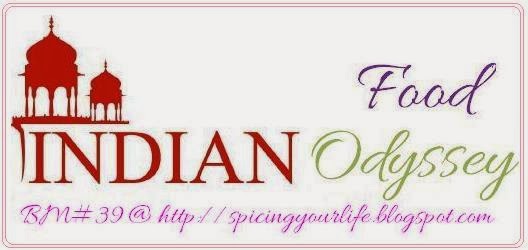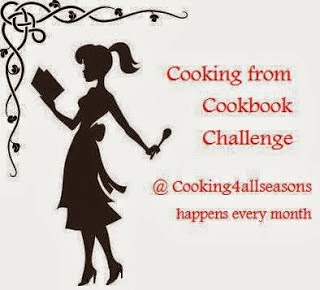 Check out the Blogging Marathon page for the other Blogging Marathoners doing BM# 39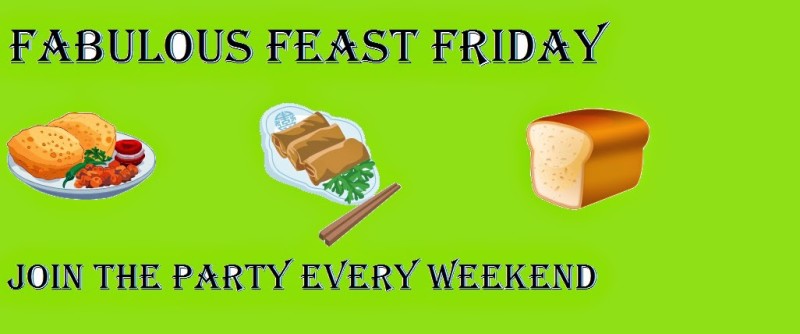 This post is for the CC Challenge of the month
…linking to Fabulous Feast Friday
LIKE THIS RECIPE? LEAVE A COMMENT..I LIVE FOR THEM!
Chef Mireille