Last Updated on December 14, 2020 by Chef Mireille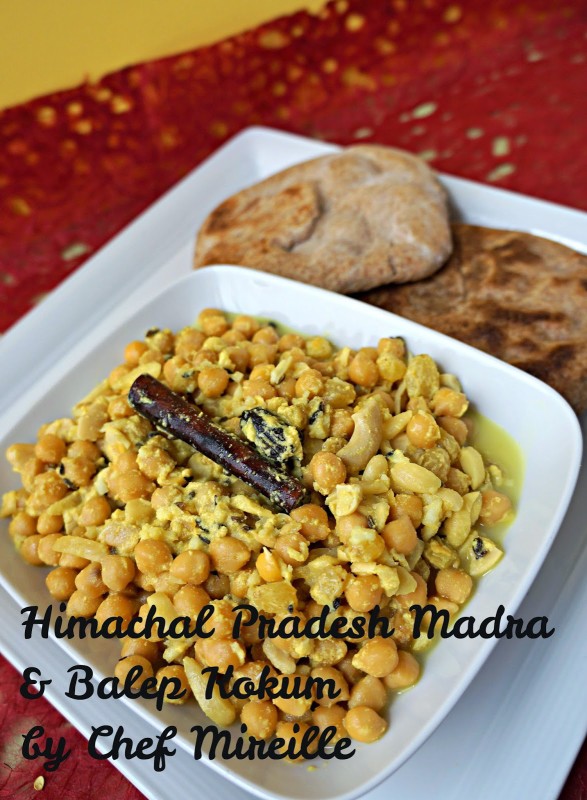 If you are stopping by for the first time this month, I am in the middle of a mega marathon with the theme of Indian Regional Cuisine. Each day this month,I am posting a recipe from one of India's 30 states…an ever changing number as they continue to sub divide states along linguistic lines.
Himachal Pradesh is a state located at the northern tip of India, just under Kashmir. It is bordered by Kashmir, Punjab, Haryana and Tibet. Due to its northern location, the city of Shimla boasts the only natural ice skating rink in all of Asia. Except for the city of Shimla, most of the state is still rural. There are also many tribal communities. However, Himachal Pradesh has one of the highest literacy rates in India and many higher education institutions are located within the state.
Dharamsala, located in the Kangra Valley surrounded by dense forest is the seat of the Tibet-in-Exile government. After the Chinese Civil War in 1950, China claimed Tibet. However, the Dalai Lama refused to concede and India accepted the Dalai Lama in exile. Many of the Dalai Lama's followers fled Tibet with him and established Tibet-in-Exile in Dharamsala.
In addition to the official languages of Hindi and English, many people of the state speak Pahari and belong to the Pahari tribe of the Himalayas, in northern India, Pakistan and Nepal. Himachal Pradesh is the most Hindu state of India, with 95% of the population Hindu. Muslims and Buddhists make up the remaining minority.
There are basically three cuisines in Himachal Pradesh – Punjabi descended cuisine, Pahari & Tibetan.
Now that you know a little about the state, let's enjoy some of their most popular foods. This chickpea curry is unique in its inclusion of sweet ingredients. In this version, I have used sugar and dried fruit for the sweetness. Sometimes, yellow pumpkin and carrot are also included to bring sweet flavors to the dish. Depending where in the state you are will determine which ingredients are used to bring sweetness to the chickpeas. This version is popular in Chamba, located in northwestern Himachal Pradesh, just 88 miles from Kashmir and 83 miles from Dharamsala. I've also presented a Tibetan bread from Dharamsala to go with this curry. Enjoy!
Chamba Madra
Serves 4
1 cup chickpeas, soaked overnight
1 tablespoon ghee
1 1/2 cups plain yogurt
1 teaspoon fennel seed
2 black cardamom pods
2 green cardamom pods
1 cinnamon stick
1 bay leaf
1/4 teaspoon ground turmeric
1/2 teaspoon sugar
1 teaspoon salt
2 tablespoons golden raisins
1/3 cup frozen grated coconut (defrosted) or freshly grated coconut
2 tablespoons slivered almonds
2 tablespoons broken cashews
In a large pot of water, cook chickpeas until tender. Drain and add salt, to taste.
In a wok or large skillet, heat ghee. Add fennel seed, green and black cardamom, cinnamon and bay leaf. Fry for 1 minute until the spices start to change color.
Add turmeric and yogurt, stirring constantly so that the yogurt does not curdle.
Add cooked chickpeas, sugar, salt, raisins, coconut and almonds. Simmer for 15 minutes.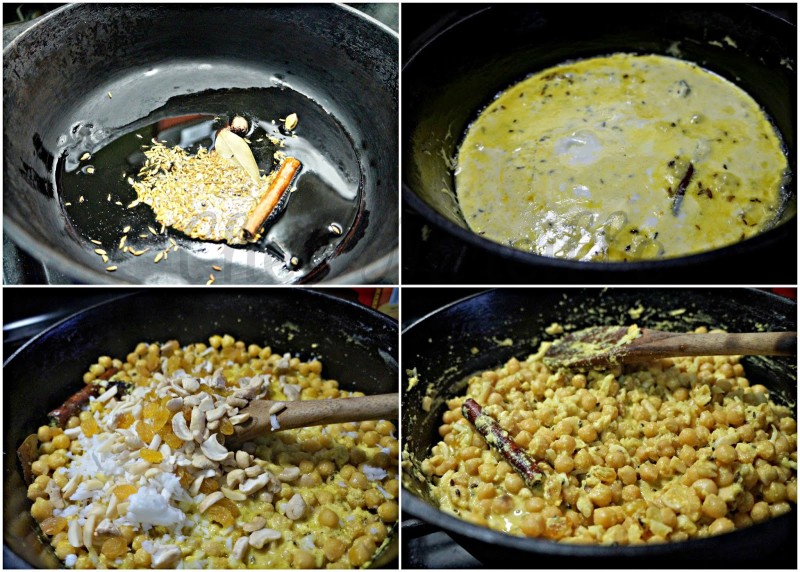 Notes: traditional recipe would use 1/2 cup of ghee, but that is way too much fat for me to use and I find it entirely unnecessary. My version has less gravy, but I prefer this low fat way of preparation. My houseguests and I loved it with our Tibetan bread for breakfast.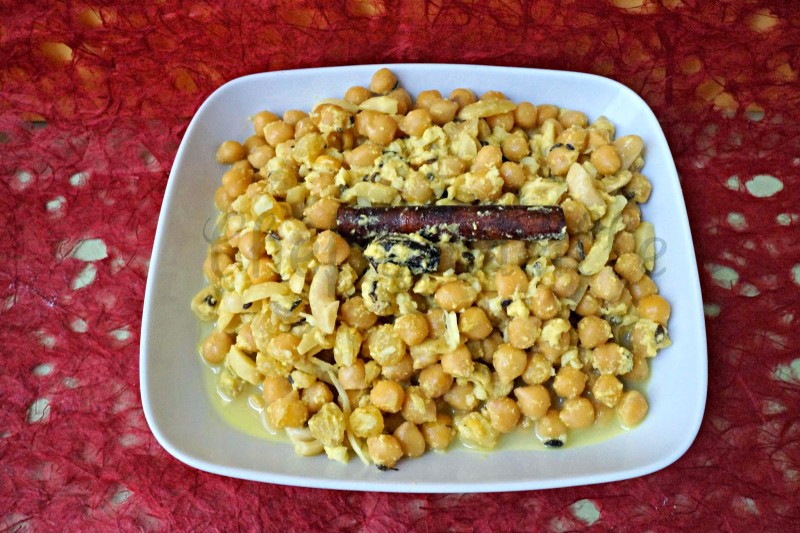 Balep Kokum
Ingredients:
Serves 4
1 cup all purpose flour
1 cup whole wheat flour
1 tablespoon baking powder
1 cup water
In a large bowl, combine flours and baking powder. Add water a little at a time, until you have a soft and pliable dough. Cover and leave to rest for 20 minutes.
Divide dough into 4 balls.
On a well floured board, roll each ball into a 4″ disc.
Brush a skillet with a little butter and add rounds. Cook for a few minutes until browned on the bottom side. Flip over, cover and cook on low heat for 20 minutes.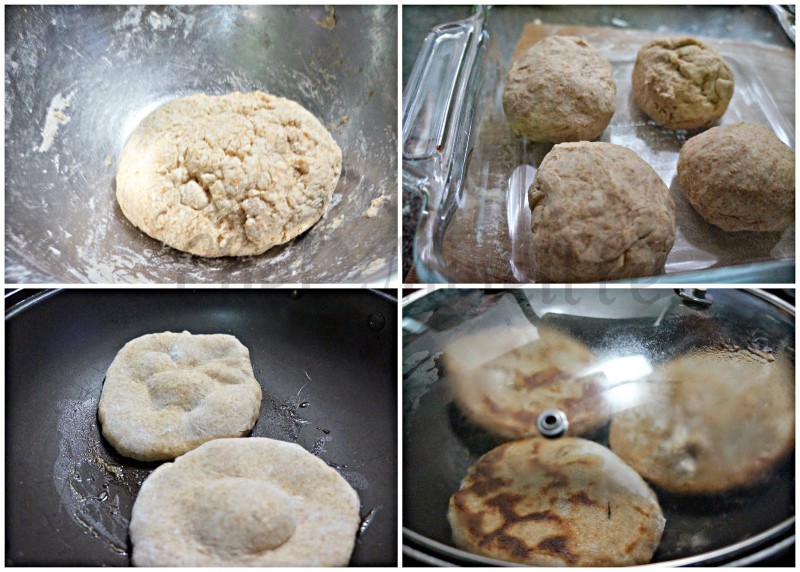 Serve with Madra for a Himachal Pradesh breakfast!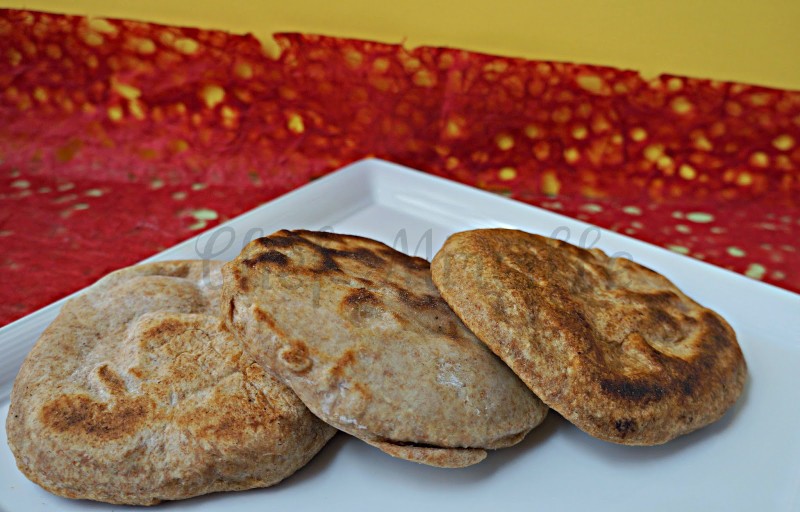 This Pahari & Tibetan combo is surely something to try!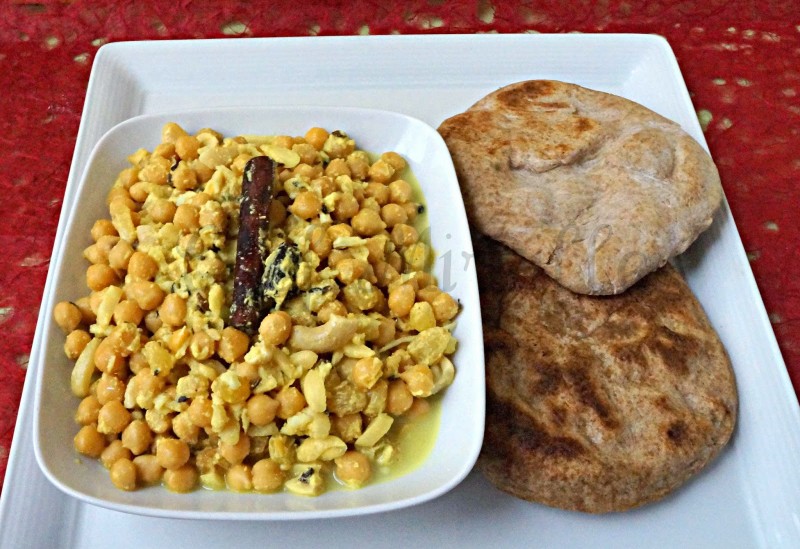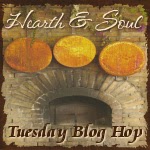 …linking to
New Indian Cooking
hosted by
Prachi
,
Hearth & Soul
&
Susan's
& Lisa's
MLLA
hosted
here
LIKE THIS RECIPE? LEAVE A COMMENT..I LIVE FOR THEM!
Chef Mireille