Last Updated on January 12, 2020 by Chef Mireille
Jerusalem Kugel – Kugel is a very common side dish at any Jewish table. This usually noodle based pudding can be made as both savory or sweet versions. This savory tasting version is a great addition to any table.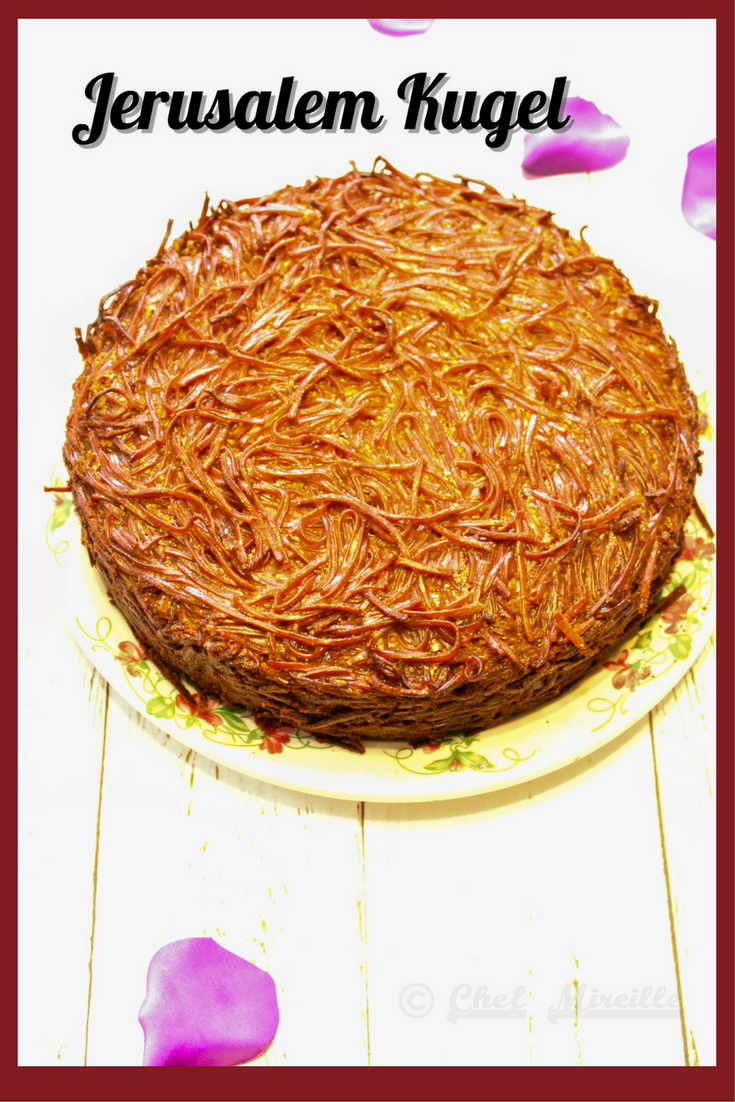 Kugel is a traditional Jewish food that usually finds its way onto most holiday tables and weekly Shabbat (weekly religious meal) meals. It is a usually a noodle based pudding, although there are also potato based versions. There are both sweet and savory versions. The recipe originated from Jews in Germany, but many different versions have evolved through time and geography as the Jewish population moved around the world from the United States to Israel. This modern version was created in Jerusalem as is the perfect balance between both sweet and savory.

Kosher dietary laws forbid the mixing of dairy and meat in the same meal. No lasagna or cheeseburgers for Shabbat. Some versions of kugel have cheese – that means its going to be a Vegetarian meal. Eggs are not considered dairy in Kosher dietary laws. It is considered parve, meaning it is a neutral food that is neither considered meat nor dairy. Therefore, this kugel can be part of any Jewish meal whether or not meat or cheese is being served.
Hanukkah has started, the 8 day Jewish holiday in which a candle is lit of the menorah (a candelabra with 9 holders) on each night. What is the history of the lighting of the candles? Well to find that out we have to go back over 2000 years ago when the Jews had been forced to worship Greek gods in Damascus. After years of fighting, the Jews were victorious. They reclaimed their holy temple but at the rededication, they realized they only had enough oil to keep the candle burning for one night. By miraculous intervention, the candle kept burning for 8 days until more oil could be made. This is why the candles are lit for 8 days to celebrate Hanukkah. This is also why foods rich in oil are often made during Hanukkah like latkes (potato pancakes) and doughnuts.
If you're invited for a Hanukkah meal during the next week, this parve kugel is the perfect side dish to bring as your contribution to the meal.
Let's have a look at some other Jewish foods you can make during the holiday season!
Jewish Recipes
IN THE MAKING – HOW TO MAKE JERUSALEM KUGEL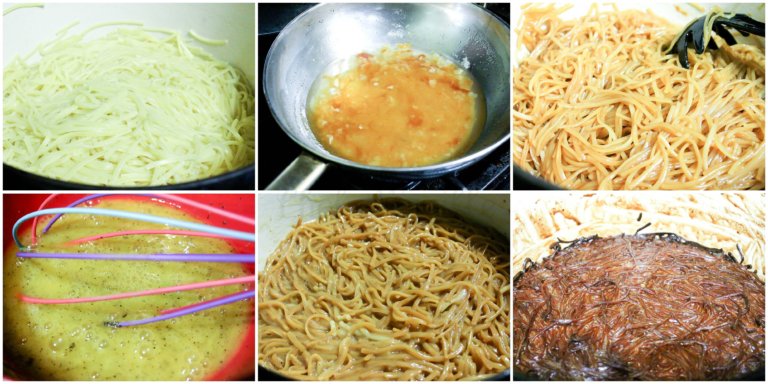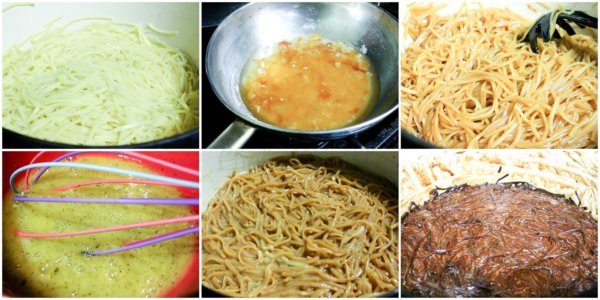 Despite the sugar, this is not a sweet tasting kugel and everyone at the Hanukkah dinner I bought it to enjoyed it thoroughly!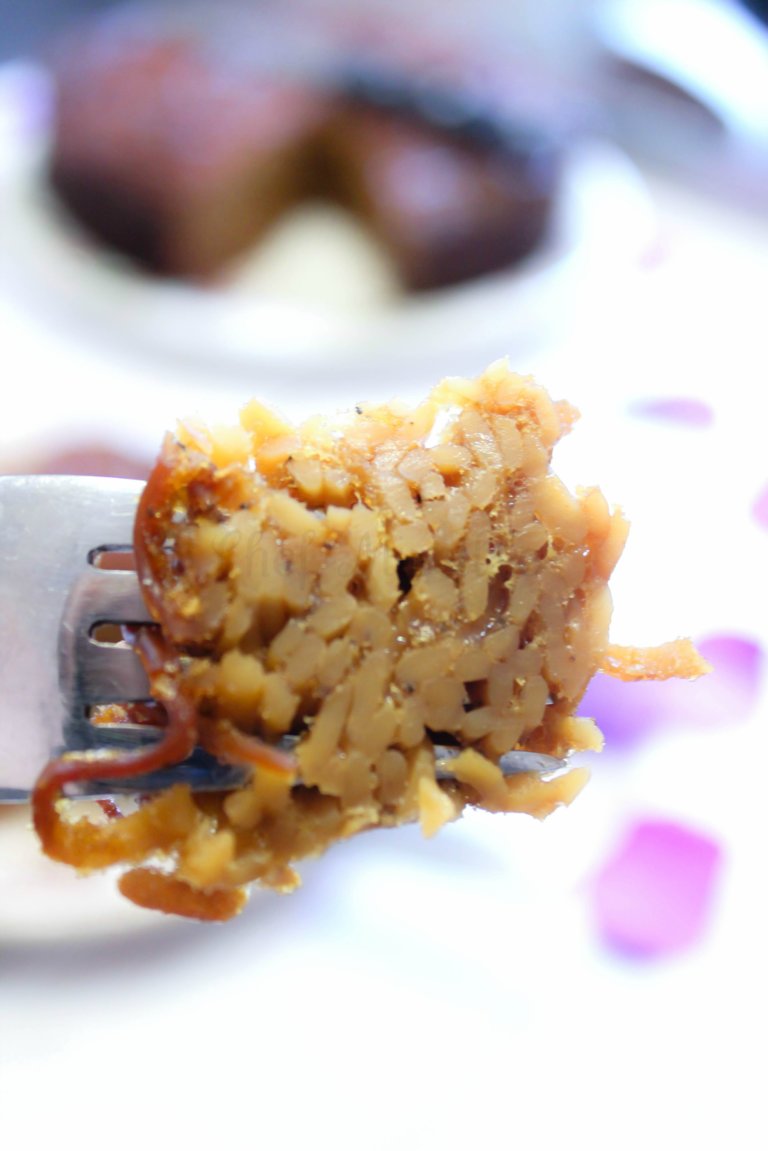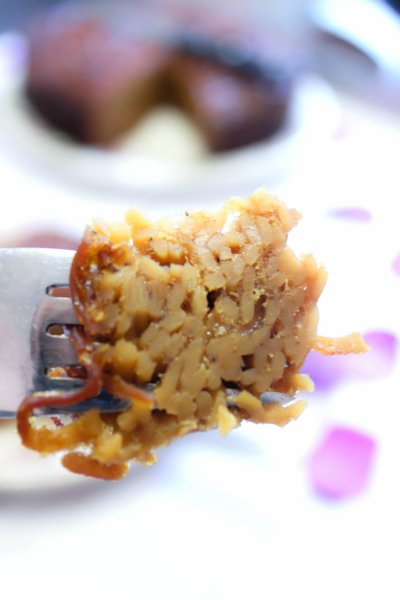 Jerusalem Kugel – Yerushalmi Kugel
Instructions
Using a Dutch oven, add noodles to a large pot of boiling well salted water and cook until al dente. Drain and toss with 2 tablespoons of the oil.

In a skillet, combine sugar and remaining oil. Cook on medium heat for 8-10 minutes, until sugar browns. Oil and sugar will separate. As soon as it turns frothy, remove from stove and add to noodles. Toss well to combine. Leave to cool.

Preheat oven to 350 F.

In a bowl, whisk eggs with salt and pepper. Add to noodles and mix well until thoroughly combined.

Using a wooden spoon, press down noodles so you have an even layer in the bottom of the casserole.

Bake for 75 minutes until top is crispy.

Let cool for 10 minutes and then remove from pan.

It may take a little bit of help by using a knife around the perimeter of the pot to remove.
Did you try this recipe? Leave a comment below.
Please follow me on Instagram @chefmireille or tag me #chefmireille with your pics! I'd love to share them!
Do you know anyone else who likes learning about international food, culture, history and travel? Bring them over here to join the party! Don't forget to use those share buttons!
Start Here to find out how the Schizo Chef can help you with your cooking, travel and other needs!
If you like this recipe, PLEASE LEAVE A COMMENT & SUBSCRIBE!
This is part of the Bake-a-thon 2017
[inlinkz_linkup id=740397 mode=1]