Last Updated on June 2, 2015 by Chef Mireille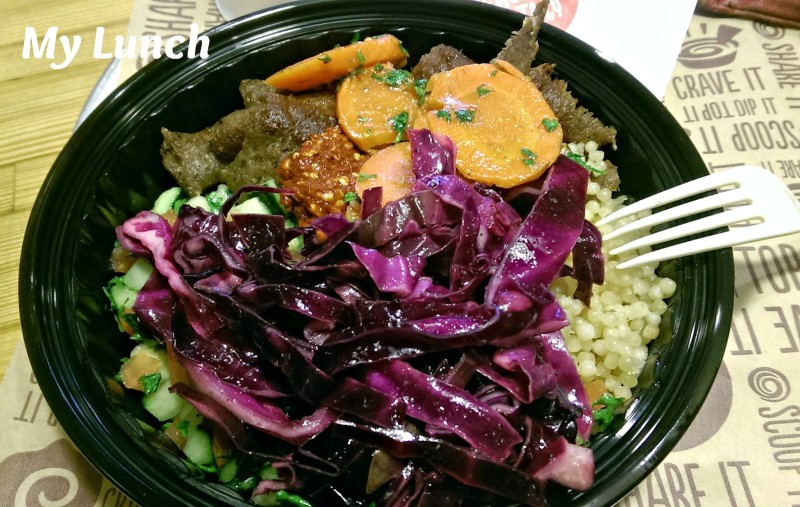 My lunch at Hummus & Pita Co.
A few days ago I was walking around Manhattan walking back and forth between 14th Street and 23rd Street on 6th avenue several times over with meetings and errands. After a few hours, I was hungry but more important than that – I really had to go to the bathroom. I did not have a lot of time to spare as I still had to make one more stop before a seminar I was taking in the evening.
I needed some place where I could grab a quick bite, but I didn't want junk food like McDonalds and most importantly, the place had to have a bathroom. I peeked inside The Hummus & Pita Co.. It looked casual enough where service would be quick and most importantly, they had public restrooms.
I discovered the best fast food I've ever enjoyed in NYC. It's fast food with so many customizable options. Despite the name of the restaurant, it is is much more than hummus and pita, which is good for me since I am not the biggest hummus fan.

What impressed me most was the variety of vegetables and vegetable salads available as add-ons to your plate. Unless you buy a salad bowl, healthy fast food is challenging in NYC. A salad bowl every day will get boring very quickly despite all the toppings those places now allow to add to your bowl of green leaves. With Hummus & Pita, the variety will keep you coming back day after day to always enjoy a healthy lunch.
When you first enter, you might be a little confused with the ordering process. However, the staff is very friendly and will take the time to explain it to you. It's very similar to Chipotle, although Chipotle is apparently a bad word to the staff of Hummus & Pita.
First you choose your protein which includes chicken schwarma, gyro lamb meat as well as steak or chicken cooked in a taboon oven. A taboon is a traditional clay oven used throughout the Middle East, similar to a tandoor oven used in Indian restaurants to make Tandoori or Naan bread. Vegetarian options are also included like falafel.
Next you can choose to have it on a pita or laffa bread, another type of flat bread cooked in the taboon. You can also have it in a bowl or platter. All dishes come with basic hummus. You can choose one of the flavored hummus for an additional $1. They have five types of hummus.
The pita or laffa come with 1 side, the bowl with 2 sides and the platter comes with 3 sides. My pet peeve when I go out to eat is when all the side options are starch. Your dish will come with two sides with the only options of rice, macaroni and cheese, potatoes or French Fries. Is that really a choice. Here your choices include many vegetables and healthy grains. The warm side options include brown rice, Mediterranean rice, Israeli cousous and Morrocan beans.
The cold options include about a dozen salads which include Turkish salad, Israel salad, Spanish eggplant, stuffed grape leaves, corn salad, baba ganoush and quinoa salad.
You're not finished yet. You still get to choose one of 7 sauces that comes included with your meal price. Your options include tahina, tzatziki, toum, amber, harissa, schug, chimichurri. The staff is well informed and will explain any of them to you.
You now get to select as many toppings as you like that include the basics like lettuce and tomatoes, but also stuff like olives, feta, red cabbage, hot peppers, carrots or onions. Everything here is well seasoned even the toppings. Here you are not just given raw vegetables. White or Whole Wheat Pita is served with all bowls and platters.
The price range is about $6-$12, depending how you customize your meal. Even if you order the most expensive protein, the taboon steak in a platter with flavored hummus and extra sauces which will run you about $14, it is well worth every penny. The only minor complaint I have with The Hummus & Pita Co. is I found some of the salads a bit heavy handed with salt.
Regardless I thoroughly enjoyed my bowl of gyro meat, Israeli couscous, tomato-cucumber salad, harissa and topped with seasoned carrots and red cabbage.
With four locations and food that is both healthy and flavorful, I predict the popularity of this place to grow by leaps and bounds and I can't wait until there is one on every corner…like Starbucks. Now I have an option when I'm looking for some fast food that won't expand my waistline.
LIKE THIS RECIPE? LEAVE A COMMENT..I LIVE FOR THEM!
Chef Mireille