Last Updated on December 14, 2020 by Chef Mireille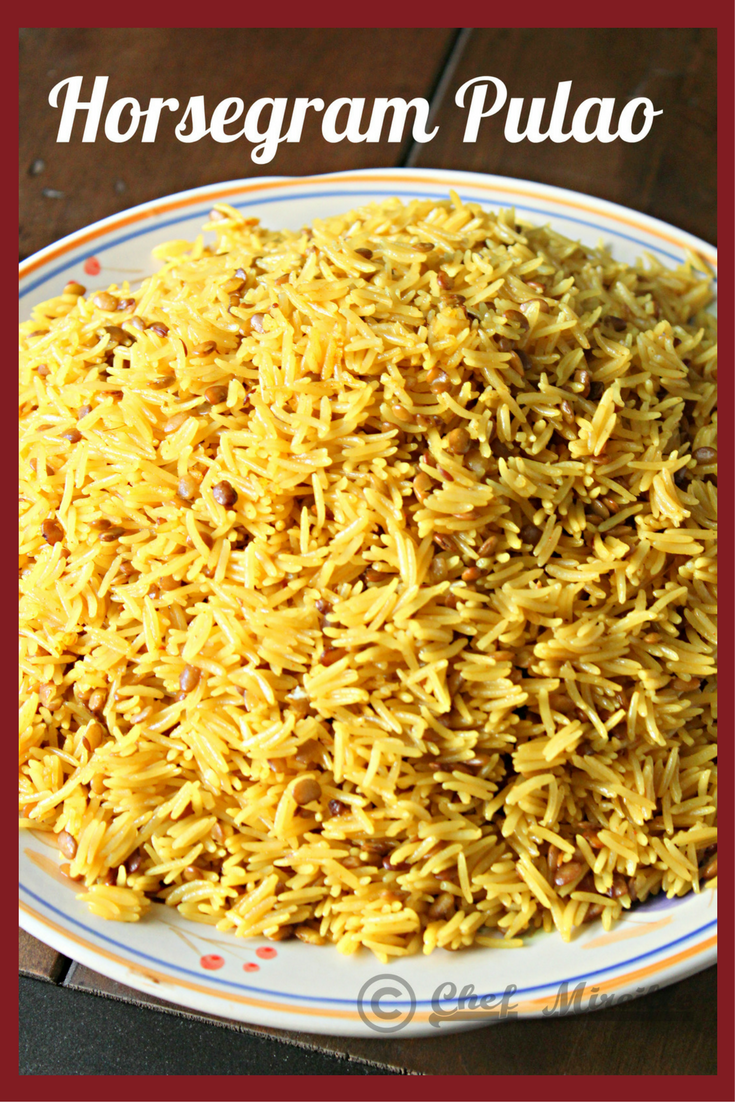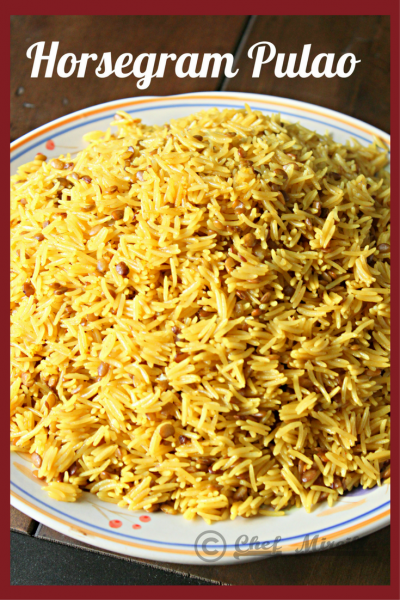 Today's ingredient swap was horsegram given to me by Usha. This ingredient swap with my blogging friends has been so much fun cooking with different ingredients that are not always staples in my pantry. Many different countries have a spiced rice dish called pulao. It is spelled in different ways depending on the country such as pilao, pelao, pilav and the variations go on. There are different methodologies to cooking this rice from stove top methods to baked versions. Horsegram is a brand new ingredient for me and I created this mildly spiced Horsegram Pulao with it.
I have seen many Indian recipes using horsegram, however, it is something I had not previously tasted or utilized. Upon further research, I learned that India is pretty much the only country that considers it a lentil for human consumption. In India, it is used in making everything from rice dishes to paratha. However, for the rest of the world, it is not used as an edible human lentil and instead used for horsefeed. This small lentil I found had a very mild taste and not starchy at all. I would definitely continue to include it in rice dishes or even soup I think it would make a great addition.
When Indians first started coming to the Caribbean as indentured servants in the 1800's, they brought their cuisine with them. While many Caribbean foods have Indian names, there are slight differences in flavorings and methodology as always happens when foods get transported across oceans and continents. I used my knowledge of both Indian style and Caribbean style pulao to create this fusion pulao.
Check out the Blogging Marathon page for the other Blogging Marathoners doing this BM#73
Horsegram Pulao
a mildly spiced rice perfect to go with any meat dish or as a one pot Vegetarian meal
Ingredients
1/2

cup

horsegram

1

tablespoon

ghee

5

cloves

1

teaspoon

cumin seeds

1

teaspoon

ginger paste

1

teaspoon

garlic paste

1/2

teaspoon

ground turmeric

1/2

teaspoon

red chile powder.

cayenne pepper

1 1/2

teaspoons

salt

3

cups

Basmati rice

1

cup

coconut milk

1

cup

coconut milk
Instructions
Soak horsegram overnight in water.

Cook horsegram in a pot of boiling water until tender, about 30 minutes.

Drain horsegram, but reserve liquid.

In a large pot, heat ghee. Add cinnamon, cloves, cardamom and cumin. Stir fry for 1 minute, until the cumin starts to change color. Add ginger paste and garlic paste. Fry for 1 minute.

Add 3 cups of the reserved horsegram liquid and coconut milk. Add turmeric, chile powder and salt. Bring to a boil.

Add rice and cooked horsegram. Stir to combine. Reduce to a simmer and cook, covered until rice is tender, about 20 minutes.
Did you try this recipe? Leave a comment below.
Please follow me on Instagram @chefmireille or tag me #chefmireille with your pics! I'd love to share them!