Last Updated on May 31, 2015 by Chef Mireille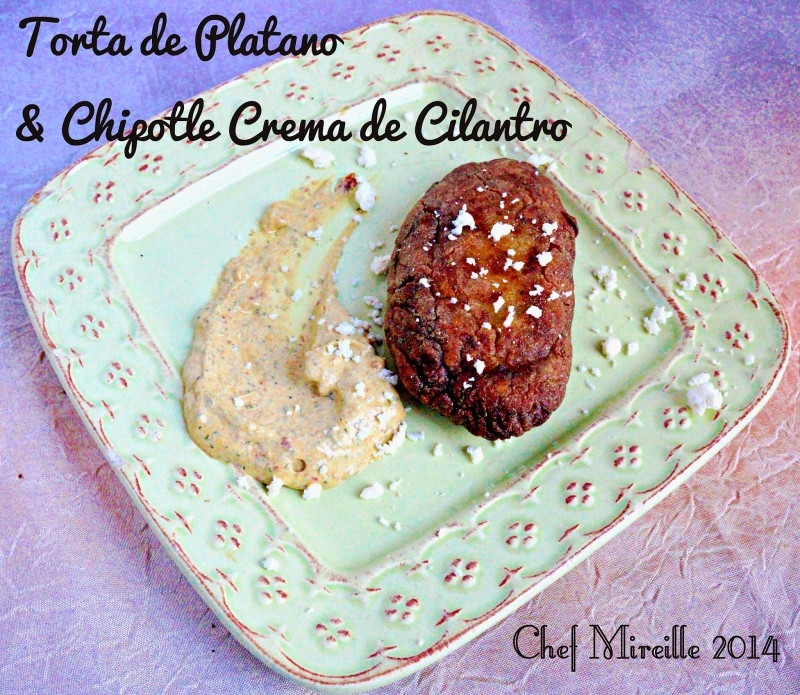 H is for Honduras…
Totally unintentional, but I seem to be cooking my way through South & Central America. B started out with Belgium and then it switched to Bolivia, E went from Estonia to Ecuador and now H went from Hungary to Honduras. Although I had picked Hungary for letter H from the beginning, when it came down to cooking, it just wasn't exciting me. I kept on switching between different Hungarian recipes but not meaning any disparagement to Hungarian cuisine as I have cooked and eaten it before and do enjoy it, but it was feeling more of an obligation than anything that I really wanted to cook.
So I went off in search of other H countries and came across these delicious tortas made with my fave ingredient. 5pm on a Sunday evening, I ran to the store for some queso fresco and made this popular Honduran street food. Some ripe plantain was already in the fruit bowl. Don't think you are done with this part of the world, as 3 more Latin American countries are still upcoming later in the month.

Honduran tortas have a plantain dough and I have made two different kinds, stuffed with two of the most traditional fillings. I really wanted to bring plantain flavor to all parts of this dish so I used plantain flour and I also used queso fresco sold in plantain leaves so there is a little plantain flavor in the cheese also. This type of queso fresco is more moist than regular queso fresco which makes it melt better when frying.
Torta de Platano
Yield: 9 tortas
Ingredients:
4 very ripe plantains
1 stick butter (8 oz), softened
3 tablespoons plantain flour (or all purpose flour)
2 1/2 teaspoons salt
queso fresco (en hoja de platano)
1 can refried pinto beans
1 cup plantain flour, for dusting
Bring a large pot of water to a boil. Trim the ends of the plantains. Place the plantains in the boiling water and cook them in their skins, until tender, about 10-15 minutes. Drain.
As soon as they are cool enough to handle, remove the plantains from their skins. Mash them.
Using a food processor or the paddle attachment of a blender, mix the plantain and the butter until smooth.
Add the salt and the flour, a little at a time until you have a soft but not sticky dough.
Transfer to a bowl.
Using a 1/3 cup plantain batter for each torta, flatten into a disc. Place about 1 1/2 teaspoons of either the bean or the cheese filling or a little of a both. Fold over the plantain dough and seal the edges by pressing together.
Dust the outside with flour and repeat until all the plantain dough has been used.
Heat a pot with enough oil for deep frying.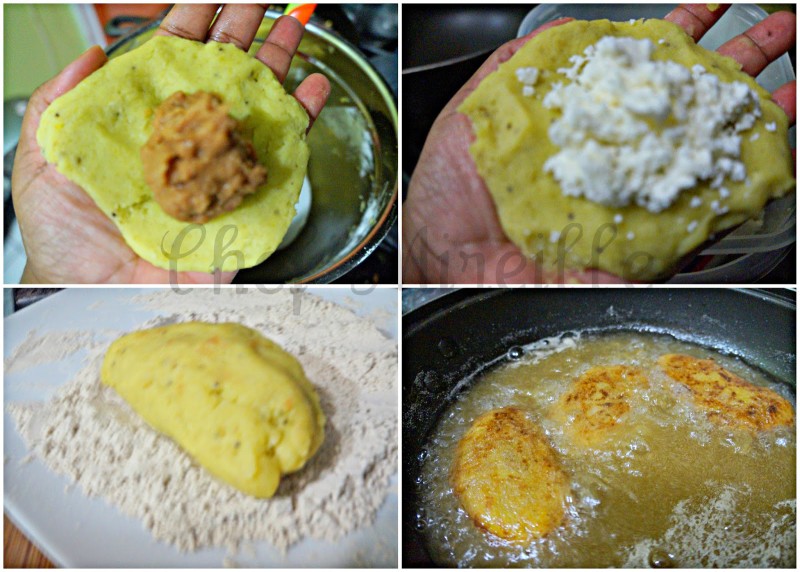 Place tortas in the hot oil and fry until golden brown. Drain on paper towels.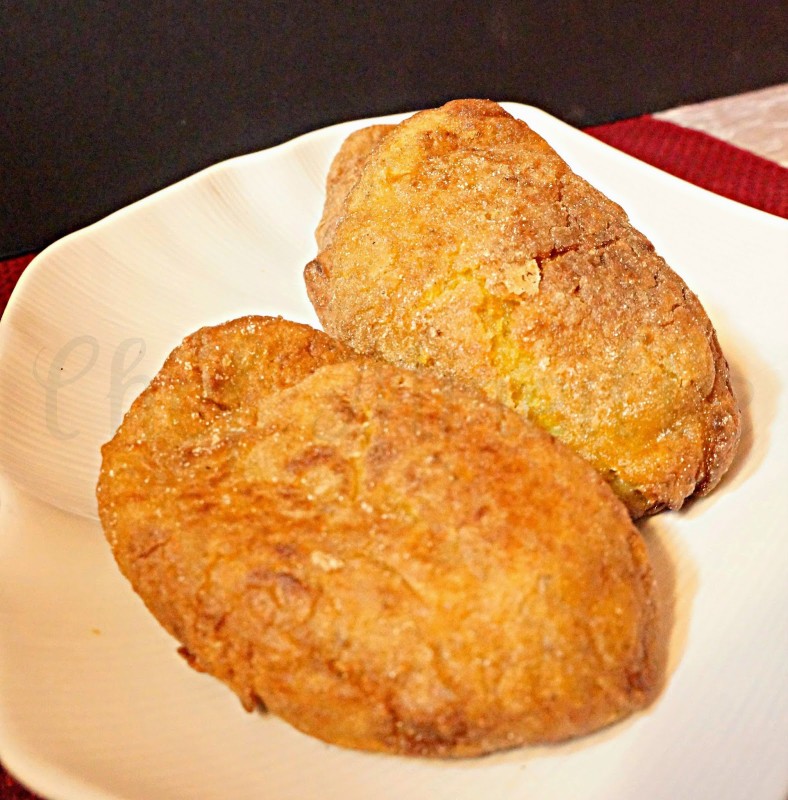 Noes:
This is not a low fat treat and it absorbs a bit of oil, so be careful when frying. If you fry too long, it will start to expand and break apart.
It was better when reheated in the oven. The oil is released and it is not so greasy.
I decided to make a spicy sauce to go with these in the vein of Honduran flavors. I am lucky to live in a neighborhood with a lot of Latin people so when I went to the market for crema, I had my choice of four different crema's – Mexican, Salvadoran, Centroamericano or Honduran. I usually buy the Centroamericano one and I noticed the Honduran one was a little thicker.
Mireille's Chipotle Crema de Cilantro
Yield: approximately 1 1/2 cups
Ingredients:
1 cup Honduran crema
1/2 bunch cilantro
3 chipotle chiles
1 teaspoon salt
1/2 teaspoon sugar
1 tablespoon water
1 tablespoon olive oil
2 tablespoons lime juice
Soak the chipotle;s in boiling water for a 1/2 water until softened. Drain.
Combine all ingredients with the soaked chipotles in a food processor and process until smooth.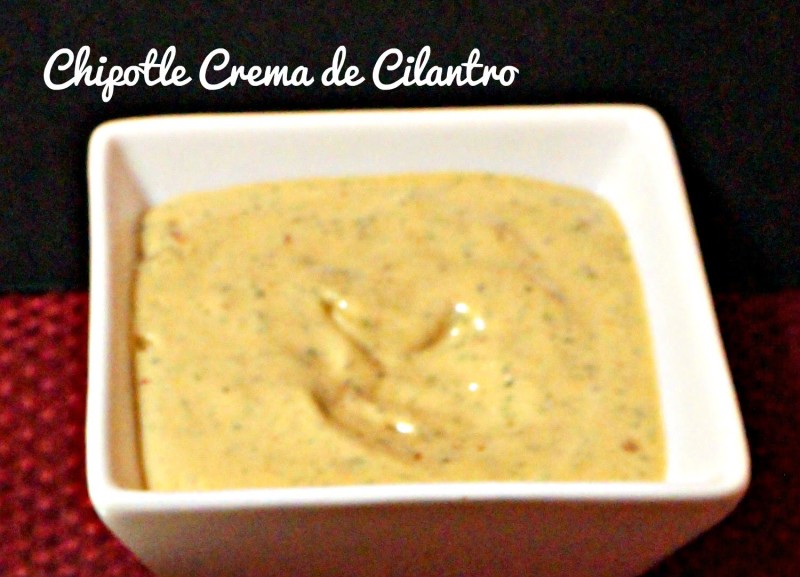 Notes:
This is quite spicy, so if you like less heat, just reduce the quantity of chipotles.
Serve tortas with the spicy crema.
My favorite one was the cheese filled ones. Oozing with the fresh cheese, it created a great balance of flavors, especially with the spicy crema.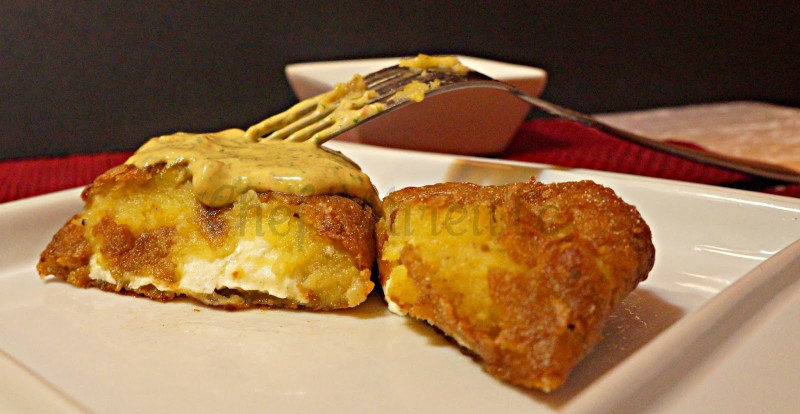 Check out the Blogging Marathon page for the other Blogging Marathoners doing BM# 44
LIKE THIS RECIPE? LEAVE A COMMENT..I LIVE FOR THEM!
Chef Mireille