Last Updated on May 26, 2018 by Chef Mireille
Chinese Restaurants in NY are a staple, but we have the resources to make the same things at home with 1/2 the calories and price and also customizing it to our specific tastes.
You never see the Chinese eating what they serve us -oily, calorie laden food.
Go to Chinatown, buy some fresh ingredients and you can make your own version of Lo Mein, easy as 1-2-3.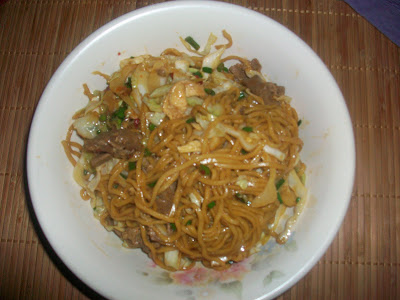 First go to Deluxe Supermarket, a huge market that runs the entire length of the block from Mott to Mulberry (there is an entrance on each side).  Here you can get a variety of meats sliced paper thin and they cook very fast – so this is perfect to use in Lo Mein.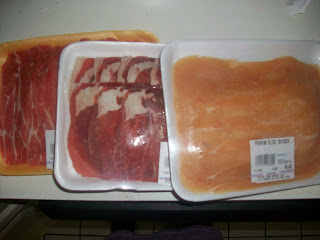 Next you can get Lo Mein noodles, either dried or fresh in many of the markets located throughout Chinatown.  I like using the fresh noodles, but this is only if you are going to use them the same day.  Otherwise, purchase the dried noodles.
This "recipe" I am not going to include quantities so you can really customize it and make it your personal tastes. Anyway, recipes should be used as a guide and not as a Bible.  This is how you develop your own style of cooking.
Lo Mein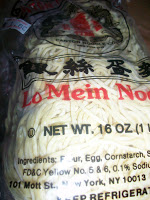 scallions, chopped
garlic,finely chopped
ginger, finely chopped
thinly sliced meat (chicken, pork, beef, lamb)
vegetables (whatever variety you like)
soy sauce
oyster sauce
5-spice powder
1 package fresh lo mein noodles (if using dried noodles, they must be cooked in boiling water al dente before making lo mein)
peanut oil
chili paste (optional)
cilantro, chopped (aka Chinese parsley)
In a bowl, marinate meat in 5 spice powder and a little oyster sauce for about 20 minutes.
In a wok, heat 1 tablespoon of peanut oil and fry scallion, ginger and garlic for 3-4 minutes.  Add meat and stir-fry until meat is cooked thoroughly.  Add whatever vegetables you are using (cabbage was used in the photo above) and fry until slightly undercooked.  Add noddles & desired amount of soy sauce.  Stir fry for a few minutes until thoroughly combined.  If you like it spicy (as I do) add a few teaspoons of chili paste.  Add a few tablespoons of cilantro and toss again.  Serve immediately.
The less oil and more vegetables you use the better.  If you find the meat and noodles are starting to stick to the bottom of the pan, use chicken broth (instead of oil) .
Eat and enjoy!!!