Last Updated on June 4, 2015 by Chef Mireille
I was in the Indian enclave of Jackson Heights last weekend doing some shopping and the hunger pangs started to signal: FEED ME.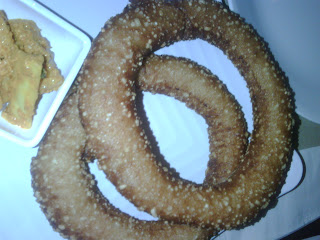 Sev Roti
So I was off to find some delicious Indian food. Although Jackson Diner has the best reputation (due to an article some years back in the NY Times), it is my least favorite buffet in the area. There are so many better restaurants in the area, that just does not have the publicity, as is usually the case.
My favorite buffet in the area has always been a little place a few blocks away from the main 74th Street block, on 37th Avenue called Ashoka. They had the best food and were one of the cleanest establishments in this area. Sadly, on my quest to revisit Ashoka, it was no more. I decided to try their replacement,
Mustang Thakali Kitchen
, a Nepali/Tibetan restaurant.
Having been thoroughly delighted by my visit to Himalayan Yak a few months ago, I was more than willing to try another restaurant in this genre.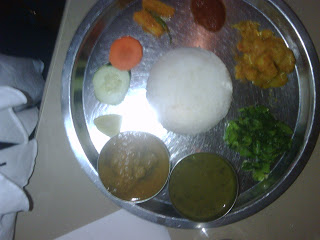 Thali
They had a variety of thali plates – a meat entree served with two vegetables, dahl and achar (picked vegetable condiment). This was the highlight of everything I tried – a wonderful Farsee Goat in a pumpkin gravy was spicy and savory, but with a mild sweetness from the pumpkin. This dish had many levels of flavor and I was pleased.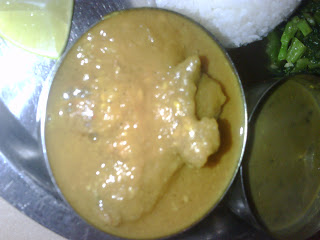 Farsee Goat
The Sev Roti was also wonderful – light and airy, it complemented my companion's chicken curry well.
The momo (traditional Nepalese dumplings) were bland and flavorless. They need to get some lessons from Himalayan Yak on this one.
I was not impressed with the service. Although they have an extensive menu, we were all pressured to have the thali, whether we wanted it or not. We had to insist when we wanted to order something else, because my companion was not that hungry. And the displeased look by the waiter when one of us was pondering one of the Indian entrees on the menu did not go unnoticed. If it gives you such displeasure to offer Indian entrees on the menu, don't include it!!!
While I think it is absolutely worth the trip to try the Farsee Goat, Himalayan Yak will be my preference for repeat visits in this genre due to their delicious food and better service.
Chef Mireille
Global Tastes & Travels Inc.
facebook.com/GlobalTastes
twitter.com/GlobalTastes
[email protected]