Last Updated on May 20, 2015 by Chef Mireille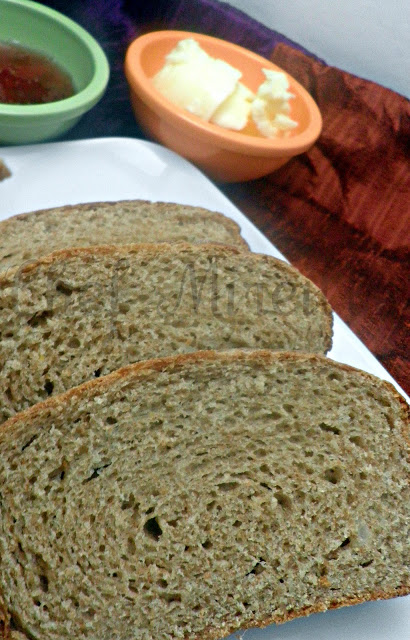 This was the bread I made yesterday's Nutella Fruit Sandwich on. I remember when potato bread first came on the market several years ago. It became a big hit, because of its soft, fluffy texture. With this bread, I tried to create a wheat version of this bread with the added benefit of protein rich almonds and garbanzos.
Whole Wheat Potato Bread
(click here for printable recipe)
Ingredients:
1/2 cup almond flour
1/2 cup chickpea/garbanzo/besan flour
1 cup all purpose flour
2 1/4 – 2 3/4 cups whole wheat bread flour
3/4 cup potato, boiled and mashed
1/4 cup sugar
5 teaspoons yeast
2 teaspoons salt
1 1/2 cups water
3 tablespoons butter plus 2 tablespoons
In a large bowl, combine almond flour, chickpea flour, sugar, salt, yeast and all purpose flour.
In a saucepan, combine water, mashed potato and 3 tablespoons butter. Heat to 120 – 130 F.
Use a very large mixing bowl, so that you can knead the dough in the bowl. Add potato mix to flour mixture and mix for a few minutes until well combined.
Add 2 cups of flour and mix well. With your hands, start to knead the dough and add additional flour as needed (I added an extra 1/2 cup). Knead for about 5 minutes, until the dough is smooth and elastic. Place in a greased bowl. Cover with a clean kitchen towel and let rise until doubled in size, about 45 minutes. Punch down dough to remove air bubbles.
Divide dough in half.
On a floured surface, roll each half into a rectangle and then roll starting with the narrow side and folding in the sides as you roll (like a burrito) and place seam side down in a greased loaf pan. Repeat for other half of dough. Cover and let rise another 30 minutes.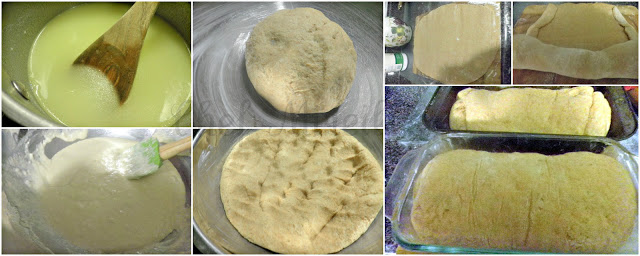 Preheat oven to 375 F.
Brush the tops with melted remaining 2 tablespoons butter. Bake for 30 – 40 minutes, until the loaves sound hollow when tapped. Let cool before slicing.
Since I used flours that do not have gluten, these breads do not have as much height as 100 % gluten flour breads do, however these protein rich slices are perfect as toast with butter or jam.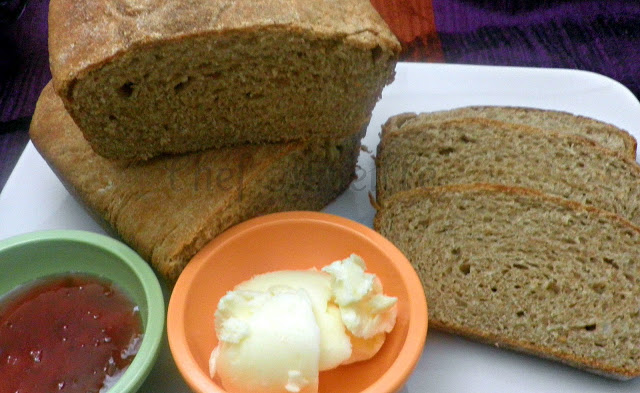 This bread came out of the oven around midnight…not the time to be eating, so the next morning, I had it for breakfast with rose jam, cheddar cheese and coffee..oooh what a yummy brekkie it was!!!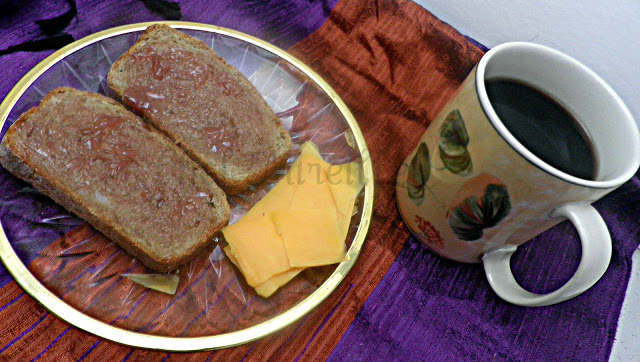 My Breakfast

This recipe is being served at Let's Cook Breads, Vardhini's Bake Fest hosted by Pradnya, Love Lock Series hosted by Divya & Yeastspotting
LIKE THIS RECIPE? LEAVE A COMMENT..I LIVE FOR THEM!
Chef Mireille
Like me on FACEBOOK!
Follow me on TWITTER!