Last Updated on June 15, 2021 by Chef Mireille
Hemingway's Caribbean Café is one of the best places to eat in Antigua. To experience the best local flavors, this restaurant you don't want to miss on your Antigua Vacation.
There are many generic restaurants in Antigua that serve things like pizza, schwarma and burgers. Even fast food chains like Burger King and KFC found its way to this small Caribbean island. Restaurants in English Harbour will offer European cuisines – especially Italian and French.
However, if you want to experience local food – uniquely Antiguan – in a nice setting with ambience and beautiful plating, Hemingway's is the way to go.
Hemingway's is not the local Roti Shop. It is a tablecloth restaurant where you can sit and relax over cocktails and experience one of the best places to eat in Antigua.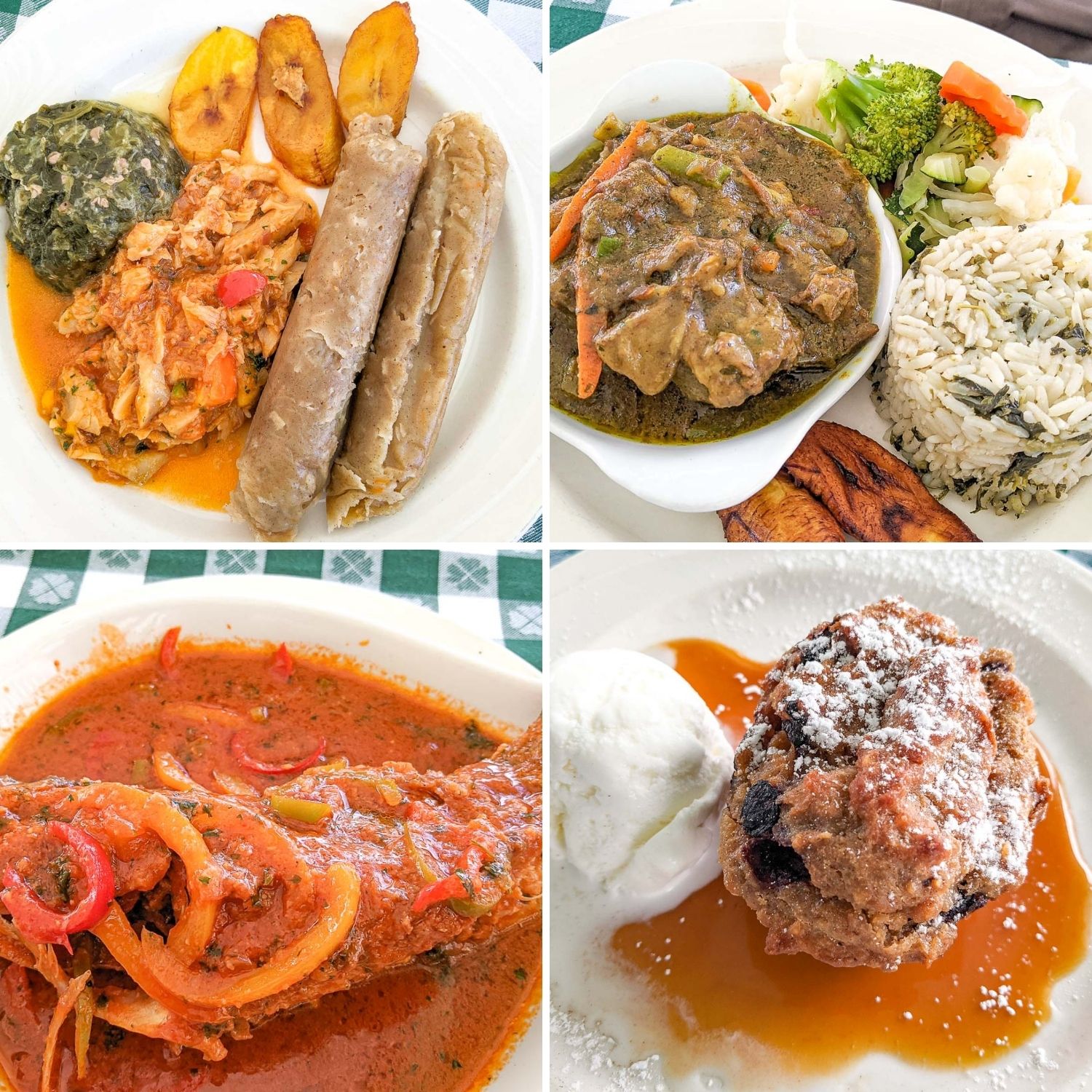 This post may include affiliate links.
First of all, to avoid any confusion – This is Antigua – the Caribbean island in the Eastern Caribbean – not Antigua, Guatemala. If you google Restaurants in Antigua, you might be in Guatemala instead of the Caribbean.
---
I know it's been a while since you got any new travel content from me…well since travel was at a standstill for quite a while, I have been focusing on providing delicious global recipes instead so you were able to travel vicariously on your dinner plates…even if getting on an airplace was not feasible.
Now the world has been opening up. However, there are new considerations with travel in 2021. Don't worry! After taking my first post pandemic trip, I will be providing some more posts in the coming weeks with details to provide you all you need to know for safe travel in 2021.
However, some of you might be planning to go to Antigua this summer as it has become one of the hottest travel destinations in 2021. So I wanted to get some Antigua information you may be looking for before you leave for your summer holidays.
History of Hemingway's Restaurant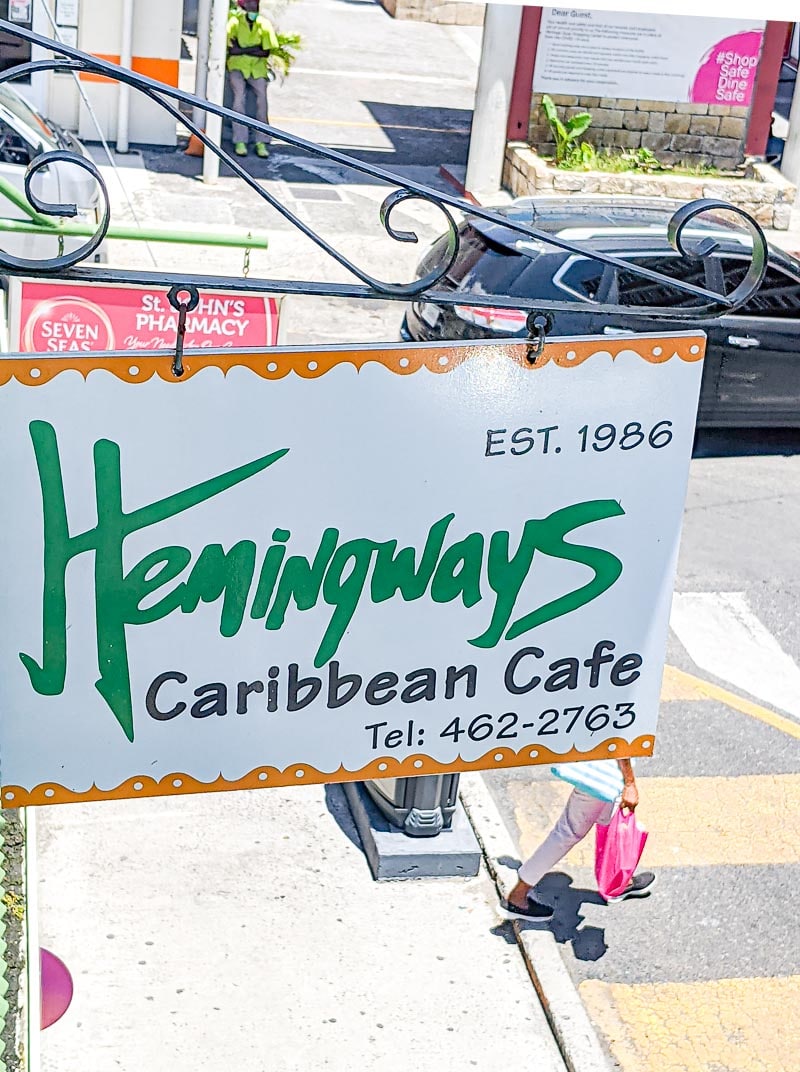 You might wonder about the name and yes, this is one of many restaurants around the world named for the famed writer, Ernest Hemingway.
As one of the most famous author's of the 20th century, any place he stepped foot in is instantly famous.
Heminway spent time in Antigua and when he did, he stayed at Hemingway's Restaurant, which was the Hotel Jardines back then.
Now it is a pretty second floor restaurant. It's a beautiful setting to sit and enjoy cocktails as you enjoy the cool breeze. It's located just down the road from Heritage Quay, which is a duty free shopping mall. Hemingway's Restaurant is a great place to enjoy lunch before or after shopping.
So why do I think it is one of the best restaurants in St John's Antigua?
It's got 5 stars from me for:
What is Ducana?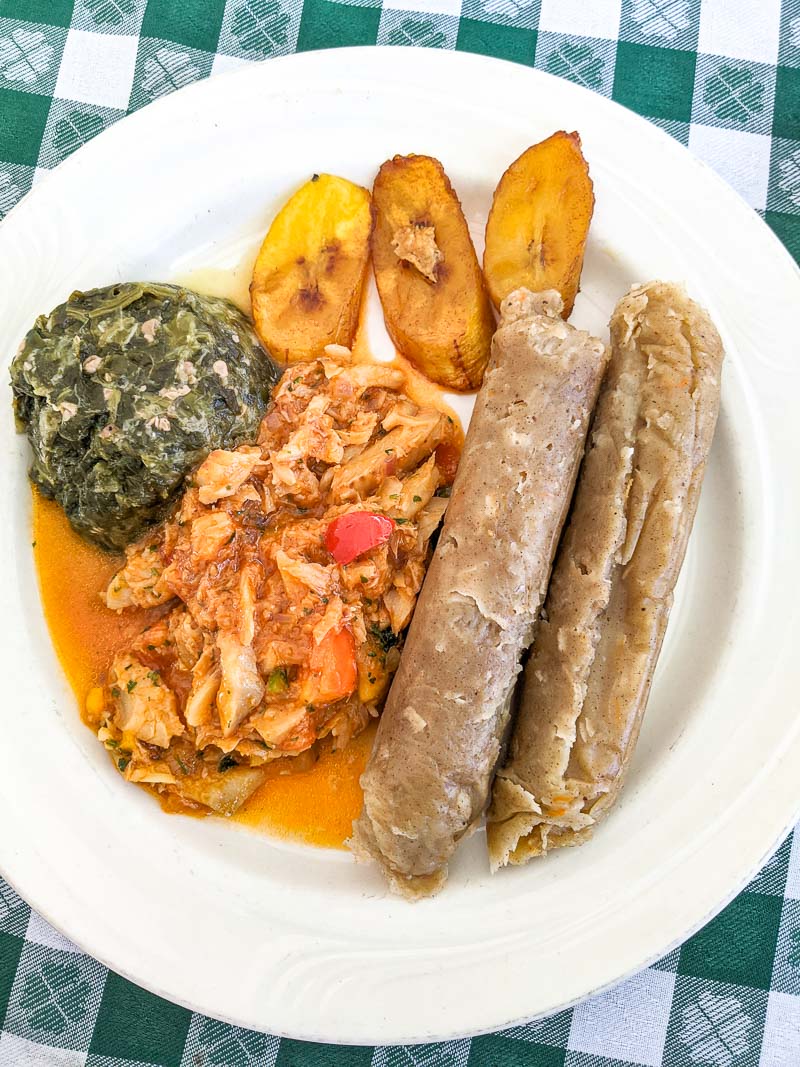 If there is one dish you cannot leave without trying, I will have to say it is Ducana. Ducana is a traditional recipe of Antigua that is always served with the same accompaniments.
The Ducana platter consists of the main item which is grated sweet potato with coconut and spices. This is then wrapped in banana leaves and boiled. The Ducana is then served with chop up (spinach and/or other similar green vegetables), saltfish (bacalao) and fried plantain.
This was my last meal before I left Antigua and the best. You can find this on many places on the island, however, I can only attest to Hemingway's. The balance of the slight sweetness from the ducana and the salt from the dried salted cod is an explosion of flavors in the mouth.
This mostly plant based meal except for the saltfish is a healthy and filling meal, full of natural flavors. All food in Antigua is naturally organic and everything has so much more natural flavor than food does in the US – unless you can afford to buy only organic.
Ducana is not a standard restaurant item at Hemingway's. When they have it, it is one of the daily specials. If this is something you definitely want to try, I would suggest calling the day before you plan on attending and asking if they will be having ducana.
Seafood Dishes at Hemingway's Caribbean Café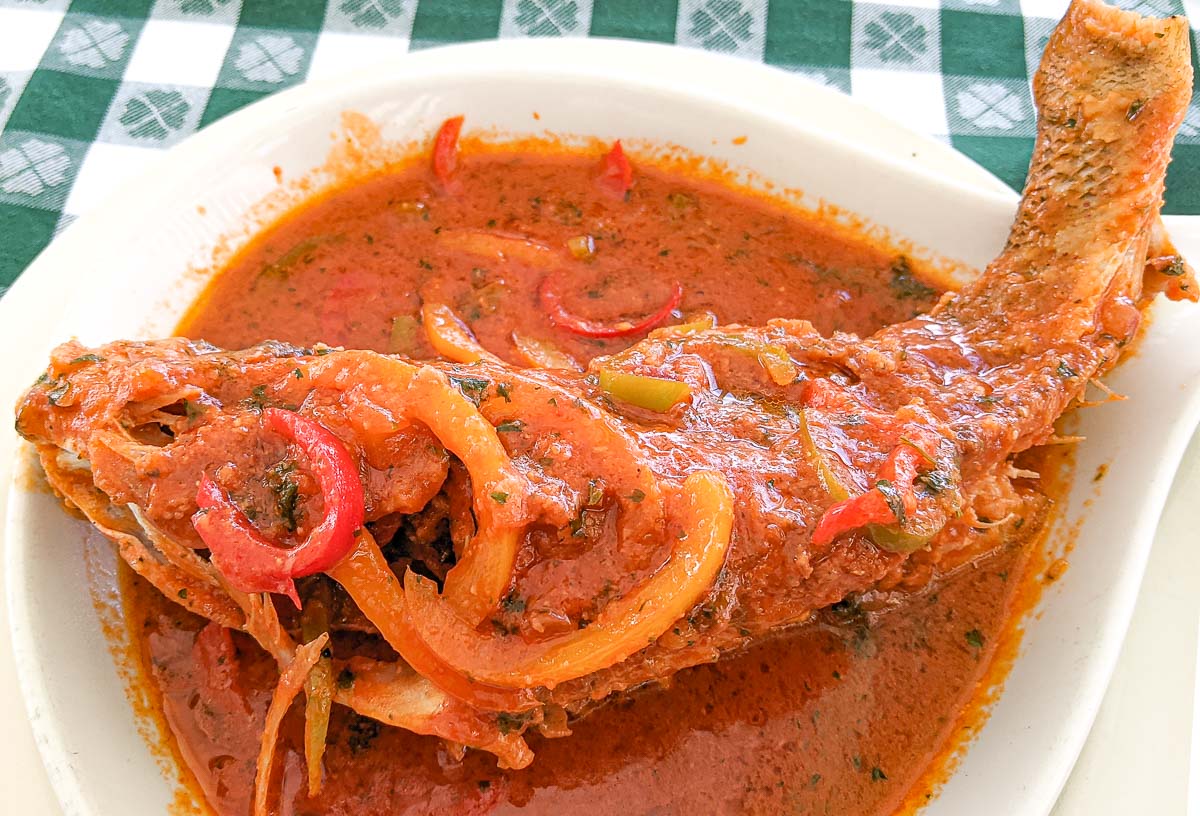 Are you a seafood lover? If yes, you are going to love the food in Antigua and especially at Hemingway's Restaurant. Lobster, conch, saltfish (bacalao) and fresh local fish are in many places on the Hemingway's Menu.
Just some of the seafood things you can sample at Hemingway's Restaurant include Conch Fritters, Lobster Flambe, Crab Cakes & Seafood Ceviche.
Of course, the daily specials might also include additional seafood dishes like Red Snapper in Creole Sauce.
Curry & Cocktails
Like most Caribbean islands (except the Spanish speaking Caribbean), curries are a big part of the cuisine and the most popular is goat curry. This is another local dish that is a must, especially if you have never tried goat meat before.
You will also be able to enjoy fresh tropical juices, mocktails and cocktails while you enjoy your food. My favorite after I ate at Hemingway's a few times was the Old Fashioned Rum Punch – a mix of rum, lime juice and bitters.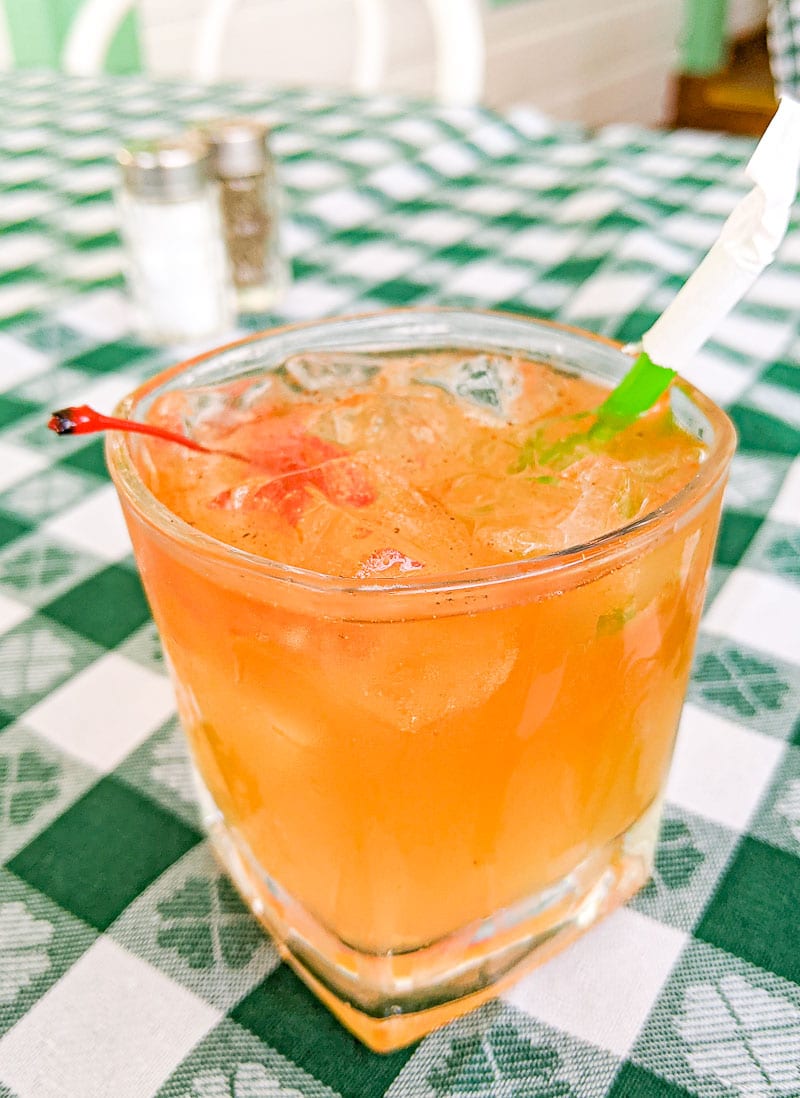 Desserts
With freshly made desserts, they will vary. Just a few samples might be Blueberry Bread Pudding or Coconut Pie.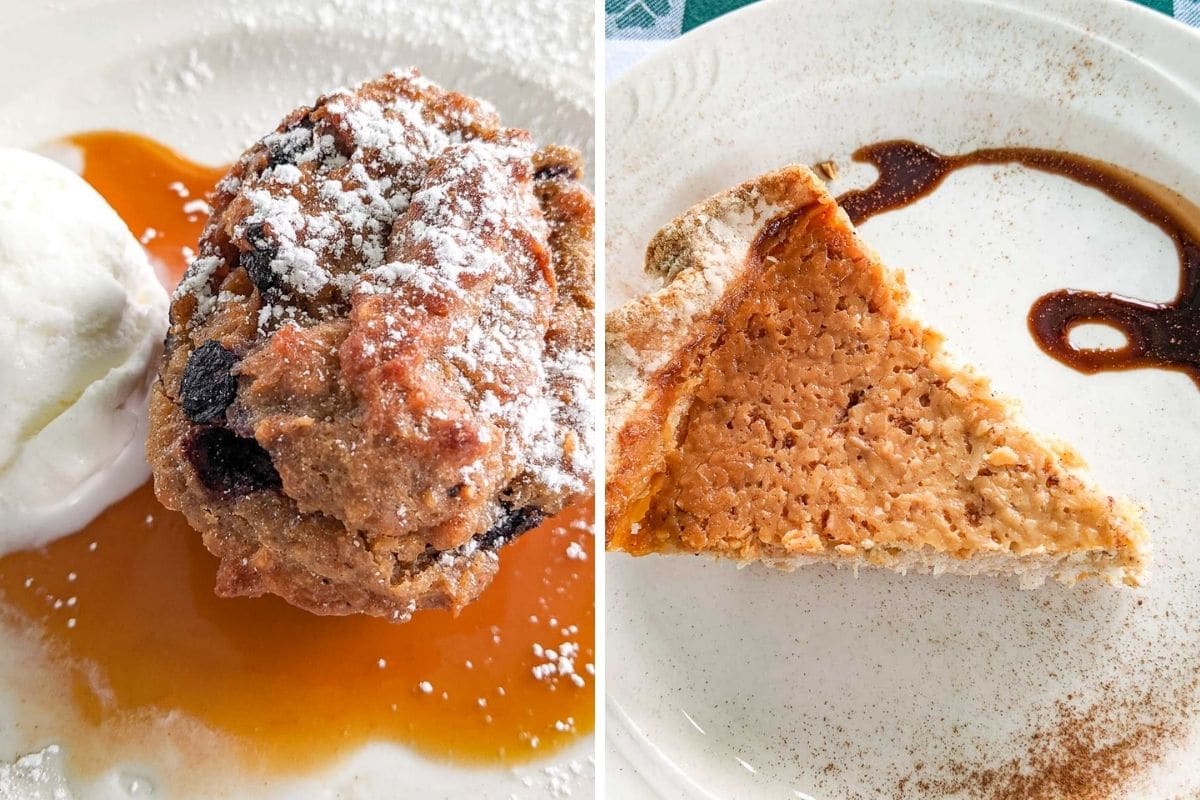 The Bread Pudding with soft, light and airy.
The Coconut Pie was delicious infused with spices like nutmeg, ginger and cinnamon as well as essences of vanilla and almond. A very typical flavored dessert of the region with a modern western take!
If you are looking for an Antigua Restaurant and want to enjoy food cooked the local way with cocktails, with a slightly upscale presentation and atmosphere, then Hemingway's will become your go to restaurant in Antigua.
With such a versatile menu, if you are staying in the St. John area, this is a restaurant you can even eat at daily and never get bored.
Frequently Asked Questions
Location
Are you going to Antigua soon? Here are a few travel tools you may find useful!