Last Updated on July 1, 2018 by Chef Mireille

Modeled after lemon bars, these guava bars are a lovely fusion of an American classic with Caribbean flavor!
Using frozen juice concentrate is a great way for intense fruit flavor in cookie bars.  Goya makes a line of tropical fruit flavors like guava, mango, passionfruit and papaya.  The next time you are in the frozen juice section of the supermarket, get an extra can to make these delicious fruit bars – it's not just for making juice anymore!
Guava Bars
Ingredients:
1 cup butter, softened
1/3 cup sugar
2 cups all purpose flour
1 14 oz. can sweetened condensed milk
1 12 oz. can frozen guava nectar concentrate, defrosted
1 tablespoon cornstarch (potato starch, tapioca starch or arrowroot powder can also be substituted)
1 teaspoon baking powder
Preheat oven to 350 F.
Using an electric mixer with the paddle attachment, beat butter and sugar until soft and fluffy.  Add flour and mix until well combined.
Line a 13×9 baking dish (brownie pan) with parchment or waxed paper.  With floured hands, press the dough into the pan, completely covering the bottom and a little up the sides.

Bake for 20 minutes.
In a food processor, mix condensed milk and frozen juice concentrate until thoroughly combined.  Add cornstarch and baking powder and mix well.

Pour into baked shell.
Bake for 30 minutes.

Let cool completely.  Lift out by holding the parchment paper and put onto a cutting board.  Trim the perimeter so that you have a rectangle, with clean edges.  Cut into bars.

Yummy guava goodness on top of a shortbread cookie crust – just delicious!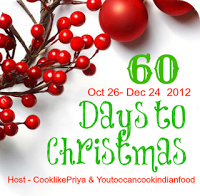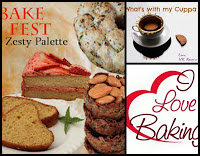 …linking to I Love Baking, Priya's 60 Days to Christmas, Bake Fest #13 hosted by Anu & What's with my Cuppa?
LIKE THIS RECIPE? LEAVE A COMMENT..I LIVE FOR THEM!