Last Updated on June 3, 2015 by Chef Mireille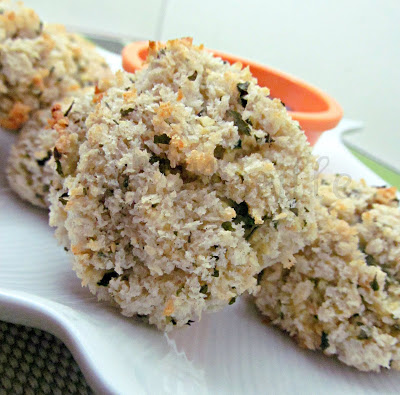 Breadfruit Accra
Blogging Marathon #22
Theme: Kid's Delight – Healthy Makeover
November 3rd is Independence Day on the birthplace island of my grandmother, Dominica. To celebrate, I am giving you a little bit of Dominica culture, along with a recipe. I was lucky enough to join in the festivities of the Nature Island of the Caribbean in 2007. The country celebrates for a month, with the greetings, "Fet Andependans" to everyone you pass in the street; friend or stranger, spoken in the local patois dialect.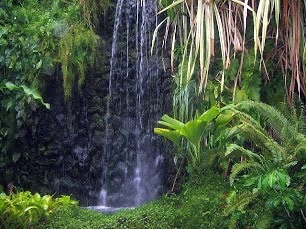 Fresh Spring Water down the side of the mountain, Dominica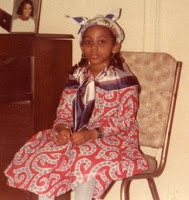 It starts with people bringing out their traditional wear. Here is a photo of me at age 6 wearing the traditional gear. I did not like it at that age living in New York City as you can see from my unhappy face (I think I was probably thinking – "will you take the photo already so I can get out of this outfit"), but now as an adult, I appreciate my heritage.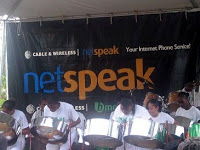 Steel Pan Players, Creole in the Park, 2007
For more information about the traditional gear see here. The festivities end on Independence Day itself with the National Parade and Cultural Gala. This is mostly a bunch of politicians and dignitaries speaking, with a few performances. The best part of the festivities occurs about a week in. Called Creole in the Park, it is a 3 day event of live local music, great food, activities and local artisans. Calypso and Steel Pan are the major types of music featured. Steel Pan are handmade drums made of steel pans. Originated on the island of Trinidad, it is a uniquely Caribbean type of music that can be transformed into fast dance music or melodious, beautiful harmony. If you've never heard Steel Pan Music, here's a sample:
This is where you will find the beat and culture of the island. Another event that occurs at Independence time is a 3 day World Creole Festival – a LIVE 3 day music festival featuring music from throughout the Afro-French Diaspora – Africa, France, Canada & the Caribbean. If you are planning on visiting the island, the last week in October is the best time to go.
Now, on to today's recipe. Today, starts Blogging Marathon #22. For this week, I have chosen the theme of making Kid's Favorites healthier. Since today is Dominica's Independence Day, I decided to present a recipe from the Nature Island of the Caribbean. Accras are a favorite for both kids and adults alike. Accras are basically fried fritters (for my Indian readers, similar to pakoda) and can be made of a variety of ingredients. The most popular ones are made with dried, salted codfish. See my recipe here. Breadfruit is another variety.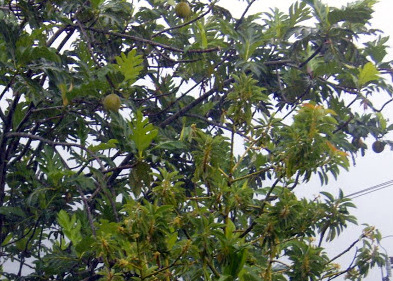 Breadfruit Tree, Dominica
To make them healthier, I added some potato and flour to give them more body so that they can be baked.
Lightened Up Breadfruit Accras
(click here for printable recipe)
Ingredients:
1/2 ripe breadfruit (about 3/4 lb.)
1 small potato (about 6 oz.), peeled and boiled
1 teaspoon sugar
2 teaspoons salt (eliminate salt if using salted codfish)
1/2 teaspoon black pepper
1/4 teaspoon nutmeg
1 tablespoon dried chives
3 scallions
1 tablespoon parsley, freshly chopped
1/4 lb. salted codfish (optional), boiled and shredded
2 tablespoons milk
1/2 cup all purpose flour
1 teaspoon baking powder
1 cup Panko style seasoned breadcrumbs
*the salted codfish is traditional, but I left it out to keep this a Vegetarian option for Kid's Delight*
Preheat oven to 375 F.
In a food processor, combine breadfruit, potato, milk, onion and codfish (if using). Process well, until it forms a paste.
Transfer to a large bowl and add flour, chives, baking powder, parsley, salt, black pepper, nutmeg and sugar.

Form into balls and roll in breadcrumbs.
Spray a cookie sheet with non stick spray and place patties on sheet.
Bake for 20 minutes.

This was truly an experiment and even I am surprised at how good they came out. Using the Panko style breadcrumbs really gives it a nice crunch, as if it was fried. Although they are a little heavier than the fried versions, the same crispy outside and flavorful inside make them delicious.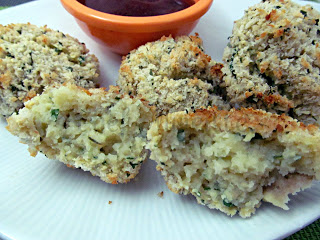 Adults can have them with hot sauce and children can enjoy with ketchup. Other options are Roasted Habanero Pineapple Salsa or Mango Ketchup.
Check out the Blogging Marathon page for the other Blogging Marathoners doing BM#22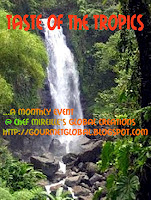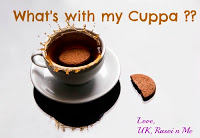 …linking to my own Taste of the Tropics – Breadfruit/Jackfruit event, Kid's Delight & What's with my Cuppa?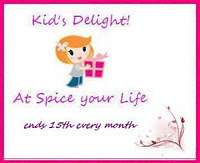 LIKE THIS RECIPE? LEAVE A COMMENT..I LIVE FOR THEM!
Chef Mireille
Like me on FACEBOOK!
Follow me on TWITTER!