Last Updated on June 3, 2015 by Chef Mireille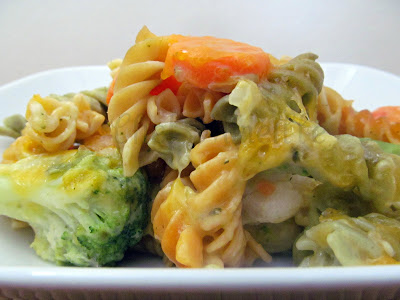 Blogging Marathon #22
Theme: Kid's Delight – Healthy Makeover
Baked Macaroni & Cheese, called Macaroni Pie in the Caribbean, is a kid favorite (the Caribbean version includes egg, which makes it bind even more). The cheese sauce is usually made starting with a roux of butter and flour. Milk or cream is then added and finally the cheese. This luscious cheese sauce is then tossed with cooked macaroni and baked in the oven. A fat laden bowl of deliciousness, with little health value.
Here is a lightened up version of this kid favorite with some veggies sneaked in to add more healthful benefits to this.
Macaroni & Cheese Vegetable Casserole
(click here for printable recipe)
Ingredients:
1 lb. box of macaroni, rotini or fusilli (use whole grain or vegetable enriched pasta for added health value)

1 lb. package of mixed frozen vegetables (the most popular kid favorite will be peas & carrots, although I used a blend of broccoli, cauliflower and carrots)
10 3/4 oz. can cream condensed soup (I used cream of broccoli, but you can use cream of celery, cream of asparagus or cream of mushroom)
1/2 cup water
8 oz. cheddar cheese, grated
4 oz. pepper jack cheese, grated
Preheat oven to 350 F.
Cook pasta according to package instructions.
In a small saucepan, heat soup and water for about 3 minutes until combined and soup starts to boil.
In a large bowl, mix soup, cooked pasta, vegetables, 4 oz. of the cheddar cheese and all of the pepper jack cheese. Mix to combine. The soup includes salt and seasonings, however you can add extra herbs and spices if you like. Transfer mix to a large casserole dish.
Sprinkle the remaining cheese on top.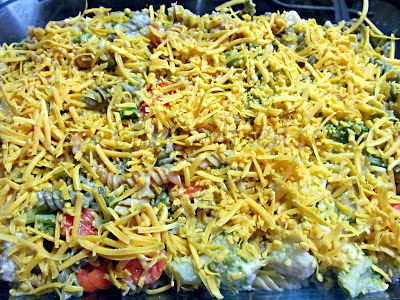 Bake in oven until cheese is melted, about 30 minutes.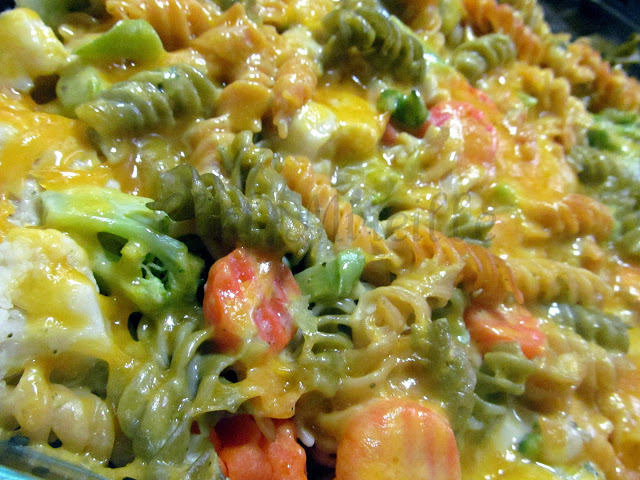 Check out the Blogging Marathon page for the other Blogging Marathoners doing BM#22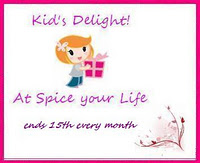 Kid's Delight hosted by Rasi
LIKE THIS RECIPE? LEAVE A COMMENT..I LIVE FOR THEM!
Chef Mireille
Like me on FACEBOOK!
Follow me on TWITTER!