Last Updated on May 20, 2015 by Chef Mireille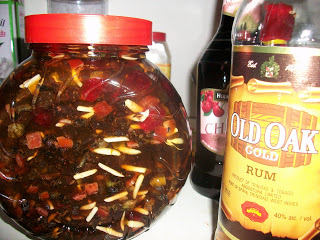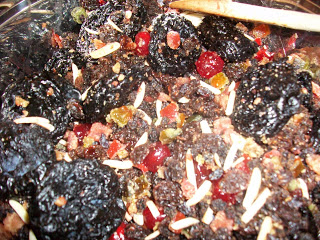 Most cultures have some kind of fruitcake that is made during the holidays and everyone makes it a little different.
If you are Caribbean or even if you just want to try Caribbean style holiday fruitcake aka Black Cake, now is the time to start soaking your fruit. The key to the best black cakes is to let the fruit soak as long as possible so that the fruit is properly drunk when it is time to make the cake – so here is my reminder to start soaking your fruit.
Here is what you need (you can adjust quantities per your preference to make the recipe uniquely yours – these are just suggested guidelines):
1 pound pitted prunes
1 cup each raisins, golden raisins and currants
1/2 cup glazed cherries
1/2 cup chopped or slivered almonds
1/2 cup mixed fruit peel
1 bottle of really good amber Rum (Caribbean brands are best – from Trinidad, Jamaica, Guyana or Barbados)
1 bottle cherry brandy
Mix all the fruits and store in an airtight glass container with 1 part cherry brandy and 3 parts rum.
The full cake recipe will be posted closer to the holidays.

Chef Mireille
https://www.globaltasteinc.com
Like me on FACEBOOK!
Follow me on TWITTER!