Last Updated on May 20, 2015 by Chef Mireille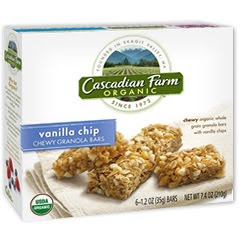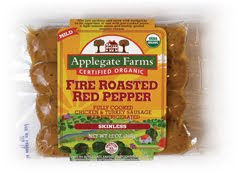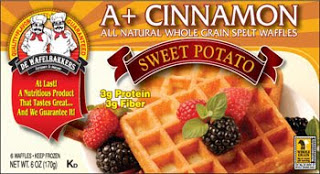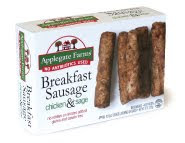 Eventhough I possess culinary skills and knowledge, with my busy schedule, convenience is key. Quick meals that I can put together in a manner of minutes and healthy snack food are things that we can all use in our lives – even the busiest of chefs!!!
So here are a few items I always have on hand:
Applegate Farms Breakfast Chicken Sausages – My favorite flavors are Chicken and Apple or Chicken and Sage. These sausages are all natural – with no nitrites or casings and are seasoned well and have tons of flavor. 1 minute in the microwave and you have delicious, healthful sausages for breakfast. They go perfectly with my next kitchen staple:
De Waffelbakkers Sweet Potato Waffles – Full of Vitamin C and made with whole grain spelt, these are a healthier alternative to Eggo Waffles, not to mention the oodles of cinammony flavor. Also, if you are on any kind of weight management system, they are half the size of other waffles – so it is a great way to exercise portion control.
Applegate Farms Fire Roasted Sausages – Just a little bit of spice to make the flavor pop, but not overpowering chile. Again, these organic sausages are nitrite and casing free.
A staple meal that I cook a few times a month are Mrs' T's Pierogies (my favorite flavor is the potato, cheddar and broccoli but there are several options) with the Fire Roasted sausages, mentioned above. Saute a little garlic and onion with the sausages (sliced). Add the pierogies and saute a few minutes, then add a little chicken broth. Cover until pierogies are cooked through, about 10 minutes. Add a can of diced tomatoes and grated Parmesan. One pan meal in about 20 minutes. Serve with garlic bread for a FANTASTIC dinner. These pierogies are SUPER CHEAP – about $2 a box at Trader Joe's – and full of potatoes – they are really filling and will go a long way!!!
Finally – snack food – Cascadia Farms Vanilla Chip Granola Bars – Made with honey instead of processed sugars, super gooey and delicious!!!
My only wish is that these were available at all supermarkets – Unfortunately, these are only available if you have a good supermarket that carries a wide array of all natural and organic products. Of course, Whole Foods will probably carry most of this stuff, but if you do not want to break the bank, try Trader Joe's, your local health food store or Food Coop (if available).
Please let me know how you like them!!! – I always appreciate all feedback!!!

Chef Mireille
https://www.globaltasteinc.com
Like me on FACEBOOK!
Follow me on TWITTER!