Last Updated on January 10, 2020 by Chef Mireille
February 2019 Food & Travel Update – New Recipes and Travel posts published in February including Savannah and NYC!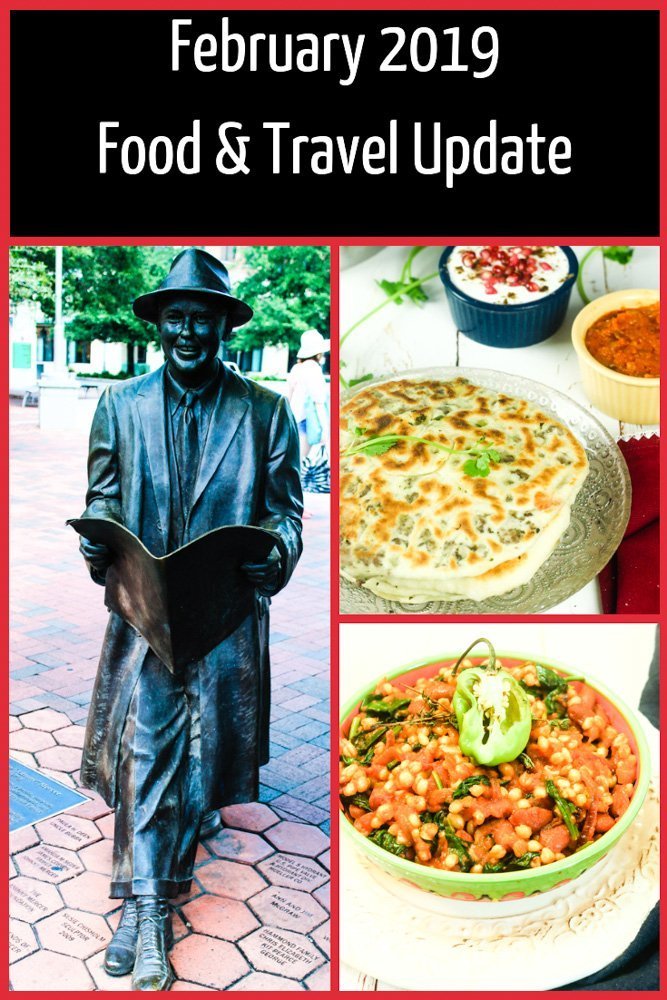 It's that time…Actually I'm a bit late because I have been suffering through a very bad cold bordering on a flu bug the past week. Still I wanted to make sure you have the chance to catch up on any posts you might have missed last month.

There were 5 new recipes posts and 3 new travel posts.
New Recipes Posts
The recipes include something for everyone – a fabulous vegan stew for Meatless Monday, delicious snacks for tea time and a great stuffed flatbread that is practically a complete meal all on its own.

Vegan Pineapple Ginger Bubble Tea
Joloff Wheatberry Pilaf – African inspired vegan one pot whole grain stew perfect for Meatless Monday.
Keema Naan – Stuffed flatbread a meal on its own. All you need it some chutney and this is great for any meal from breakfast to dinner!
Traditional Scottish Shortbread with Rose – perfect for tea time or a sweet end to your St. Patrick's Day meal!
New Travel Posts
Last month, you found out about some great places and events to check out in NYC as well as some info about one of my favorite American cities I have visited to date – Savannah. I highly recommend you consider Savannah for this year's vacation!

Celebrating the Lunar Festival in NYC – Chinese New Year was a few weeks ago, but there are still some festivities to celebrate the Lunar Festival. Make sure you check them out before they are all over!
Savannah in Pictures – In this post, you get a great overview of the many reason to visit Savannah. Stay tuned for a Savannah honey giveaway coming soon…
DeKalb Market Hall at City Point – NYC best food court is not to be missed. A variety of international and iconic NYC restaurants all in one place!
Updated Travel Posts
I've also updated this month some of my older travel posts, adding in some more photos and detailed info, giving you a better idea of what you can expect from a visit.

Dominica – Nature Island of the Caribbean
Penang, Malaysia – Review of Noordin Mews – Boutique Heritage Hotel
Do you know anyone else who likes learning about international recipes, culture, history and travel? Bring them over here to join the party! Don't forget to use those share buttons!
Start Here to find out how the Schizo Chef can help you with your cooking, travel and other needs!
If you like this recipe, PLEASE LEAVE A COMMENT & SUBSCRIBE!