Last Updated on May 31, 2015 by Chef Mireille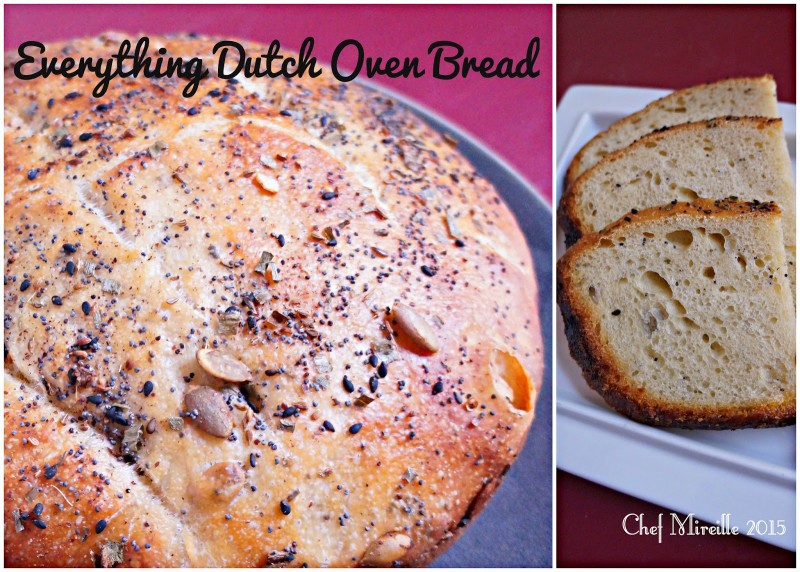 This recipe involved a number of firsts for me. It was my first bread I baked using a Dutch oven. It was my first bread I baked using a starter. I originally got the methodology and idea for the seasoning from a King Arthur Flour recipe – after all, who doesn't love an everything bagel, but I've changed the recipe so much including the spice mix, it bears little resemblance to that one. So how did this recipe change so much?
The original recipe was a standard 2 rise recipe, but using the no knead method with a dough that's a little slack. This original recipe used all purpose flour, but since I live in the Northeast and was making this bread in February when the temps were hovering around 20 F, I wanted to use bread flour. In the winter months, I try to use only bread flour for baking bread. That meant I had to adjust the water quantity because bread flour weighs more than all purpose flour and absorbs more liquid. I did the math, but when I was putting the dough together it seemed more dry from what I remembered when I made this other no-knead bread. I added more water and in the end, I think I added too much. I was tempted to add more flour to compensate, but instead I decided to throw caution to the wind and see what happens if I just let it rise.
After several hours, it rose well, but I had something that was halfway between a starter and a bread dough. It was a sticky batter, so I decided to use it as a starter. In the past, I have had poor results when trying to create a starter (also known as levain). It just wouldn't rise after the 24 hours that most suggest, so I had pretty much given up ever making a bread using a starter. Whenever I saw those bread recipes, I would dash the other direction as though running away from the plague. It was the biggest surprise to me that here I had actually created a starter, albeit in error.
All the bread experts would probably say this recipe doesn't follow accepted bread techniques. First, I flavored the starter and I am sure even more critiques would follow, but my result was a crusty exterior Artisan loaf that I would argue can compete against any European bakery.
So why did I bake it using a Dutch oven? First of all for those from other countries who may not be familiar with the Dutch oven term, all it is, is a big pot with a tight fitting lid. However, for baking bread you definitely want to use ceramic or cast iron and not a pot with a glass cover. I had done quite a lot of reading about baking breads in a Dutch oven. The surround heat that gets trapped in the pot, along with the moisture which creates steaming yields you the crispy crust you expect from Artisan loaves and most mimics a professional oven, so I was ready to give it a try.
This bread was a 2 day process, however it took longer than necessary because of my life schedule and when it was risen, I did not always have the time to deal with it or the rising time happened in the middle of the night when I was sleeping. See notes at the bottom of the recipe for details. That's what's great about Artisan breads. You can let it go a few extra hours and the flavor of the bread is only enhanced because of it. The longer it rises, the more flavor develops.
Everything Dutch Oven Bread
Yield: 2 loaves
Everything Spice Mix Ingredients:
1 tablespoon poppy seeds
1 teaspoon ground flax seed
1 teaspoon black sesame seeds
1 teaspoon anise seed
1 tablespoon dried chives
1/2 teaspoon onion powder
1/2 teaspoon garlic powder
1 tablespoon pepitas (pumpkin seeds)
1/2 teaspoon salt
1/2 teaspoon black pepper
Starter Ingredients:
3 1/4 cups + 2 tablespoons cold water
5 1/2 cups bread flour
3/4 teaspoon instant yeast
2 teaspoons salt
2 tablespoons Everything Spice Mix
2 tablespoons olive oil
Bread Ingredients:
1/2 cup water
5 cups all purpose flour
1/2 teaspoon instant yeast
1 tablespoon sugar
1 tablespoon salt
Topping Ingredients:
2 tablespoons Everything Spice Mix
Combine all ingredients to make Everything Spice Mix and stir to combine. Set aside.
Combine all starter ingredients and stir to form a sticky dough. Cover with plastic wrap sprayed with non stick spray and a kitchen towel. Leave to rise for 12-30 hours, until doubled in size. See notes below.
Add bread ingredients to the starter and mix to combine. Cover with plastic wrap sprayed with non stick spray and a kitchen towel. Leave to rise until doubled in size, 6-9 hours. See notes below.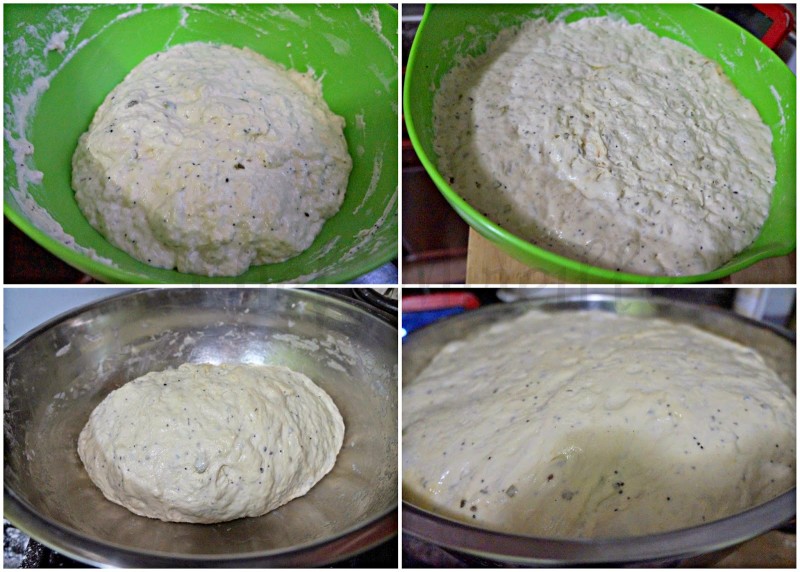 Lightly grease one large (8 1/2″) and one medium sized (7 1/2″) Dutch oven.
Transfer dough to a lightly floured board and knead to form two rounds, using 2/3 of the dough for one round and the remaining dough for the smaller round to place in the smaller oven. Place in the Dutch ovens. Cover and leave to rise for another 2-3 hours, until doubled in size.
Make a few slashes on the top of the dough.
Brush the top of the loaves with water and sprinkle the topping.
Cover and place the Dutch ovens in a cold oven and turn temperature to 450 F. Bake for 40 minutes.

Uncover the Dutch oven and bake for another 10-15 minutes, until it is deep golden brown on top, rotating pots halfway through.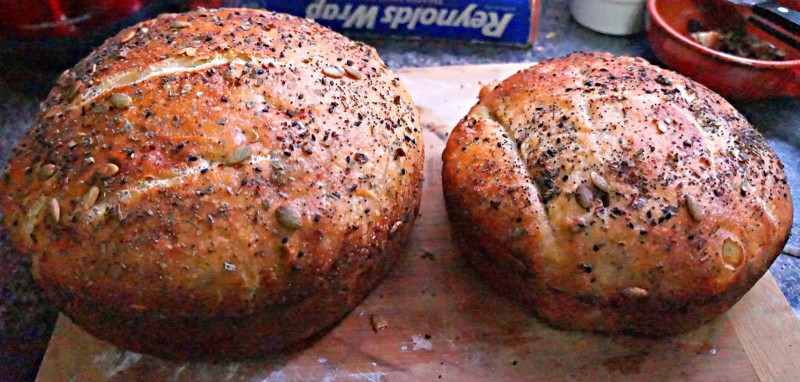 Notes:
Because of my schedule, I left my starter out for about 30 hours, but it was most likely ready at around 12 hours because when I checked it at 10 hours before I went to sleep, it was almost at double.
For the first rise, the dough was ready at 6 hours when I checked it at 3am, when I awoke to go to the bathroom in the middle of the night, however, I was half asleep so not ready to prepare the dough for the next rise yet. That is why I left it for 9 hours.
Although I divided the dough into two pots because I wanted to make sure there was enough room for the bread to rise, in hindsight it could have all fit into the one large Dutch oven.
I used a ceramic pot for baking, an imitation Le Creuset.
The result is a European style Artisan bread with a thin crispy crust, while still having a soft and chewy texture and a mild sourdough taste.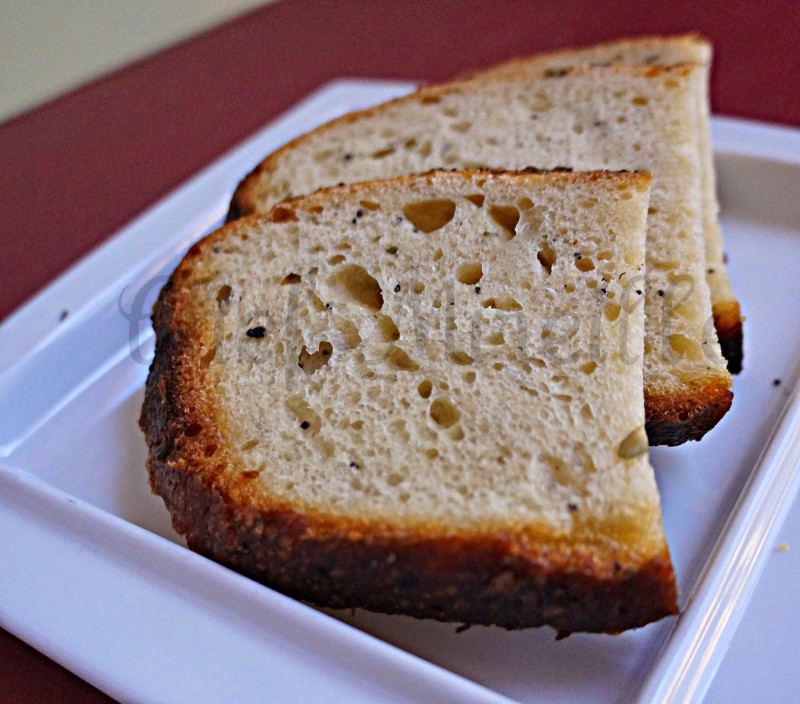 Enjoy for breakfast with a cheese omelette.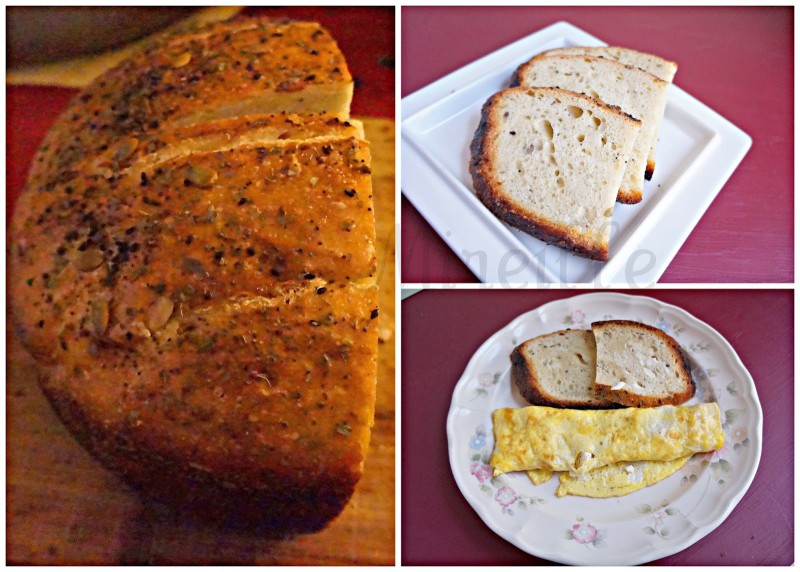 I have since revived a dormant starter a friend gave me two years ago and jumped on the Sourdough Train. I am now a sourdough convert and if you want to learn how I revived my dormant starter plus learn a bunch of sourdough recipes I will now be posting, stay tuned…
#BreadBakers is a group of bread loving bakers who get together once a month to bake bread with a common ingredient or theme. This month's theme is Seeds, and his hosted by Karen of
Karen's Kitchen Stories
. Follow our Pinterest board
right here
. Links are also updated each month on this
home page
. We take turns hosting each month and choosing the theme/ingredient. If you are a food blogger and would like to join us, just send Stacy an email with your blog URL to
[email protected]
Don't forget to check out the rest of the delicious breads with seeds: