Last Updated on May 20, 2015 by Chef Mireille
I am so excited to be guest hosting my first Blogging Event here. Thanks to Cook.Eat.Delicious for this great opportunity. When I decided to host her Desserts event, it did not take much thought to decide on Pumpkin for the theme. After coconut and mango, pumpkin is one of my favorite foods. I enjoy it in everything from Pumpkin Pancakes to Pumpkin Curry to Pumpkin Payasam…all recipes already done on this blog!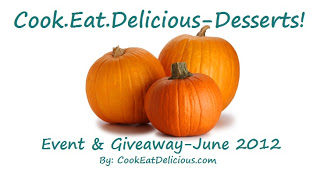 Life without Desserts is no life at all! Desserts create smiles, laughter,
and sweet aromas that fill the house with deliciousness.
This month I am hosting the Monthly Food Blog Event & Giveaway, "Cook.Eat.Delicious-Desserts!"
This month's theme is Pumpkin!
The event runs from June 1st-30th
A random recipe will be chosen to win the
Giveaway.
Round-up & Winner announcement will be posted on July 5th.
CookEatDelicious.com has
started this great event.
Here are the RULES:
1. Cook up any dessert your heart desires, as long as Pumpkin
is the star.
2. Link back to this announcement and to:
CookEatDelicious.com
in your blog
post (Use of logo is optional but
appreciated)
3. New entries are preferred, with archived ones being
re-posted.
4. Multiple entries accepted with only one going towards the Giveaway.
5. Link your recipe using the Linky Tool below. Non-bloggers are welcome to send in their entry. Please attach a photo &
full recipe.
If you have any problems with the Linky Tool, email the recipe to: island palate (at) gmail (dot) com with "CEDD 11″ in the subject line and the following information:
Your Name:
Your Location:
Blog Name:
Recipe Name:
Recipe URL:
1 Dessert Photo
6. Post a comment in this post after emailing me or linking up your recipe!
Please email or link up your submission by June 30th, 2012!
Now the GIVEAWAY: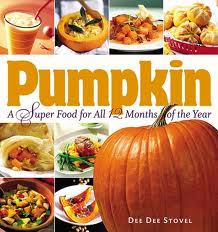 Pumpkin – A Super Food for all 12 Months of the Year
This cookbook has 125 recipes for a variety of ways to cook up pumpkin all year round.
"Dee Dee Stovel carves out a new image for pumpkin with creative recipes like:
Roasted Ginger Pumpkin & Pear Soup
Pumpkin Sage Risotto
Spinach Salad with Strawberries & Pepitas
White Bean, Chicken & Pumpkin Chili
Pumpkin Pizza with Gorgonzola
Pork Tenderloin with Red Wine Pumpkin Sauce