Last Updated on April 2, 2019 by Chef Mireille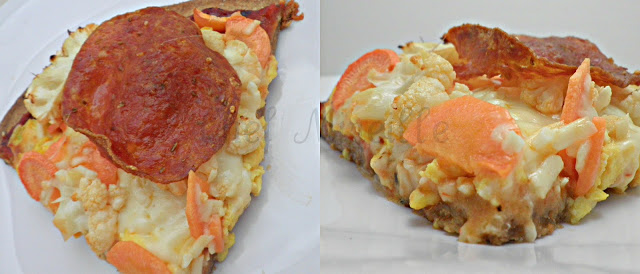 Kids and adults alike, who doesn't like pizza?  Here's a way to enjoy one of the world's favorite meals for breakfast too.  Whole wheat crust and all these veggies make this a hearty & healthy complete meal to start the day.
Breakfast Pizza
(click here for printable recipe)
Ingredients:
1 whole wheat pizza crust (for pizza dough recipe, see here.)
1 cup Marinara sauce
1 tablespoon hot pepper paste (you can use harissa, aji rocoto or any paste to add some spice to the sauce)
1/2 teaspoon rosemary leaves, finely chopped
1/4 head of cauliflower florets, sliced into large pieces
1/2 carrot, thinly sliced
5 scrambled eggs
1/2 cup mozzarella cheese, shredded
1/3 cup Parmesan cheese, shredded
4 large pepperoni slices (optional)
Preheat oven to 425 F.
Boil water and pour over cauliflower.  Let sit for 10 minutes.  Drain.
Roll out pizza dough to the thickness desired.  Dock pizza by pricking with a fork.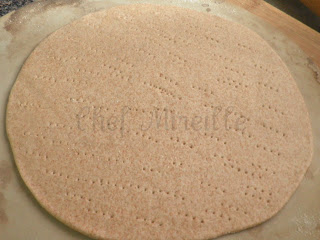 Bake in oven for 10 minutes.
While dough is baking, scramble the eggs and slice the veggies.
In a small bowl, combine sauce, pepper and rosemary.  Stir to combine.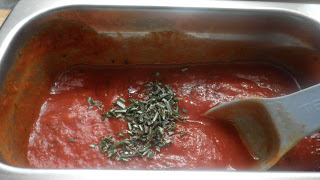 Spread sauce on baked pizza crust.  Sprinkle scrambled eggs.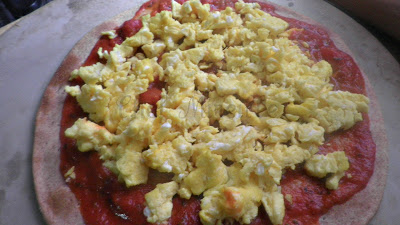 Top with mozzarella cheese.
Spread vegetables on top and then cover with Parmesan cheese.  You can stop here if you are not a meat eater and will still have a hearty, delicious breakfast pizza.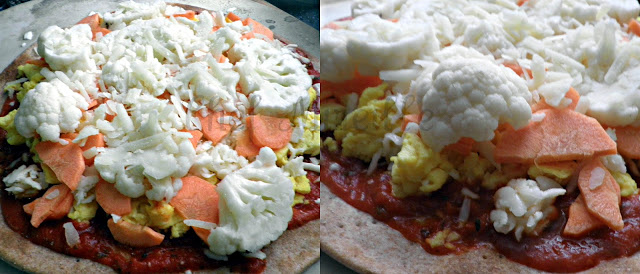 Top with pepperoni, if desired.  (Although I did not do it, you can add a little more cheese on top of the pepperoni.)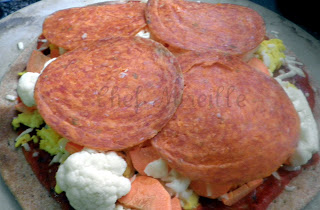 Bake for 20 minutes.
Without the meat, it is still a complete, hearty breakfast.

Look at all the layers
I'll admit the vegetables I used are not ones usually associated with pizza, but I was in the mood for pizza and it was what I happened to have in the refrigerator.  Why go out and spend money unnecessarily when there are vegetables already purchased just waiting to be used?  You can certainly use broccoli, mushrooms & peppers if you prefer, but this combo tasted fab!
You can do the prep the night before – scramble the eggs, slice the vegetables.  Mix the sauce.  If using frozen pizza dough, put it in the refrigerator so that it will be defrosted.  In the morning, all you have to do is roll out the dough and arrange the pizza.
Cauliflower is a naturally cooling vegetable and rosemary, with it's mint undertones, make this a nice balanced flavored pizza to enjoy…even in the heat of summer.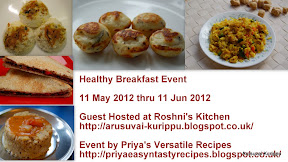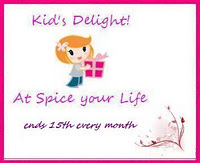 …linking to Srivalli's 
Kids Delight
 hosted this month by 
Smitha
 &
Priya's
Healthy Diet – Breakfast hosted this month by
Roshni's Kitchen