Last Updated on June 2, 2015 by Chef Mireille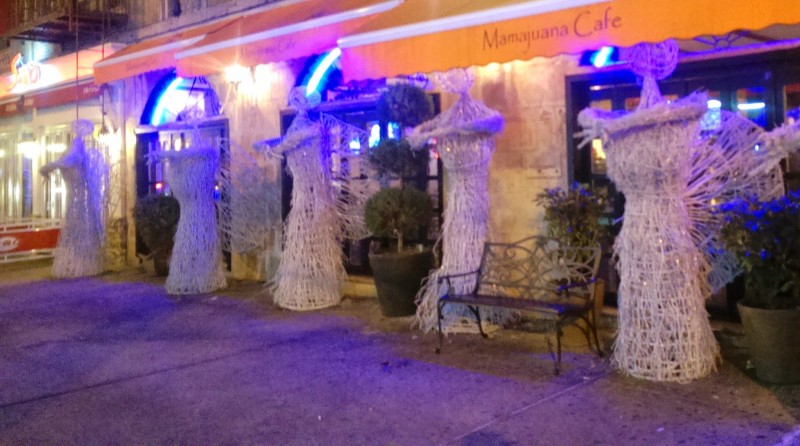 It gives me no pleasure to write this review, however I feel I owe it to my readers to save you some money if you were thinking of patronizing Mamajuana Cafe.
I was invited to a birthday celebration of a friend of a friend. The place was called La Marina and a reservation had been made, but the restaurant never bothered to call to say they would be closing for the season and upon arrival, a quick alternative had to be decided. I was running late so missed this part of the evening, but unfortunately this was the forecast of what would turn into my worst dining experience yet.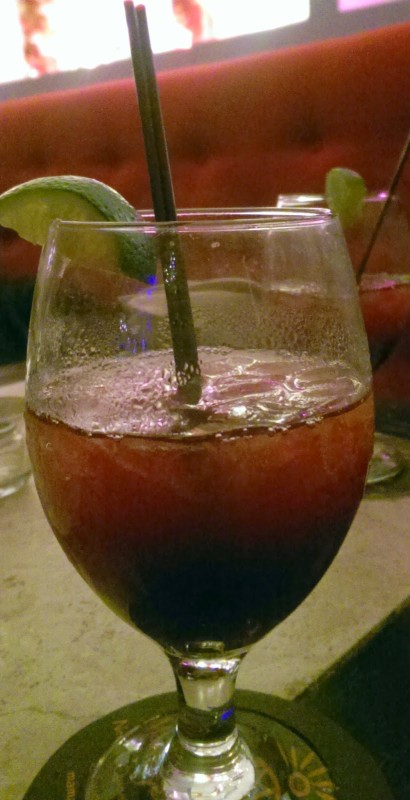 Sangria
It was decided then to go to Mamajuana, a Dominican restaurant in the Washington Heights area of Manhattan. Washington Heights has slowly been undergoing a revitalization and a few upscale establishments dot the neighborhood. Dyckman Street is at the center of this revitalization with wine bars and the like on the avenue. I had heard of Mamajuana several years ago, as one of the first upscale dining establishments that set up shop on Dyckman.
When I arrived, my friends had already ordered their drinks and appetizers. Within a few minutes of my sitting down, the waitress came to the table and while delivering the drinks promptly spilled the drinks on my two friends who were sitting near the front of the table. While that was unpleasant, we all understand that accidents happen. It was not the accident itself that was so disastrous, but the lack of attention afterwards.
While everything was cleaned up, not one person spoke to us or offered any kind of apology. It's not a very large restaurant and the manager clearly saw what occurred, yet no apology – no communication from her at all. After some time had passed, we asked to speak to the manager because we thought we at least deserved to have that round of drinks be complimentary. The manager absolutely refused and instead gave us a round of Sangria that no one wanted.
Gratefully, we did not pay for this Sangria as it was the worst I have ever had. It tasted like some barely spiked grape juice and no fruit in it at all. The empanadas were mediocre and the ceviche seemed to have almost more onions than seafood. I LOVE ceviche and have had it at many types of Latin restaurants – Peruvian, Columbia, Ecuadorian, Brazilian, etc. and was never so disappointed. Even though I am not a fan of raw onions, the onions are usually minced so it isn't bothersome or served on the side for you to add per your preference. Here they were sliced and really interfered with me enjoying the dish. I could not take one bite without long strings of onion, despite me painstakingly removing most of it before I started eating.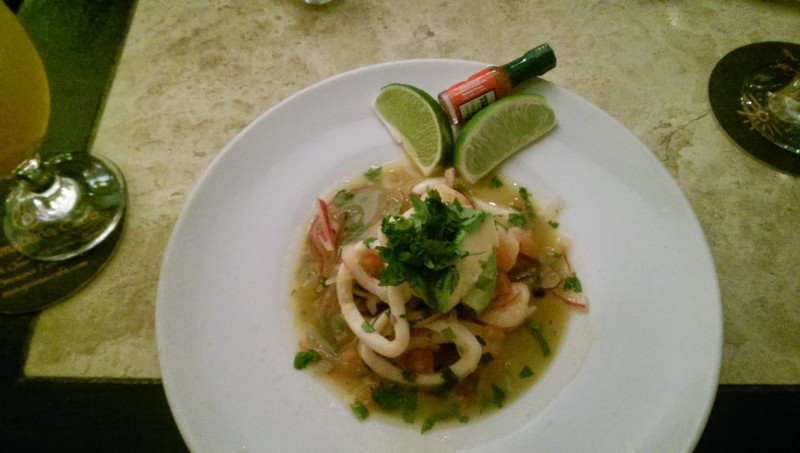 Ceviche
For those who are unaware, ceviche is a pickled seafood salad that must contain raw seafood, some kind of hot pepper like jalapeno and an acid like vinegar or lime juice to cook the seafood. The acid cooks the seafood without heat. This had no hot pepper in the ceviche itself but was only served with a mini jar of Tabasco sauce on the side.
Now let's get to the main course. After looking at the menu, I had decided on the cornish hen that the menu said was served with a potato, chorizo and lobster hash. My primary reason for wanting to order this dish was the hash which included two of my favorite ingredients – chorizo and lobster. When I ordered it, the waitress politely informed me it was not actually a hash, but a sauce so there are no actual pieces of lobster, etc. in the sauce. I asked why didn't the menu say that. She said that's why she was telling me so I was aware before I ordered it. This leads me to believe that there have been many complaints about this dish when customers did not receive what the menu represented.
After the discussion about the hash being a sauce, there was nothing else I could find on the menu of interest so I decided to settle for a sandwich of chicken breast, where crispy fried green plantain was the bread for the sandwich. My best friend is Dominican and I have been enjoying her Mom's food since I was a child. Nothing is cooked in Dominican cuisine without garlic, oregano and cilantro as the required ingredients. The chicken on the sandwich was seasoned with nothing but salt and pepper. The best part of the sandwich was the fried plantain. It was served with an overdressed salad that turned wimpy in about 5 seconds with no bite left to the greens at all.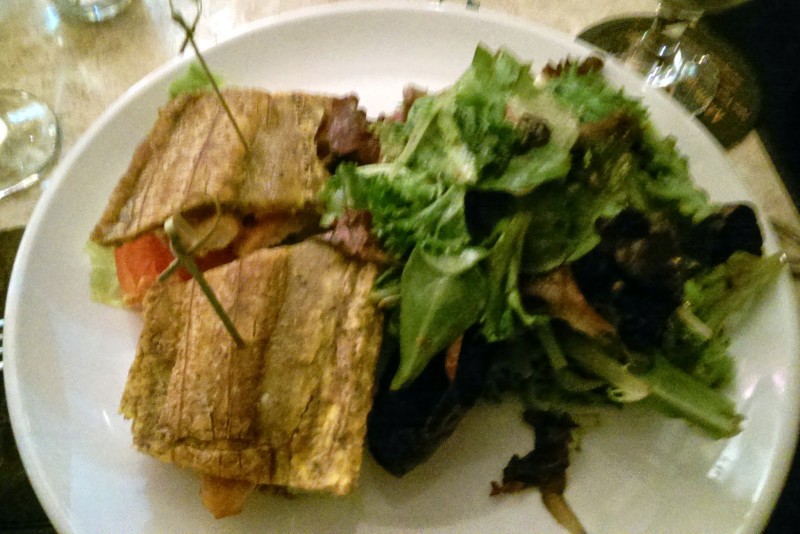 Plantain Chicken Sandwich
One of my friends ordered the grilled shrimp dish. I tasted her dish and while the shrimp was cooked perfectly and the sauce delicious, the menu said it came with a rice pilaf that included asparagus and lentils. I think she counted 10 lentils in the whole rice portion.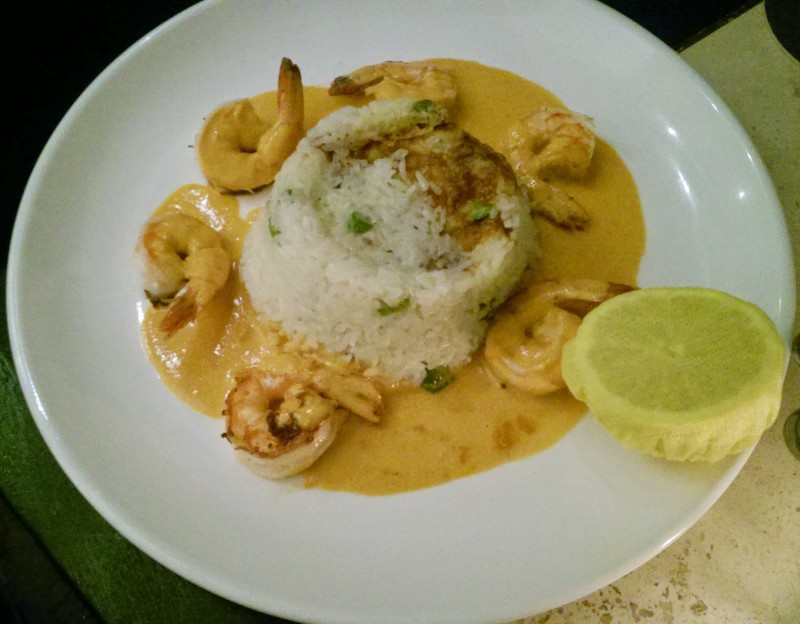 Grilled Shrimp
The other dishes were good..but not great. There were no comments at the table of ooh's or aah's. Only when I asked how their dish was, I got the lackluster response of "It's good" or "It's okay"
And this is no cheap restaurant. Drinks are $12 and the average entree price is $30. With only 1 drink, not including our free Sangria, for the 5 of us the bill was $200. Now I don't mind spending a little extra than I normally would once in a while for a special occasion like a birthday, but then I want to enjoy the food and the whole dining experience.
Mamajuana completely ruined the birthday celebration and we all left rather disheartened and felt like we just threw away $200. It failed on so many levels – customer service, food, price. If you have nothing better to do with your money, I suggest donating it to charity!
We've decided we need to do a redo of the evening as this was no celebration!!!
LIKE THIS RECIPE? LEAVE A COMMENT..I LIVE FOR THEM!
Chef Mireille