Last Updated on June 3, 2015 by Chef Mireille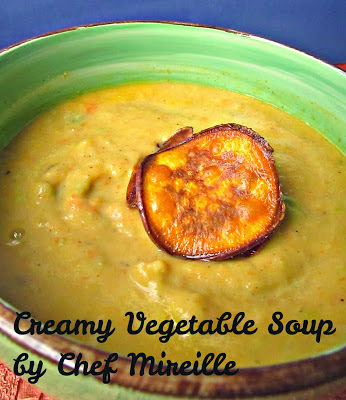 Blogging Marathon #34
Theme: BM Blogs – Sara
Now that the temperatures have started to go down into the 30's here in New York, it's soup season. Inspired by Saras soup here, I emptied out my refrigerator and made this comforting soup to keep warm on the cold winter nights. Feel free to adjust the vegetable measurements as desired. I used the quantities of what I had.
Creamy Vegetable Soup
Serves 8
Ingredients:
1/2 teaspoon ground turmeric
1 cup potato, rough chopped (2 small)
2 cups cauliflower, rough chopped (1/2 large head)
2 cups sweet potato, rough chopped (1 medium)
1 cup carrot, rough chopped (2 small)
1 bay leaf
1 tablespoon olive oil
1 onion, chopped
2 cloves garlic, finely chopped
2 teaspoons cumin-coriander powder
1/4 teaspoon ground cinnamon
1/2 teaspoon red chile powder (cayenne pepper)
1/2 teaspoon dried thyme
2/3 cup frozen green peas, defrosted
1 cup heavy cream
salt, to taste
1 tablespoon lemon juice
sweet potato chips (garnish)
In a large pot, combine, potato, cauliflower, sweet potato and carrot with bay leaf and turmeric. Add enough water to cover. Bring to a boil and cook for about 20 minutes, until vegetables are cooked through. Drain and reserve liquid. Discard bay leaf. Remove vegetables and set aside.
Add oil to pot and heat. Add onion and garlic. Saute for 1-2 minutes, until softened.
Add 3 cups of reserved liquid (adding water to it if necessary to make 3 cups). Add cooked vegetables, cinnamon, cayenne, cumin-coriander powder, green peas, thyme and salt. Bring to a boil. Reduce to a simmer and cook for 10 minutes. Remove from heat and cool for a few minutes. Using an immersion blender, puree the soup.
Add cream and puree until smooth.
Return to stove and cook on low heat for another 5 minutes.
Add lemon juice, stir and cook for 1 more minute.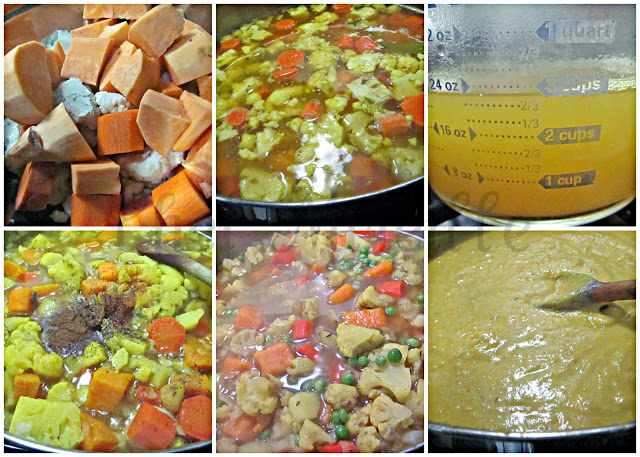 Garnish with crispy fried slices of sweet potato.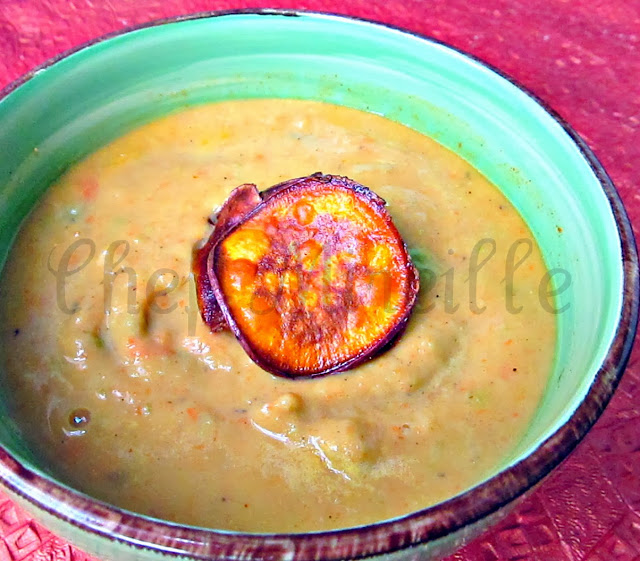 Check out the Blogging Marathon page for the other Blogging Marathoners doing BM#34

…linking Soups & Salads, Taste of the Tropics – Chiles, The Spice Trail, Souper Sunday and Soups & Breads
LIKE THIS RECIPE? LEAVE A COMMENT..I LIVE FOR THEM!
Chef Mireille