Last Updated on June 3, 2015 by Chef Mireille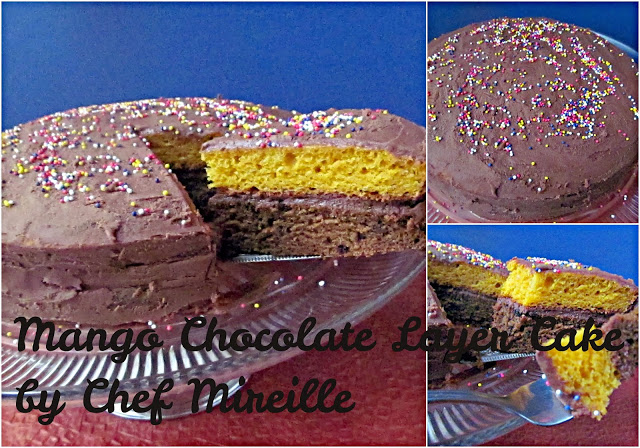 Blogging Marathon #34
Theme: BM Blogs – Sara
I had originally planned to post Sara's Spicy Fried Fish today, but then as I made it the sun set. Eventhough I did take the photos using artificial light no matter how I tried in photo editing, I just could not get the photos to look presentable. I wasn't in the mood for fish again, although I plan to re-do that recipe and post at a later date. Instead, I tried this cake using one of my favorite flavors – mango…as if I don't have enough mango recipes on this blog :).
She has the patience of a saint…using a piping bag to achieve great color layers in her cake. I chose for an easier option and made a two layer cake, by baking it in 2 shallow cake pans.
Mango Chocolate Layer Cake
Ingredients:
2 cups all purpose flour
1 1/2 teaspoons baking powder
1/2 teaspoon baking soda
1/4 teaspoon salt
3/4 cup sugar
1/4 cup unsweetened cocoa powder
3 tablespoons warm water
5 tablespoons oil
2 teaspoons vanilla extract
1 cup canned mango pulp
1/4 cup milk + 2 tablespoons (room temperature)
1/4 cup buttermilk (room temperature)
sprinkles (optional garnish)
Preheat oven to 350 F. Spray 2 shallow cake pans with non stick spray.
In a bowl, combine flour, baking powder, baking soda and salt.
In a large bowl, combine sugar, oil, vanilla, mango pulp, milk and buttermilk. Mix well. Add the flour mixture to this and mix well, until thoroughly combined.
Transfer half of the batter into a separate bowl.
In a small bowl, combine cocoa powder with warm water and mix well. Add this to one of the bowls with the mango batter and mix well.
Pour mango batter into one cake pan and chocolate batter into the other cake pan.
Bake for 25-30 minutes, until toothpick inserted comes out clean. Let cool.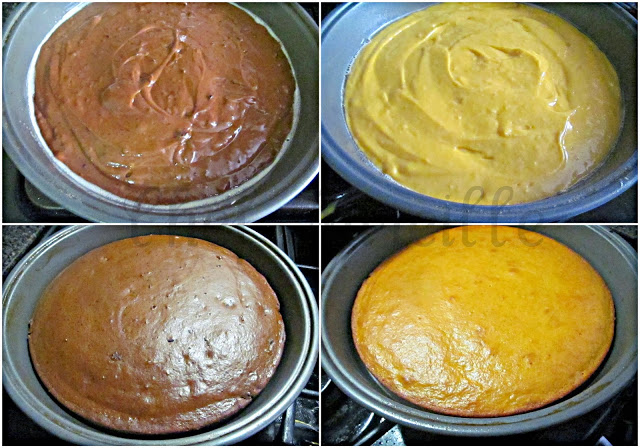 Remove from cake pans. Place the chocolate cake flat side up on a plate or work surface and spread a layer of frosting on top. Place the mango layer on top, flat side down and frost the top and sides of the cake. Sprinkle some sprinkles on top.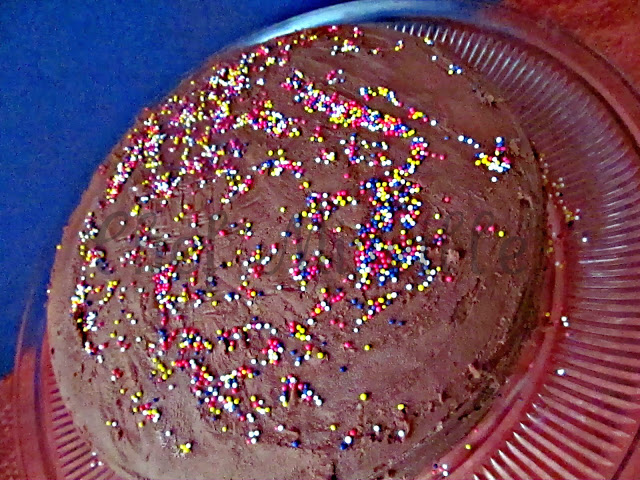 Despite all the chocolate, the mango flavor really shines through and the cake has a very soft and fluffy texture. I would definitely make this one again!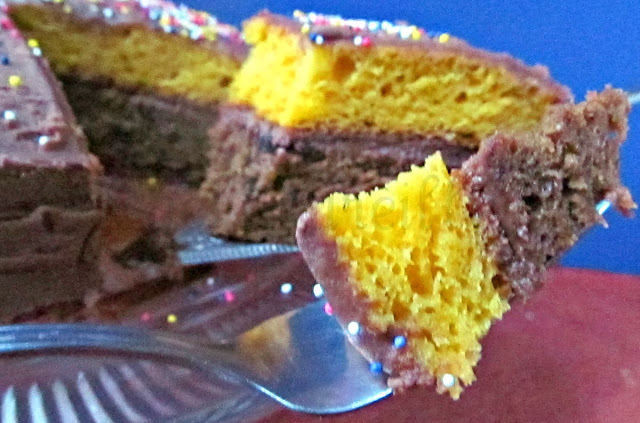 …linking to Cake Mela & Bake Fest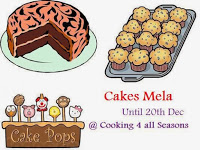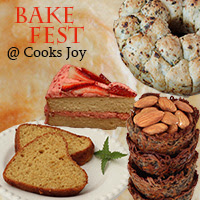 LIKE THIS RECIPE? LEAVE A COMMENT..I LIVE FOR THEM!
Chef Mireille