Last Updated on July 17, 2018 by Chef Mireille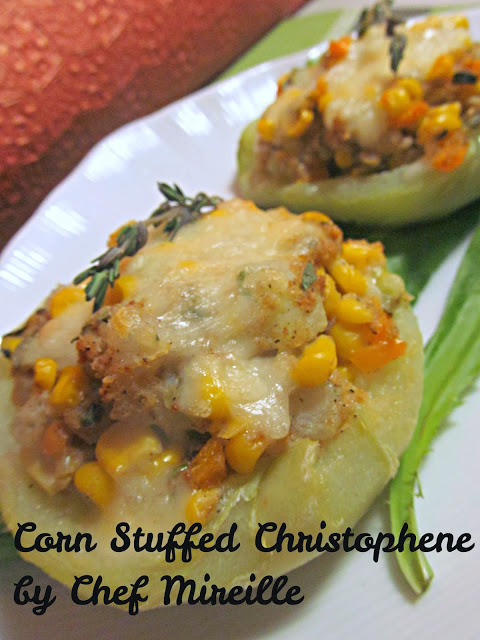 Blogging Marathon #35
Theme: Cooking with Corn
Since the US is in such close proximity to Mexico and there are many Mexicans living here, some of the words used for food ingredients are Spanish words, eventhough the rest of the English speaking world may call it something else. For example, coriander for the rest of the English speaking world is cilantro to us. What we call chayote is mirliton or christophene to everyone else. It's called mirliton in French speaking countries and in New Orleans. In Jamaica and South Africa, they call it cho-cho – how it got that name over there I have no idea!
In my grandmother's birthplace of  Dominica where English is the official language, christophene is how we call it and it is very commonly utilized there, most often in soups, stews and curries. However, this stuffed version is another delightful option you can enjoy on the island. I added some veggies to make the stuffing a little more interesting.
There is an enzyme in christophene/chayote that might make your hand itch. For me, it is very bad – I  think because I do have a slight skin allergy to other members of the squash family when raw. Once cooked, it does not bother me at all. I always wear gloves when handling christophene raw for this reason and if you have sensitive skin and don't know how you might react to this vegetable, I recommend wearing gloves. This is why they are sold in individually wrapped little bags, so that people do not have to touch them when picking them at the market.
Corn Stuffed Christophene
Serves 6
Ingredients:
3 christophene/chayote squash
3/4 cup frozen corn (defrosted)
2 scallions, chopped
1/4 large bell pepper, chopped
5 shadoe beny leaves (culantro/recaito), finely chopped (you can substitute cilantro)
1 tablespoon milk
3 tablespoons seasoned breadcrumbs (I used 4C whole wheat)
leaves of 7 sprigs of thyme
salt and black pepper, to taste
1/3 cup mozzarella cheese, grated (you can also use cheddar or any good melting cheese)
Peel christophene. Half them lengthwise along the crevice and core them. (my Mom picked up this little gadget sold as a ginger scraper for me that works perfect for coring – it's like a little spoon with a serrated edge – a handy kitchen tool)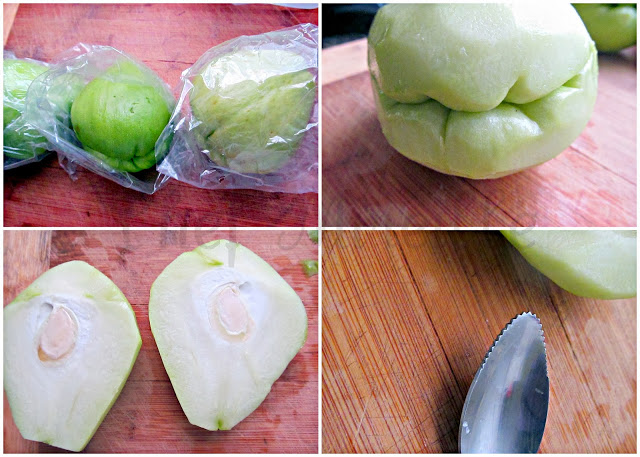 Put cored out christophene in a pot with enough water to cover. Add a generous pinch of salt and cook on high heat until tender, about 20 minutes.
Meanwhile, combine corn, bell pepper, shadoe beny and scallions in a bowl. Add milk, breadcrumbs, thyme, salt and pepper. Stir to combine.
As soon as the christophene are cooked, drain and run with cold water. Remove the flesh from inside, leaving about 1/2″ shell. Chop the flesh and add to the bowl with the corn and all the other ingredients.
Preheat oven to 350 F.
Fill christophene cavity with stuffing and top with cheese.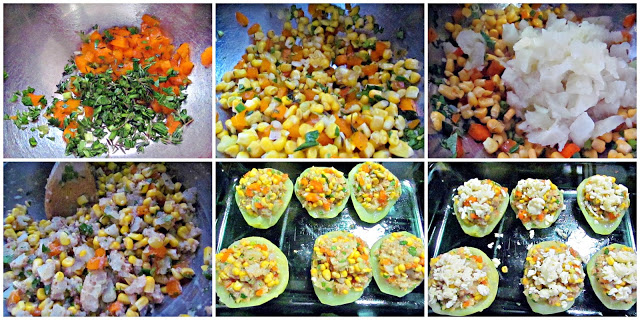 Place in a lightly greased baking dish and bake for 30 minutes, until cheese melts.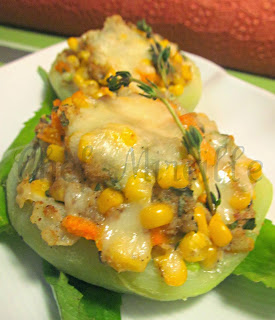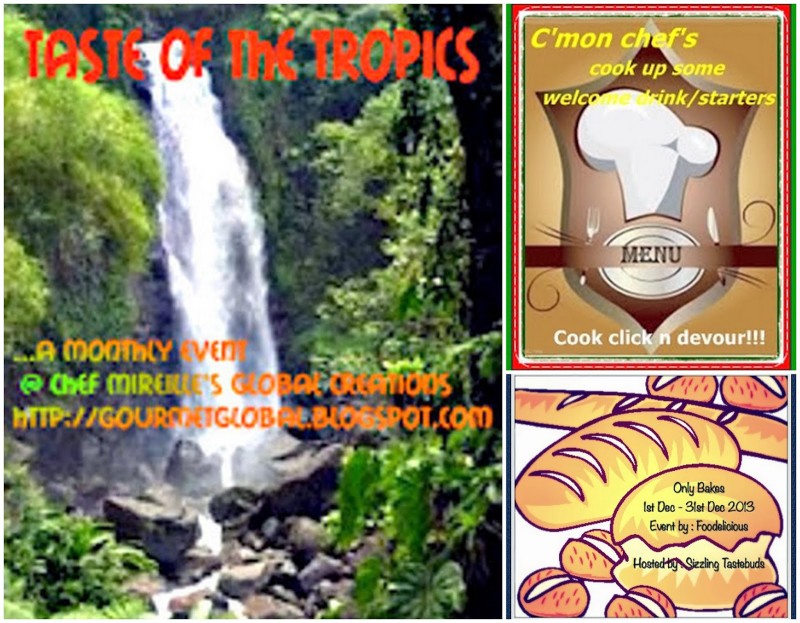 Check out the Blogging Marathon page for the other Blogging Marathoners doing BM#34
…linking to Pari's Baked Goods event hosted by Kalyani,  Drinks & Starters, Kid's Delight hosted by Sandhya  & Taste of the Tropics-Corn