Last Updated on June 2, 2015 by Chef Mireille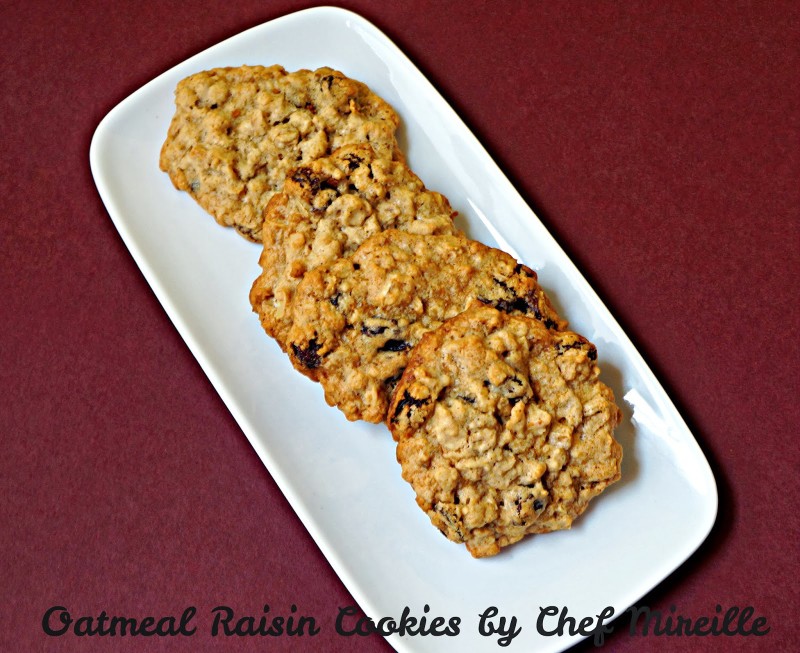 After seeing many of the other CCC participants do recipes from package containers, I decided to look through my pantry and look for some interesting recipes to try. I found my favorite cookie as a child on my container of Del Monte raisins. I've often mentioned I am one of those rare women who don't go ga-ga for chocolate. I like chocolate but I definitely would not call myself a chocolate lover as most of the time, I prefer fruit based desserts. I was the same way as a child. While my sister loved chocolate chip cookies, my fave was Oatmeal Raisin. When I saw this recipe, I realized it had been a few years since I'd had an oatmeal raisin cookie and I wanted them immediately. Exactly 1 cup of raisins was remaining in the container – just enough to do this recipe!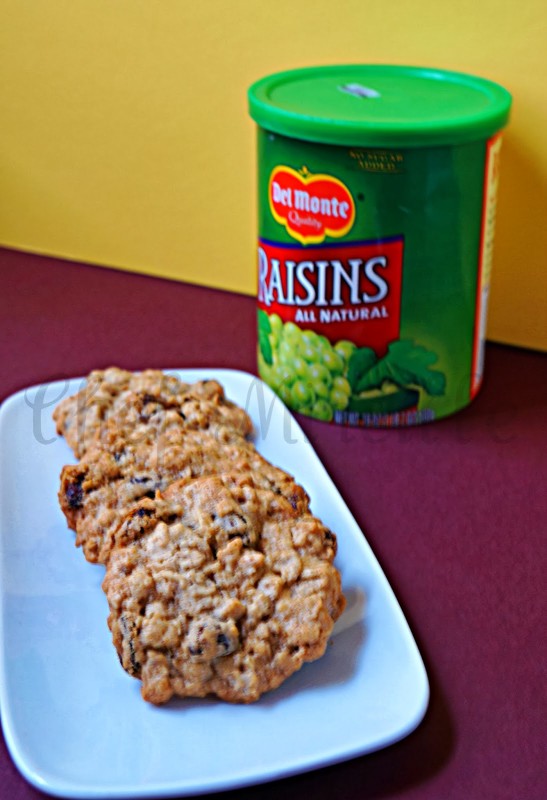 Although I usually use a scoop to get perfectly round cookies, I like the rustic look of home made oatmeal cookies. Therefore, I dropped these on the cookie sheet by using a regular tablespoon. Some came out a little more round and some a little more oval, but these rustic looking cookies filled me with such nostalgia…they just made me heart happy 🙂
Oatmeal Raisin Cookies
Yield: 30 cookies
Ingredients:
1 cup all purpose flour
1/2 teaspoon baking soda
1/4 teaspoon salt
1/2 cup butter, softened
1/2 cup firmly packed brown sugar
1/2 cup granulated sugar
1 egg
2 tablespoons milk
1/2 teaspoon vanilla extract
2 cups oats
1 cup raisins
Preheat oven to 350 F. Line a cookie sheet with parchment paper and spray with non stick spray.
Combine flour, baking soda, and salt in a bowl.
In a large bowl, combine butter, egg, sugars, vanilla, and milk. Mix well until smooth and creamy.
Add dry mixture and mix well.
Add oats and raisins and mix well.
Bake 12-15 minutes, until golden at the edges. Let them sit for 2 minutes before removing to a cooling rack. Cool completely before storing in an air tight container.
The day I made these, my doorbell rang at about 10:30pm on a Sunday night. I was wondering who the heck it was. It was actually my neighbor from down the hall and she was asking for some sugar because she's Diabetic and her sugar level was low and she was out of sugar. I also gave her a few of these fresh baked cookies so she did not have to make super sweet tea to get her sugar up. When I saw her a few days later, she told me how much she loved them and it helped in getting her sugar level up so she did not have to go to the hospital.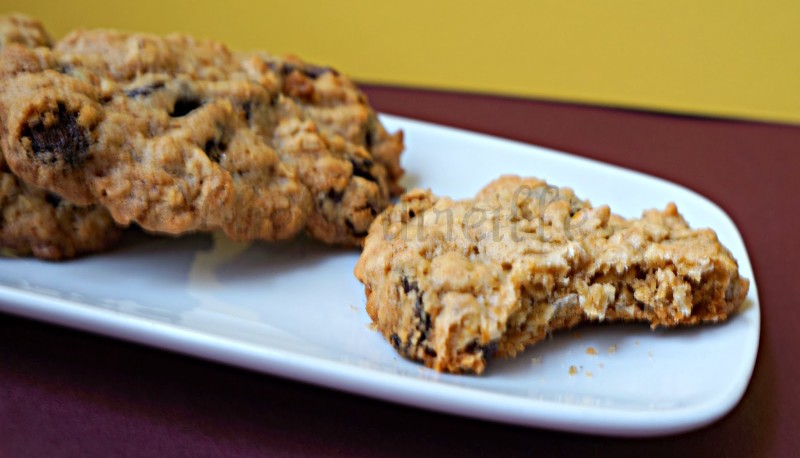 They are just the perfect classic oatmeal raisin cookie!
LIKE THIS RECIPE? LEAVE A COMMENT..I LIVE FOR THEM!
Chef Mireille