Last Updated on May 20, 2015 by Chef Mireille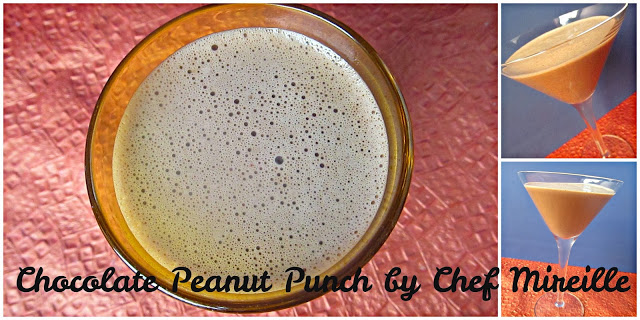 Blogging Marathon #33
Theme: Chocolate
Peanut Punch is a very popular drink in the Caribbean, a sweetened punch made with peanuts. While here in America, the most popular sweetened milk based drink for kids is Chocolate Milk, Peanut Punch is on the shelves in the Caribbean. I decided to combine both with this punch and the result was delicious.
Chocolate Peanut Punch
Serves 3
Ingredients:
8 oz. dry roasted peanuts (or peanut butter)
1 14 oz. can sweetened condensed milk
3 cups boiling water
1/4 cup unsweetened cocoa powder
1 tablespoon instant expresso powder
1 teaspoon vanilla extract
1 teaspoon ground cinnamon
In a bowl, combine cocoa powder, cinnamon, vanilla extract and expresso powder. Add boiling water and stir to mix.
In a blender or food process, combine peanuts and condensed milk. Process for a few minutes. Add half of the chocolate water mix and process well, making sure the nuts are ground as fine as possible.
Add the rest of the chocolate water and process well.
Pour into a strainer, passing through a sieve to catch any large peanut chunks. For a smoother punch, make with creamy peanut butter.
Chill or serve over ice.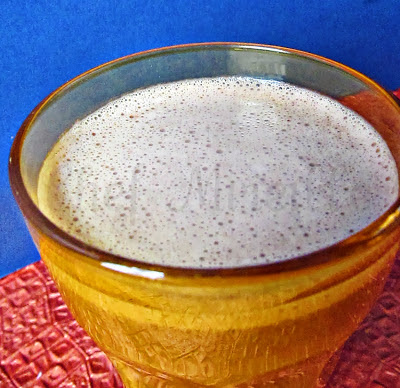 Check out the Blogging Marathon page for the other Blogging Marathoners doing BM#33
…linking to Kids Delight hosted by Pradnya
LIKE THIS RECIPE? LEAVE A COMMENT..I LIVE FOR THEM!
Chef Mireille