Last Updated on May 20, 2020 by Chef Mireille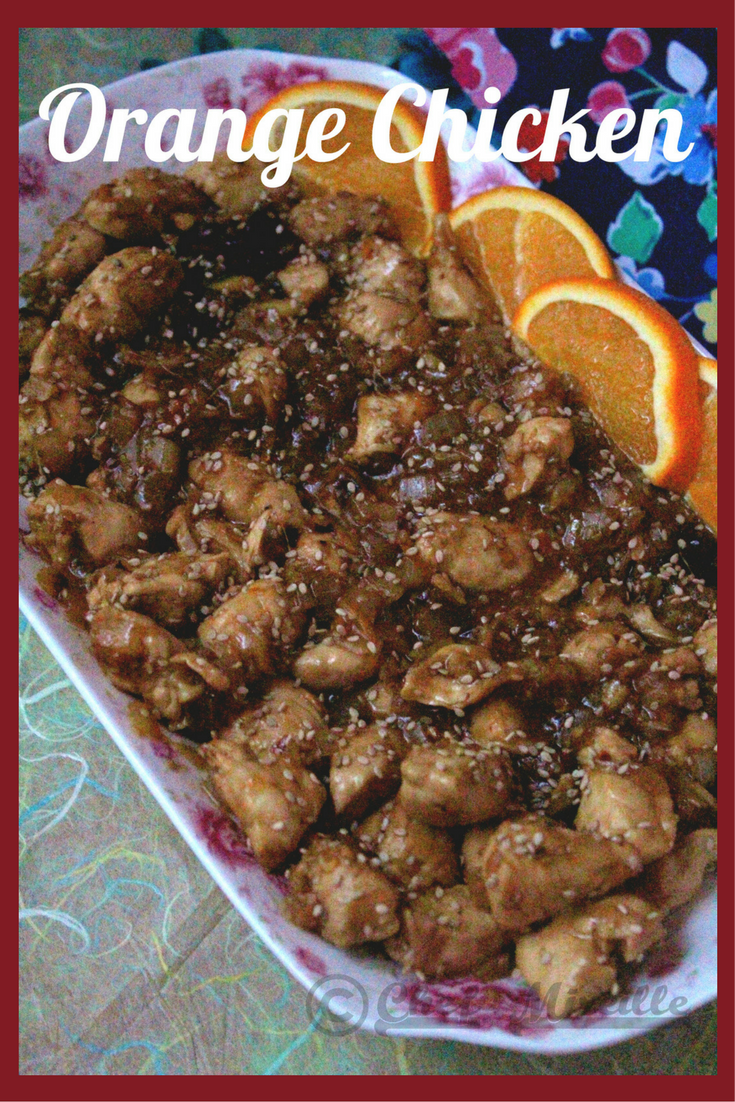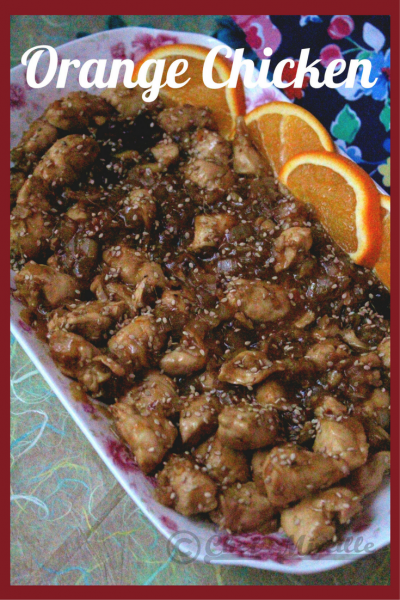 Chinese Orange Chicken is one of my favorite items to order from Fortune Garden, the local Chinese take-out 2 blocks from my house. Why do I like it so much – its the spiciest item on the menu and you all know my penchant for spice. Chinese restaurants in the outer borroughs of New York City are a little different than the ones located in Manhattan. They are smart business people and incorporate the foods of the local community. Since I live in a neighborhood with a large Caribbean population, I can get fried plantain and french fries at my Chinese take out and because Caribbean people like spicy food, all items on the menu can be ordered extra spicy. So I always get my Fried Rice and Lo Mein spicy. In Italian neighborhoods, you can get mozzarella sticks – yep that's Chinese take out in the outer borroughs of NYC!
Orange Chicken is traditionally made by first deep frying chicken pieces tossed in cornstarch or tapioca starch. This is then tossed in a sweet and spicy orange sauce. Just like my lightened up version of Chicken & Mushrooms in Black Bean Sauce presented yesterday, I again have opted to skip the deep frying and instead present a lightened up stir fry version of this classic dish instead. This is the only dish on the menu I don't have to tell them spicy, as it has enough spice in its original presentation. Enjoy my Chinese Orange Chicken – Low Fat Version with a fraction of the fat and calories of the restaurant version!
Chinese food is one of the most addictive cuisines in the world. I've never yet met a person who said they didn't like Chinese food. However, the restaurant versions are loaded in unnecessary sodium, fat and calories. You can make many of the Chinese restaurant classics at home that are just as delicious with a fraction of the calories.
Check out the Blogging Marathon page for the other Blogging Marathoners doing this BM#72
https://www.flickr.com/photos/132661972@N04/32359079192/in/dateposted-public/
Chinese Orange Chicken - Low Fat Version
Classic Orange Chicken lightened up without deep frying
Ingredients
Marinade Ingredients
1

cup

chicken broth

1/3

cup

rice vinegar

1/2

cup

firmly packed brown sugar

1

tablespoon

grated ginger

3/4

cup

orange juice

freshly squeezed

1/4

cup

light soy sauce

2

cloves

garlic

finely chopped

1

tablespoon

orange zest

1/2

teaspoon

crushed red pepper

1/4

teaspoon

ground white pepper
Chicken Ingredients
1

tablespoon

cornstarch

2

tablespoons

peanut oil

1

finely chopped onion

2

cups

diced chicken tenderloin

1

tablespoon

toasted sesame seeds + more for garnish

salt

to taste (optional)
Instructions
Combine all ingredients of the marinade in a large bowl. Whisk well until thoroughly combined. Transfer 1 ½ cups of the marinade into a saucepan. Place the chicken in the original bowl and toss well. Leave to marinate for at least one hour in the refrigerator.

Add cornstarch to the cold marinade in the saucepan. Whisk well until incorporated. Bring to a boil and simmer for 10 minutes, until thickened.

In a wok or skillet, heat peanut oil. Add onion and chiles. Stir fry until onions start to change color.

Strain chicken and discard the marinade. Add chicken pieces to skillet and stir fry until cooked through, about 5 minutes.

Add orange sauce and stir fry until chicken is well coated with the sauce. Simmer for 5 minutes.

Add sesame seeds and cook for 2 more minutes. Add salt if necessary.

To serve, garnish with more sesame seeds.
Did you try this recipe? Leave a comment below.
Please follow me on Instagram @chefmireille or tag me #chefmireille with your pics! I'd love to share them!