Last Updated on May 20, 2015 by Chef Mireille
One little known contribution to architecture made by India are called stepwells. These architectural wonders are built deep into the ground. With fluctuating rain in the desert communities of Rajasthan and Gujarat, these were built as far back as 600 A.D. to conserve the water for the community. The construction of these stepwells are unique to other wells and tanks in that you have direct access to the water, without having to send a bucket or other vessel down to retrieve the water.
They also served as community meeting places, at the base, where the water is – they provided cool relief from the desert sun. Some of them are also built with alcoves in between the series of steps, where people could take a break from the work and the heat – relax & chat. To stand the test of time as this community meeting place, they were built to stand the test of time, both functionally and aesthetically. Beautifully carved and constructed, they are a wondrous sight to behold.
They are built with series of steps several stories high, surrounding the well. There are several of these surviving ancient stepwells in Gujarat and Rajasthan. One of the largest, Chand Baori, is 13 stories high, has 3500 steps and is 100 feet deep. This is located in the small village of Abhineri, one of the stops included on Global Tastes & Travels 2011 Culinary Tour to India. Whether or not you are able to come on our tour next year, this is one stop that must be included on any tour to India.
One of these ancient stepwells, located in Patan, Gujarat is featured in the Bollywood film, Paheli. Take a look at this song from the movie and note the beautiful construction of the stepwell.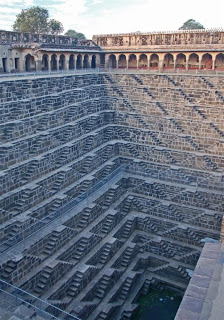 Chef Mireille
https://www.globaltasteinc.com
Like me on FACEBOOK!
Follow me on TWITTER!