Last Updated on May 20, 2015 by Chef Mireille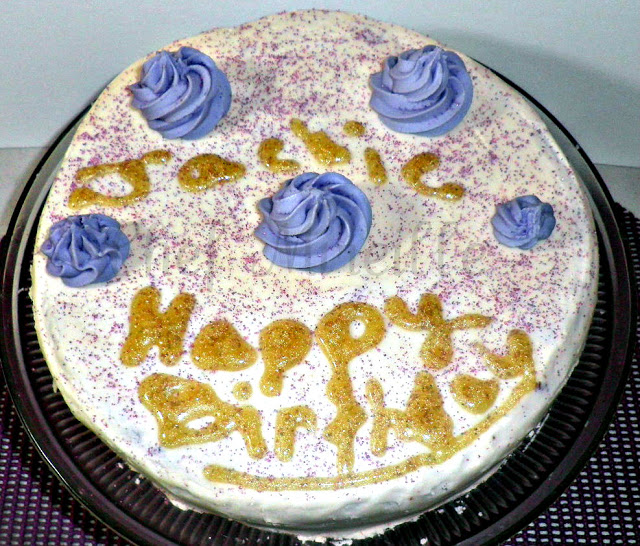 Buttercream frosting is used to create a firm shelled cake and decorations that keep their shape. Here are the steps to create a buttercream frosted and decorated cake.
Buttercream Frosting
Ingredients:
1/2 cup plus 2 tablespoons, softened
4 cups powdered sugar
1 teaspoons vanilla
1/3 cup heavy cream
Beat butter until light and fluffy. Add vanilla and 4 cups of the powdered sugar a little at a time. The mix will be quite crumbly at this time. Add cream and beat well. This is a very firm buttercream, but you need it to be firm, so that it will harden.
Now to frost the cake, you will need a large frosting spatula, a small frosting spatula and a bench scraper.
It is ideal if you have a rimless cake stand to do this. You need a cake stand, so that it is easy to spin as you go around the cake. Mine is not rimless, so it was a bit challenging.
Place a huge dollop of frosting on the top of the cake (more than you think you need) and using the spatula, spread across the top of the cake and push the excess down the sides and then using the spatula, frost the sides of the cake by rotating the cake stand, while running the spatula along the side. While doing this, continually clean the spatula, so that crumbs from the cake do not get into the frosting. (a few crumbs still got into mine)
Finally, using the bench scraper, apply to the cake at a 90 degree angle, to smooth the top and sides.
You are going to see spots where you can see the cake through, so you are going to have to do this process several times, until you have a smooth frosted cake.
This takes a lot of patience – something that I lack entirely. Mine was still not perfect, but it was as good as I was going to get it.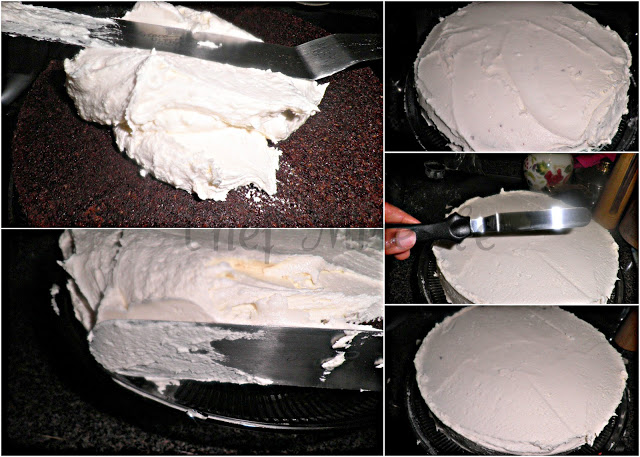 Next, came the challenge of clearing out almost an entire shelf in the refrigerator, so that there was room for it to chill. Anyone who knows me knows that my refrigerator is always full – fruits, vegetables, many condiment jars, leftovers, etc. As you see from my blog, I cook foods from all over the world. This requires a well stocked kitchen.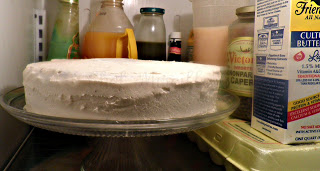 Put in refrigerator until frosting sets and is hardened; about an hour. If you touch the cake, no frosting should come off. It should be like a hard shell.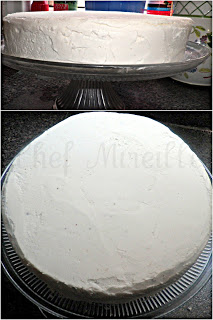 After second layer of buttercream
Save excess frosting, but do not put it in the refrigerator. Go over a second time to smooth out the frosted cake. Go over the top lightly to even out the frosting on top. Spread frosting along the sides and using the small frosting spatula, spread in an upward motion. Using the dough scraper, scrape the excess off the top. If you have a rimless stand you are using, you should use the scraper around the side of the cake also. This will ensure a really smooth buttercream cake. Unfortunately, since my stand is not rimless, I was unable to do this step. My cake still came out pretty smooth.
Now, I colored the leftover frosting with a drop of lilac food coloring. Using this tip and a pastry bag, I created these decorations by going in a circular motion and then lifting up.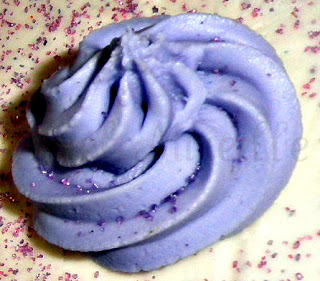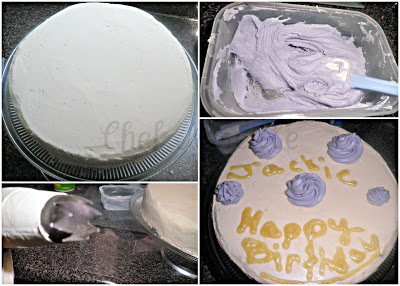 I then had some colored gel, to write Happy Birthday to my sister, who this cake was for. The gel was kind of thick so the letters merged a little. Next time, will have to make a larger letter so this does not happen. It would probably have been smarter to write Happy Birthday first and then do the decorations around the letters. Oh well next birthday 🙂 I then sprinkled the cake with colored sugar crystals.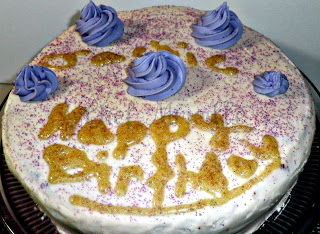 Buttercream Frosted Birthday Cake
I am not as talented or knowledgeable in cake decorating as one of my fellow BM, Champa, is. She puts my attempts to shame. However, this is the best birthday cake my sister ever got from me and she was THRILLED. The point of my choosing this theme was to tackle something I have always wanted to perfect. I only took one baking class when I was in culinary school, as I was a culinary, not a baking & pastry major. While I know the basics, elaborate cake design is something I need to practice to master.
I hope I have inspired you to try some of these easy cake decorating techniques that I have shown you. The only way to learn something new is to do it and it is ok if it is not perfect and there needs improvement, but the only way to master it is to practice it. I am sure you all have some people you know who wont mind eating the mistakes, since I am sure you don't want to consume all these calories yourself while you practice. (If you don't know anybody personally, give it to a neighbor. They will probably be so shocked and appreciative. Think of the smile you will put on their face and consider it your good deed for the day.) Think of all the money you will save in the future being able to make elaborate cakes for your children and other family members, when the average price of a really nice birthday cake runs around $40 and that is not even a specialty one with a theme or anything.
I have all the tools even for elaborate cake decorating – tips and special tools to decorate the sides of the cake, but I hardly ever use them – some of them I've never used. I hardly ever even frost a cake, unless I am making it for someone else. While I know the basics, I have never really attempted elaborate cake design. Choosing this BM theme has inspired me to work on perfecting this art. Thanks Valli, for the inspiration!!!
Check out the Blogging Marathon page for the other Blogging Marathoners doing BM#18
LIKE THIS RECIPE? LEAVE A COMMENT..I LIVE FOR THEM!
Chef Mireille
Like me on FACEBOOK!
Follow me on TWITTER!